Women Collectives Tackle Teen Sex, Contraception And Nutrition
A programme led by women's self-help groups has increased demand for health services and contraception, but conversations about sex remain awkward.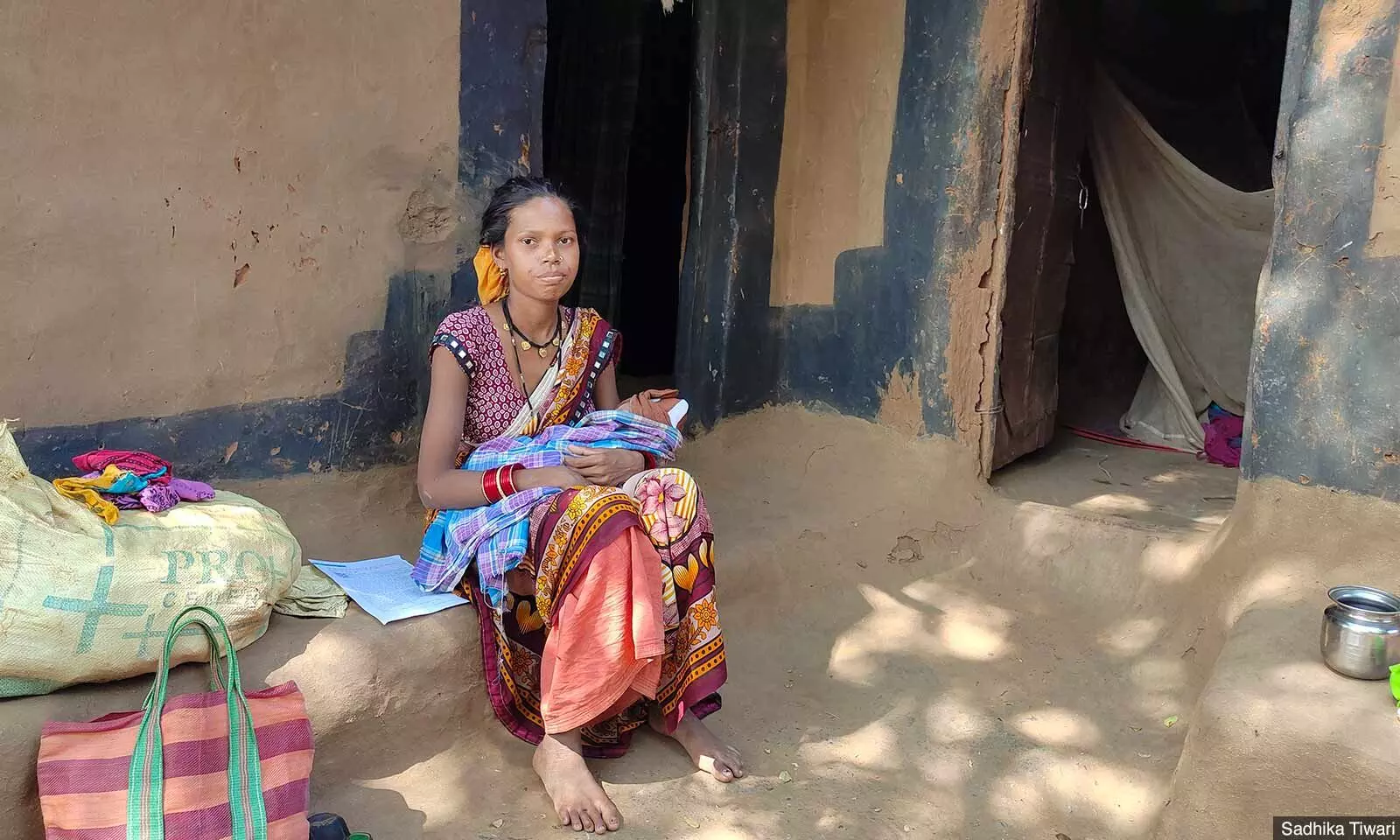 Bastar & Mumbai: Ratni Kashyap, 20, sat in her courtyard with her 17-day-old newborn, snugly wrapped in a towel, soaking the November sun. If Kashyap were aware of family planning, this child would have never been born, she said. Kashyap was 17 when she got married. Girls in her village of Balenga in a tribal-dominated village in the Bastar district of Chhattisgarh are sometimes married off as early as 14 or 15, she said. Within a month of marriage, she had conceived her first child, who is now two.

In the third month of her second pregnancy earlier this year, Kashyap attended her first 'amcho basul,' a local self-help group meeting at the village level for newly-weds, pregnant women and young mothers. It was here that she first learned about contraception--condoms, intrauterine contraceptive devices (IUCDs), birth control and abortion pills--in the third year of her marriage.
These meetings of women self-help groups are conducted once a month across Bastar under Swabhimaan, a programme designed for and implemented by women collectives in Chhattisgarh, Odisha and Bihar. Across the three states, the National Rural Livelihood Missions anchors the programme in partnership with the departments of health, civil supplies, social welfare, agriculture and public health engineering. The technical and financial support for the programme is provided by UNICEF, which is also involved in capacity building.
In Chhattisgarh, Swabhimaan operates under 'Bihan', or CGSRLM (Chhattisgarh Rural Livelihoods Mission), and has been running since 2016.
Swabhimaan's focus is on groups that are most vulnerable to malnutrition, including adolescent girls, newly-wed couples, pregnant women and mothers of children younger than two years of age. Its aim is to improve nutrition, reduce anaemia, increase demand for health services, improve sanitation and hygiene, and prevent unwanted pregnancies.
Apart from amcho basul, separate meetings called kishori baithaks are conducted for adolescent girls aged 14 and above. The programme primarily focuses on nutrition and sanitation and mobilises women's collectives to discuss and learn about various aspects of their health and wellbeing.
The meetings are helmed by mangun mits or nutrition buddies, who are trained to spread awareness, lead discussions and conduct activities around these issues. All mangun mits are women picked from within the communities.
In the few amcho basul meetings that she attended over the last few months during her second pregnancy, Kashyap learned about some government schemes and entitlements for motherhood and family planning such as the Pradhan Mantri Matru Vandana Yojana and the National Family Planning Indemnity Scheme (NFPIS), about menstruation and hygiene, immunisation, nutritious diets and family planning. After attending the meetings, she went for three ante-natal check-ups, regularly took her iron-folic acid and calcium tablets, and increased her consumption of green vegetables and eggs. She even started eating fish head, she said, which her community forbids pregnant women from eating.
Her second child was healthier than her first; she now knows that the child needs to be exclusively breast-fed for the first six months and taken for regular immunisations. Kashyap is confident that her children will grow up to be healthy adults now that she is more aware about what to feed them and when to take them for check-ups.
Had she known earlier that delaying pregnancy and child spacing were possible, she would not have had her second child for at least two more years, Kashyap told IndiaSpend. Now that she knows about contraception, she would not plan her third child for the next several years, she said.
Across the country, many adolescents like Kashyap get married, elope or have sex and end up pregnant at a young age. Often they have little or no information about contraception. Malnourished themselves, these young girls give birth to malnourished children and know little about what to feed themselves or their children.
"Bastar is a Naxal hub with the most primitive tribal groups," said Farhat Saiyed, UNICEF's (United Children's Fund) nutrition specialist in Chhattisgarh. "Most health indicators here are poor and health service delivery like ante-natal check-ups are not accessible, especially in remote areas."

IndiaSpend visited seven villages in Bastar where the Swabhimaan programme is being implemented. We found that adolescent girls and young mothers were becoming aware of their entitlements from the health system, the importance of right nutrition and sanitation and the potential damages of dropping out of school, early marriage and teenage pregnancy. While topics such as nutrition and menstrual hygiene are easier to discuss, family planning and contraception largely remain untouched. Also, healthy practices have not been widely adopted yet.l
A 19-year-old severely stunted, wasted and underweight adolescent preparing corn stew in her kitchen.
Community mobilisation under Swabhimaan
Working in four districts across three states--Purnea in Bihar, Bastar in Chhattisgarh and Koraput and Angul in Odisha--the Swabhimaan programme reaches over 356 villages and 125,097 households. Thus far, 18,700 girls and women have benefitted from the programme across 11,180 gram panchayats of Chhattisgarh, according to the annual progress report of 2016-2019.

In Chhattisgarh, 4% of pregnant women did not get any ante-natal visits and only 22% managed to get complete ante-natal check-ups, according to the National Family Health Survey, 2015-16. Another study of nearly 3,000 adolescent girls by UNICEF and the International Institute for Population Sciences (IIPS) in 2019 found that 83% said their households were practicing open defecation, 75% of adolescent girls said they did not use sanitary napkins while menstruating and only 14% had ever used the government's adolescent health services.
Dietary Diversity scores are used to measure the different food components on a plate. A dietary diversity score ranging from 6-10 means that one is consuming all 10 food groups (animal-based foods, vegetable-based foods, etc.). Teenage girls in Chhattisgarh scored 4.45 points, according to a study by UNICEF last year.
Mangun mits
conduct monthly gatherings with newly-weds, young mothers and adolescents to deal with health and nutrition targets. The
amcho basul
meetings deal with issues of microfinancing, pregnancy, child care, immunisation and family planning while the
kishori baithaks
deal with child marriage, early pregnancy, education and education. Issues of sanitation, menstrual hygiene, open defecation, nutrition and dietary diversity are discussed in both meetings. These meetings are usually attended by 15-20 members and they play games and participate in awareness exercises in order to make the information intake more fun and easy to remember.
A mangun mit with a chart explaining the major problems faced by adolescent girls and women of the area.
The benefits of the programme are measured through a non-randomised control trial--where the impact is measured by comparing two groups, one benefiting from the intervention and the other not covered by it, in research parlance called the "control arm".

There was increased use of sanitary napkins among adolescents rising from 36% in 2016 to 62% in 2018, found a midline survey by IIPS, NRLM and UNICEF. The percentage of teenage girls aged 10-14 enrolled in schools rose from 86% in 2016 to 91% in 2018, while among girls aged 15-19 it went from 55% in 2016 to 64% in 2018. Girls' diets had also improved with increased consumption of poultry/meat/fish from 21% in 2016 to 26% and consumption of other vitamin A-rich fruits and vegetables increased from 91.5% to 95% over the same period. There was also greater intake of iron and folic acid tablets from 52% in 2016 to 55% in 2018 and greater participation in community health and sanitation events.
"Over the last four years, Swabhimaan has helped people become aware," said UNICEF's Saiyed. "We are creating demand but we also need to ensure supply from the service providers," she added, citing an incident of a mother who was made aware about vaccinations for her child but did not find the vaccine at the local health centre.
Sanitation, nutrition improve
Seventeen-year-old Sania Manghogre and Nirvati Naag, 16, study in grade XI while Subati Baghel, 15, is in grade IX. All three go to the same school in Bastar's Mundapal village and also attend kishori baithaks together. All three have similar plans for their life: study computer science and nursing after school, then marriage and children.
After attending several kishori baithaks, the trio now know a lot about health and hygiene, but are some distance away from integrating healthy practices in their lives.
Sharing the experience of her first menstrual cycle, Sania said that despite having heard about periods from friends, the first one was scary. "I felt something strange when I woke up and when I saw blood... I thought I would die," she said with a giggle. "I went to a friend who explained everything and gave me a rag to use. I was scared to enter my own home. My mother did not let me enter the kitchen, touch salt or pickle, or enter the bedroom where we keep a small altar." Nirvati and Subati had similar experiences with their first period.
Things changed after they started attending
kishori baithaks.
"When
didi
[a
mangun mit
]
explained things, my mother started letting me help in the kitchen and I was allowed to enter all rooms after taking a bath with turmeric water," said Sania. Turmeric has
anti-infective properties
and is traditionally used as a purifier in religious ceremonies and rituals. Sania is still not allowed to touch the altar while she is menstruating.
Sania Manghogre, 17, Nirvati Naag, 16, and Subati Baghel, 15, go to the same school in Bastar and regularly attend kishori baithaks together.
All three girls said they were aware of healthier practices because of the baithaks. "We learned about using only cotton cloth or sanitary pads during our periods and change them every six hours," Nirvati told IndiaSpend. "We now know that we need to clean thoroughly with soap and water every time we change the pad. We were told to not use any cloth for more than three months and safely dispose of it by burning or burying it."

Now, all three use sanitary pads exclusively. They buy a packet of seven pads for Rs 30 and it lasts them one cycle, they said. However, they use the same pad for over 12 hours--contrary to general advice--because "the pad soaks more and lasts that long", Subati reasoned. "Rs 30 a month is already too expensive, we cannot afford more."
Nutrition being the most discussed issue in
baithaks
has become common knowledge for these girls now. They were also taught how to grow vegetables at home but did not do that regularly, said Subati. "We take iron-folic acid tablets but not as often as we have been asked to because it gives us an upset stomach," she said.
A teenager tending to a green vegetable garden she learned to grow at a kishori baithak.

"Several girls from vegetarian families still do not have enough protein in their diets," said Lalita Baghel, a mangun mit in Alwahi village. As for girls growing their own vegetables, their "parents often sell these instead of cooking them at home because most families here are poor," explained Baghel.

Difficult to discuss sex
As sex and contraception are difficult topics at these meetings, all three teenaged girls learned about contraception from informal sources such as sisters-in-law, other relatives and friends who eloped.
Several adolescents who have attended kishori baithaks told IndiaSpend that they were aware of the harms of child marriage and teenage pregnancies but knew nothing about family planning.
"Everybody tells girls to not have sex, but it is her will... she might fall in love or even run away with someone. When she gets pregnant, the entire onus falls on her, which is why we should also be told about safe sex [at the baithaks]," said Sania, whose friend eloped when she was 14 and is now pregnant. "If didi [mangun mits] tells us about safe sex, then we would listen, but no such sessions have happened so far," she added.
Despite her limited formal sex education, Sania's preferred mode of contraception would be condoms, she said, adding, "I will ask my husband to use them." Nirvati, on the other hand, leaned towards contraceptive pills "because one cannot ask of such things from husbands". Subati, the youngest, was for the widely accepted local traditional methods. "I will use
imli
[tamarind] because my sister-in-law uses it and has not conceived so far," she said, referring to the local practice--scientifically unproven--of drinking a tamarind concentrate to induce an abortion.
"Everybody tells girls to not have sex, but it is her will...
which is why we should also be told about safe sex," says 17-year-old Sania.
Girls become sexually active quite early in Bastar, IndiaSpend found in the course of its interviews with girls and women. Eloping with lovers and early marriage are also common, especially in several Adivasi pockets, said a local mangun mit. "These conversations are difficult to have, we also hesitate, we do not want to end up encouraging them to do these things," said Nupur Halder, a mangun mit from Sonarpal village.

The mangun mits not only find it difficult to discuss sex and contraception, they discourage all sex before marriage regardless of age. "The girls will end up with only suffering if they have sex before marriage," Baghel, the mangun mit, reasoned. Even if they use protection, which she is not comfortable talking about, she believes it is still wrong. Ideas like these in the face of the reality of Bastar where sexual activity begins early present a challenge for the Swabhimaan programme.
"One can spread awareness and give knowledge but you cannot ensure immediate behaviour changes," said Bharti Sahu, who is supporting the Swabhimaan programme in Bastar. "These are long-term transitions that will happen over time. When one person changes, the impact starts to multiply."
Poverty, lack of income, low economic prospects of educating a girl, social acceptability of marriages at young ages, and intergenerational malnutrition seem to be the other persistent roadblocks that the programme faces.
In the next part of this series, we will explore the challenges in implementation of the Swabhimaan programme and nutrition and health initiatives led by women collectives.
This report has been supported by the ROSHNI-Centre of Women Collectives-Led Social Action.
Update (December 28): The story has been updated to reflect more recent numbers of beneficiaries.
We welcome feedback. Please write to respond@indiaspend.org. We reserve the right to edit responses for language and grammar.