Why More (1.65 M) Children Die Annually In India Than Anywhere In The World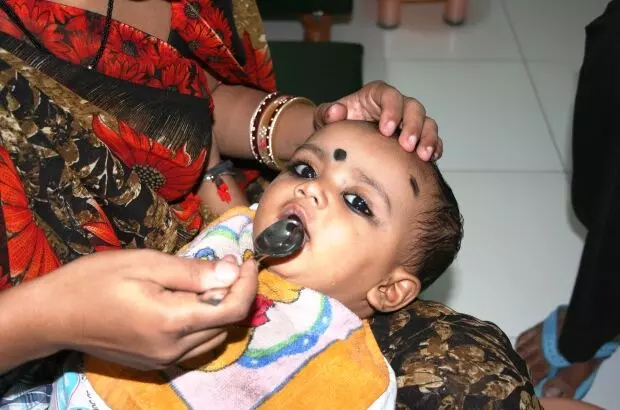 Highlights * 1.65 million children under 5 died in 2011; 599,000 deaths due to pneumonia and diarrhea * Only 13% children received antibiotics for pneumonia and 26% received oral rehydration solution for diarrhea * Key challenges to reduce child mortality include national implementation and co-ordination across central and state governments
6.9 million children under 5 years died across the world in 2011, and 1.65 million (or 24% of all deaths worldwide)
were children in India
. No other country in the world has more children die annually! Other countries in sub-Saharan Africa and Asia with high numbers of deaths include Nigeria (756,000 children), Democratic Republic of Congo (465,000 children) and Pakistan (352,000 children). The number of deaths in India is high due to various reasons including the fact that India is much larger than all other counties, save China. However, its under-5 mortality rate is 61 deaths per 1,000 births compared to China's 15.
Of the 1.65 million children deaths in India annually, 599,000 (36%) are due to pneumonia and diarrhea. Pneumonia and diarrhea deaths are the leading causes of preventable deaths for children living in the world's poorest countries. Economic development is a major factor in reducing child mortality, and, not surprisingly, the burden of pneumonia and diarrhea mortality is increasingly concentrated in poorer or developing countries like India. There are key issues in these countries – poverty, poor infrastructure, crowding, education and lack of on-going high quality medical care – that cause these high numbers of deaths. Basic treatments for pneumonia and diarrhea are well-known. These include antibiotics for pneumonia, oral rehydration solutions and zinc, and makes sense even in lower-to- middle income countries: all are safe and effective; off-patent; inexpensive to manufacture; inexpensive to purchase; require no cold chains; and only need to be taken episodically and for short duration. However, in India, only 13% children received antibiotics for pneumonia and 26% received oral rehydration solution for diarrhea (with no data on zinc usage). So, why aren't these treatments being used to prevent child deaths in India? As IndiaSpend
reported recently
, there are many central sponsored schemes to provide children the needed healthcare services and treatments. Recent research published in Lancet, a well-respected UK medical journal, attempted to answer these questions using
qualitative data
collected from three international work streams -- The Global Action Plan for Pneumonia, The Diarrhea Global Action Plan, and The Diarrhea and Pneumonia Working Group. These work streams were groups of experts from academia, government, advocacy and the private sector from the countries that accounted for 80% of children's deaths. They identified five themes of barriers regarding preventable child deaths:
Co-ordination:
Poor co-ordination for planning and implementation among government ministries (between and within), international agencies, non-governmental organisations, funders and the private sector.
Resources:
Financial and human resource barriers include funding being too restricted (earmarked for other things), barriers to spending existing funding, corruption, and insufficient healthcare workers.
Programme Management:
Failures of existing health information systems to monitor and evaluate programmes. This includes data not being analysed or feedback given to local agencies responsible for implementation.
Advocacy:
Ineffective advocacy in prioritising child deaths and promoting system-wide structural change; and
Commodities:
Supplies of key commodities (zinc, antibiotics, and oral rehydration solutions) are erratic and insufficient. Let's take an in-depth look at one barrier – commodities -- and what specifically is happening in India:
India's two most challenging barriers with children using the treatments needed to avoid death from pneumonia and diarrhea are national implementation and co-ordination among partners across central and state governments. Areas where India had no bottlenecks across commodities were policy guidelines, funding and uptake by the intended users. However, on all other bottleneck areas (many related to implementation, outreach and personnel), India had significant barriers. It seems that India is successful in developing policy guidelines and providing funding but is severally challenged on implementation and administration of the programmes. So, how does India compare to other countries with high number of deaths of children under five? Nigeria, which is second to India, had major bottlenecks too but they seem to vary dependent upon the commodities. For example, Nigeria had major barriers in usage of antibiotics due to procurement, distribution and uptake by individuals but for usage of zinc, the barriers were mass production capacity and community awareness. India has far too many children dying of preventable causes. It seems from the research that government policies and funding are not the issue – unlike many other developing countries. India's challenges are regarding national implementation, co-ordination within government and key partners, outreach/communications, and properly trained personnel. However, the Central government continues to focus on new policies and programmes instead of monitoring implementation and management. As IndiaSpend
reported recently
, just this past February, the Government of India launched a new programme – Rashtriya Bal Swasthya Karyakram (RBSK) – under the National Health Mission (NHM) to focus on the health of school-going children even though there at least three other on-going programmes that focus on children's health. So, more attention to implementation on the ground level is needed to prevent children from dying of pneumonia and diarrhea.