Why Kerala's Development Story Doesn't Reach Attapady's Tribals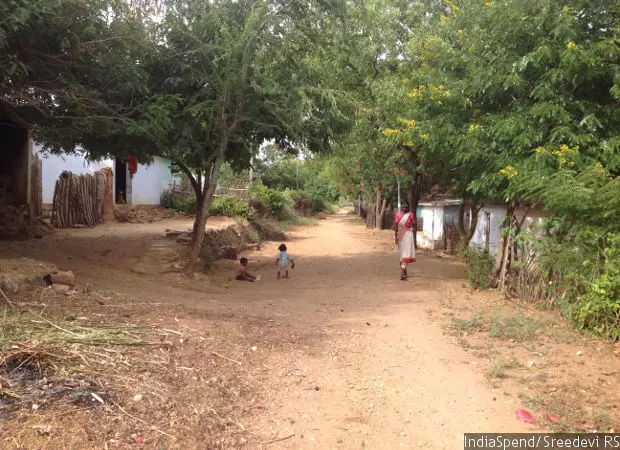 A hamlet in the tribal Attapady block in Palakkad district, Kerala. Attapady lies in a mountain valley between two ranges of the Western Ghats. This belt has been dealing with high infant mortality, severe malnutrition, premature births and low birth-weight for a decade now.
Maruthi and her husband Vellangiri are still mourning for their infant son who lived only for four-and-a-half-hours after birth in 2014. Maruthi, who continued working as a daily wage labourer into her third trimester, had grown steadily weak during pregnancy. There wasn't enough food at home, the drinking water was contaminated and sanitation non-existent in her village.
This story is not set in a backward Indian state forever stuck at the bottom of the country's development chart. Maruthi's home is in Kerala, a state that, in March 2017, reported India's lowest infant mortality rate--six per 1,000 children under the age of one, according to the National Family Health Survey (NFHS) 2015-16. This is on par with the rate in the US.
Why was Maruthi's child among the rare cases of infant death in Kerala? Her misfortune is that she lives in Attapady, a tribal block in Palakkad district of north Kerala. Attapady's infant mortality is 66, closer to that of conflict- and famine-ridden South Sudan (66.7), and way higher than India's national average of 40. Its maternal mortality rate is 26--which is less than the state average.
Attapady is like an island of backwardness in a state known for its progressive social and development indicators. Kerala's human development index (0.79), resulting from improvements in the fields of sanitation, health, education and poverty reduction, is the highest in India. It tops the female literacy graph in India (91.98%) and has the highest life expectancy in the country too (74.9 years; 72 for men and 77.8 for women). It is the only state with a sex ratio that favours women (1,084 women for every 1,000 men).
Attapady's hamlets, however, cannot access the public systems that make these figures possible because of ineffective state interventions. The living conditions of Kerala's adivasis are on par with those in backward states such as Chhattisgarh, Bihar and Jharkhand, according to Census 2011. Unplanned disbursal of resources in India's tribal regions has meant that over the last 35 years, the Rs 2.8 lakh crore ($42.6 billion) set aside by the government as special funds to improve the lives of scheduled castes (SCs) and scheduled tribes (STs) was simply not spent, as IndiaSpend found through an investigation in September 2016.
Kerala tops in life expectancy, but its tribals are dying young
Vellangiri said he lost his child because he could not afford better medical help. "We went to a private hospital to do several medical checkups and were asked to go to Thrissur Medical College because Maruthi was growing weaker. We didn't have the money to travel and went to the Palakkad government hospital instead to get the delivery treatments," said Vellangiri.
Attapady lies in a mountain valley between two ranges of the Western Ghats. Adivasis constitute 34% of its total population. A majority of the land area is used for agriculture and is rich with forests and water bodies.
This belt has been dealing with high infant mortality rates, severe malnutrition, premature births and low birth-weight for a decade now. All districts with heavy tribal populations--Wayanad, Idukki and Palakkad--show development indicators way below the state average.
While life expectancy of the average Malayali has been rising over the years--it went from 62 years in 1970-75 to 74.9 years in 2011, a study by AIIMS shows the reverse in Attapady: The average life expectancy of an adivasi here has fallen from 70 years in 1975 to 66 in 2002 and came further down to 59 in 2010. The lifespan of the average adivasi in the country is 64 years.
According to the Iqbal Committee Report (2013), in Attapady, the average infant weighed around 600-800 gram. The mothers were anaemic and lacked the nutrition needed to deliver a healthy baby. Most children here were affected by intrauterine growth retardation (IUGR) and 47 infants had died here in 2012-13.
Source: Census 2011, World Bank 2015, All India Institute of Medical Science, 2010
State average for homes with toilets is 95%, but in tribal belt it is 49%
Kerala's tribal population, 44.3%, lives below poverty line, according to the ministry of tribal affairs figures (2013). The state's average for homes with toilets is 95.4% but 49% of its tribal homes do not have toilets--the national average is 60.4%. Half the state's tribal population does not have access to clean drinking water while the state average for the same is 33.5%.
Low mortality here coexists with high incidence of morbidity--number of persons reporting ailments in rural Kerala is 255 (per 1,000) and urban Kerala is 240 (per 1,000) whereas the all India average was 88 and 99 for rural and urban areas, respectively, in 2004.
"Lack of facilities like toilets and clean drinking water are a big concern for us because they lead to our community's declining health," said Manikantan, a daily wage worker.
Mechanisms of delivery of state programmes for health, nutrition and sanitation are ineffective in Attapady, said experts. "The health and nutritional status of tribal women and infants here is a problem. The state has failed to create an effective mechanism to deal with it," said Rajendra Prasad, president of Thambu, Centre for Tribal Education, Development and Research in Attapady. "We need sincere execution of government schemes and constant checks on and review of the operations of the departments connected to the health and well-being of Attapady's children."
Children eat their meal at an anganwadi (courtyard shelter) in Attapady. The block has an infant mortality rate of 66 deaths per 1,000 live births--comparable to conflict- and famine-ridden South Sudan--due to severe malnutrition and low birth-weight.
Valli, malnourished and anaemic, lost her child after birth due to low birth-weight. She recalled being asked to take vitamins and iron tablets because she was not fit enough for a pregnancy. The pregnancy kit that she received from the anganwadi (courtyard shelter) and the state's unique Kudumbashree project ensured only milk and one meal a day.
"In 2012-13, the tribal block witnessed 51 infant deaths. According to the UNICEF (United Nations Children's Fund) report (2012-13), Rs 12.55 crore have been sanctioned for various health programmes in Attapady but what got actually spent was Rs 35 lakh," reported Gothrabhumi, a monthly magazine published by Thambu.
From good to bad to worse: Change hasn't worked well for Attapady
Attapady's troubles, according to its tribal chiefs, are relatively new. "We never had issues of infant deaths and low immunity earlier. It is the change in our food habits and consumption patterns that is affecting us. We once cultivated our own food--ragi, chama (bajra), millet and maize--and ate wild greens and meat. The decline in forest cover and natural resources has had a terrible impact on our living conditions," said Palaniyappan, a tribal chief.
Palaniyappan also pointed out that funds and schemes for generating employment and improving food availability have to be more sharply focussed.
"There isn't enough employment for us and we don't have any resources or assets. We are forced to take up the jobs given by the panchayat without which it is difficult for every family in the ooru (hamlet) to have a life," said Selvi, a daily wage worker with MGNREGA (Mahatma Gandhi National Rural Employment Guarantee Act) since 2010.
Selvi, a daily wage worker under the Mahatma Gandhi National Rural Employment Guarantee Act, with her husband. "We are forced to take up the jobs given by the panchayat without which it is difficult for every family in the ooru (hamlet) to have a life," Selvi said.
Attapady has seen an increase in the percentage of women persondays to total persondays in MGNREGA--from 61% in 2006-07 to 84% in 2014-15--according to the block panchayat report. But the women say they cannot depend long-term on this employment.
"Schemes such as ICDS (integrated child development services), PDS (public distribution system) and programmes like Community Kitchen that aims to fight malnutrition can only be temporary solutions. Our inability to adapt to modern systems of cultivation and consumption are a problem, we are forced to take ration from PDS and sometimes we don't like the rice that is supplied through ration shops," said Lakshmi, who teaches at an anganwadi in Attapady.
M Kunhaman, a social scientist and a professor at Tata Institute of Social Sciences, Tuljapur, believes that there is need for local involvement in the planning and execution of welfare initiatives. "The tribal communities who have better knowledge about their situation should be made to safeguard their interest through their systems. There is a need for a policy intervention which is done through affirmative action to protect the interests of the tribal community," he wrote in his book, Development of Tribal Economy.
(Sreedevi is a PhD in Development Studies at the Tata Institute of Social Sciences, Mumbai.)
We welcome feedback. Please write to respond@www.health-check.in. We reserve the right to edit responses for language and grammar.
__________________________________________________________________
"Liked this story? Indiaspend.org is a non-profit, and we depend on readers like you to drive our public-interest journalism efforts. Donate Rs 500; Rs 1,000, Rs 2,000."