Why 581 Million Indians Endure India's Worst Healthcare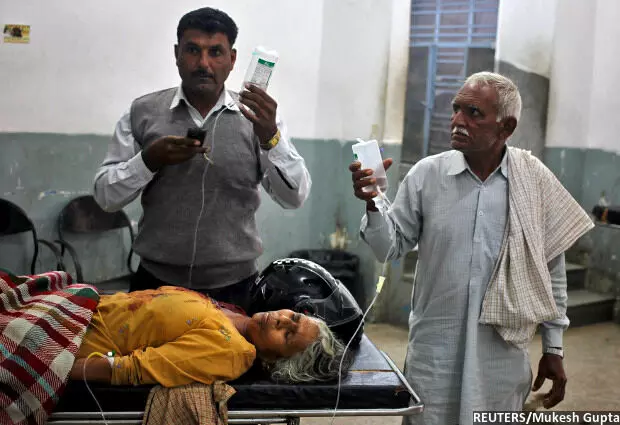 Nine of India's poorest states--home to 581 million or 48% of India's population--account for 70% of the country's infant deaths, 75% of under-five deaths and 62% of maternal deaths, but do not spend even the money they have set aside for healthcare, according to an IndiaSpend analysis of 2017 Reserve Bank of India data on state budgets.
The data also reveal:
a. The maternal mortality ratio--deaths of mothers per 100,000 births--in these states is 32% higher (244) than the national average (167).
b. 38% and 40% children in these states are underweight (low weight-for-age) and stunted (low height-for-age), respectively, higher than the national average of 36% and 38%, respectively, according to 2015-16 national health data, the latest available.
c. Uttar Pradesh, Bihar, Madhya Pradesh and Rajasthan--with 372 million people, more than the combined populations of US, Australia, Sweden and Greece--together contribute to about 58% of all child deaths in India.
The nine poorest large states--in official jargon called "high-focus", a term that implies they need special attention--spent an average of 4.7% of their social-sector expenditure on public healthcare and family welfare annually, marginally less than the national average of 4.8%. Social-sector expenditure includes water supply and sanitation, housing and urban development.
NOTE: * - Actual Figures; ** - Maternal mortality ratio in these states (Andhra Pradesh, Himachal Pradesh, Jammu and Kashmir, Manipur, Meghalaya, Mizoram, Nagaland, Sikkim, Telangana and Tripura) is 126 deaths per 100,000 births as per the Sample Registration System (SRS) Report published in 2011-13
India's average spending on health, as a proportion of gross domestic product, is already the lowest among BRICS nations, as IndiaSpend reported on May 8, 2017.
The "high-focus" states are Bihar, Chhattisgarh, Jharkhand, Madhya Pradesh, Odisha, Rajasthan, Uttarakhand, Uttar Pradesh and Assam.
"In 2005, it was observed by (the) government of India that some states were performing poorly in various indicators," Avani Kapur, senior researcher, Accountability Initiative, an advocacy, told IndiaSpend. "So, these states were clubbed together as high-focus states and additional resources were given to improve those indicators."
Poorest states spent less money than their budgets allowed
Of the nine poorest states, Rajasthan spent the highest (5.6%) and Bihar the lowest (3.8%) proportion of aggregate expenditure on public healthcare and family welfare, according to the RBI data on 2014-15 actual spending, lower than the budgeted 4.1% for Bihar and 6.6% for Rajasthan.
Seven of the nine "high-focus" states report such underspending.
"High focus states allocate large amounts to social sector to improve their indicators but in reality they spend only a small amount, compared to what is allotted," Kapur said. "Hence, it is necessary to consider actual accounts in order to know the proper outcomes."
So, while some "high-focus" states spent less money than set aside by their budgets, other states outspent--by proportion as ratio to aggregate expenditure--other larger states on healthcare and family welfare, but that had no relation to their healthcare indicators.
For instance, Rajasthan (68.6 million people) reported an MMR of 244 deaths per 100,000 births in 2011-13, the second lowest in India and worse off than Bangladesh and Nepal, both poorer countries, by per capita income. In contrast, Andhra Pradesh (84.6 million people), another big state, spent 4.1% of total expenditure on public healthcare and family welfare but reported an MMR of 92, according to government data.
Since 2008, Rajasthan increased its spending by 0.8% and its MMR decreased 23% while Andhra Pradesh's spending increased by 0.5% and MMR decreased 31%.
Assam, which spends 4.2% of its total expenditure on health and has 31.2 million people, has an MMR of 300 deaths per 100,000 births--comparable to Rwanda and Sudan--while Kerala, which spends 5.3% on 33.4 million, reported an MMR of 61, comparable to Sri Lanka and Poland.
Madhya Pradesh, which reported an infant mortality rate (IMR)--deaths per 1,000 live births--of 51 in 2015-16, spends 4.3% of total expenditure on healthcare--against 5% that was budgeted--and, as IndiaSpend reported on January 21, 2016, is worse off than some of the world's poorest countries, such as the Gambia and Ethiopia.
Spending more on healthcare did not improve institutional births
In the nine "high-focus" states we studied, 72.6% of all births were in healthcare institutions, a steady improvement but below the national average of 78.9%, according to the 2015-16 National Family Health Survey (NFHS-4) data, the latest available.
Tamil Nadu with 72.1 million people spends 4.7% of its total budgeted expenditure on public healthcare and family welfare and reports 99% institutional births, while Jharkhand, with 33 million, spends 4% and reports 61.9% institutional births.
Uttar Pradesh (78), Madhya Pradesh (65), Chhattisgarh (64), Bihar (58) and Assam (56) report India's highest under-five mortality rates--deaths per 1,000 live births--IndiaSpend reported on March 20, 2017.
Odisha reported an 118% increase in institutional births over 10 years, but the IMR declined by no more than 63% over this period.
The poor health indicators can be attributed to the lack of healthcare infrastructure and human resources in these states.
Not enough doctors and healthcare institutions
Bihar is 81% short of community health centres (CHCs), which provide secondary healthcare in the form of referrals and specialists to rural areas, and Jharkhand is 66% short of primary healthcare centres (PHCs), the first point of access to a qualified public-sector doctor in rural areas, according to the RBI report.
There is a 13% shortfall of CHCs in the "high-focus" states, according to India's Health Management Information System.
Bihar was 93% short of specialists in CHCs, while the comparable figures were 90%, 84% and 84% in Chhattisgarh, Uttar Pradesh and Jharkhand, respectively, in March 2016, according to Accountability Initiative budget brief on National Health Mission.
The infrastructure shortage is made worse by the fact that in all the nine states, healthcare programmes are accessed by richer households while many poor households are excluded due to high direct and indirect costs, according to this 2012 study in PLOS-ONE, an online open-access scientific journal.
Such infrastructure shortages exacerbate inadequate spending and deliver low heath achievements. Increased primary healthcare spending reduces child and infant mortality rates, according to this 1999 research paper by the International Monetary Fund.
Promoting community-based education on improved maternal and newborn care, and home-based treatment for newborn infections could enhance child survival in the "high- focus" states "significantly", said the 2012 PLOS-ONE study.
Correction: An earlier version of this story erroneously said that the maternal mortality of Assam was comparable to that of Zambia and Thailand. We regret the error.
(Rao is an intern with IndiaSpend.)
We welcome feedback. Please write to respond@www.health-check.in. We reserve the right to edit responses for language and grammar.
__________________________________________________________________
"Liked this story? Indiaspend.org is a non-profit, and we depend on readers like you to drive our public-interest journalism efforts. Donate Rs 500; Rs 1,000, Rs 2,000."