Unless India Delivers, World Won't Be Leprosy Free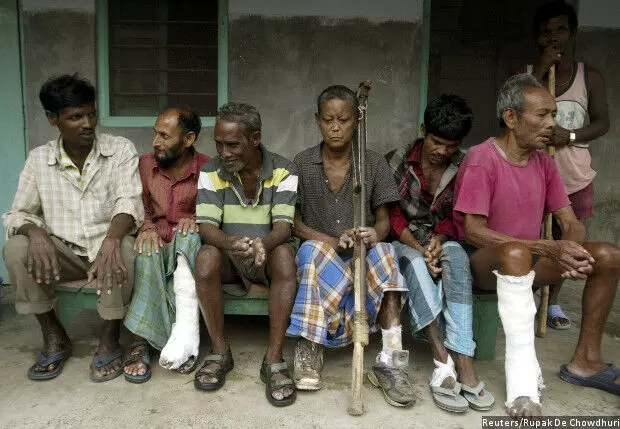 For three years, Uttar Pradesh farmhand Pradeep Kumar, 24, has been treated for a disease that India largely eliminated 11 years ago: Leprosy, one of humankind's oldest diseases—it is commonly mentioned in the Bible—is notorious for the visible disfigurement of victims and their subsequent ostracisation.
In 1991, when India began economic liberalisation, leprosy was reported in nearly 26 of 10,000 people. Within 14 years, that prevalence rate—thanks to concerted efforts and multi-drug therapy—had been cut 25 times to less than one per 10,000, the World Health Organization (WHO) threshold for "elimination" as a public-health problem.
In 2000, the world met the WHO aim for the global elimination of leprosy, caused by a slow-growing, rod-shaped bacterium. Between 2001 and 2005, when India achieved the target, a 61% fall in leprosy was reported globally (763,262 to 296,499), largely because of a four-fold drop in cases from India (615,000 to 161,457).
Since then, especially in the last five years, experts have suggested a degree of stagnation and lack of new approaches in leprosy control in India, with even the WHO calling for a global summit in 2013 to address stalled progress.
Source: Health Administrator Vol: XVIII, National Leprosy Eradication Programme (NLEP) annual reports
Indeed, leprosy appears to have dropped off the radar of the government. Today, Kumar is one of roughly 125,000 Indians who have consistently been diagnosed with leprosy every year, 58% of the new cases detected globally. The prevalence rate is about 0.69 per 10,000, but this means 88,833 Indians still have leprosy.
These are the official data. India could have twice as many leprosy cases as reported, even up to four times, said Sunil Anand, executive director of The Leprosy Mission Trust India, an NGO running 14 hospitals. For instance, this 2013 study based in Uttar Pradesh and this 2009 Maharashtra study point to India's under-reporting of leprosy.
When India's fight against leprosy stagnates, so does progress towards a leprosy-free world.
New global targets hope to restart India's battle against leprosy
"I am often asked: 'Is leprosy still a problem in India?' India has eliminated leprosy as a public-health problem, as has the world, but we are yet to eradicate leprosy for good."
Sunil Anand, Executive Director, The Leprosy Mission Trust India--
Earlier this year, the WHO unveiled a new anti-leprosy strategy, with a 2020 deadline and targets that will compel India to get moving on leprosy again.
Target 1: Reduce the number of children diagnosed with leprosy-affected disabilities to zeroWhere India stands: Of 11,365 new child cases identified in 2014, 245 had visible deformities caused by leprosy. In technical parlance, such cases are called grade-II disabilities.
Target 2: Reduce the new patients diagnosed with leprosy-related deformities to less than one per million populationWhere India stands: India's grade-II disability rate has risen from 3.72 per million to 4.48 per million over the last three years.
Target 3: Overturn laws that allows for discrimination against leprosy patients.Where India stands: India has many archaic laws that discriminate against leprosy victims. Some of them: The Hindu Marriage Act, 1955, and the Dissolution of Muslim Marriage Act, 1939, both accept leprosy as grounds for divorce, annulment or separation. The Orissa Municipal Act, 1950, Andhra Pradesh Municipalities Act, 1965, Orissa Gram Panchayats Act, 1964, Rajasthan Municipality Act, 1959, among others, disqualify leprosy victims from holding civic posts. Section 56 of the Railways Act, 1989, and Section 8(4) of the Motor Vehicles Act, 1988, can be cited to deny persons affected by leprosy the right to travel in the railways or to obtain a driving license.Most of these laws were written before the development of multi-drug therapy (MDT) for leprosy, the WHO-prescribed standard treatment since 1981. India has not revised these laws since.
Mitigate suffering of leprosy victims
"Go to a doctor as soon as you develop a skin patch, no matter how insignificant it may seem."
Suresh Dhondge, 37, a cured leprosy patient--
In 1996, Suresh Dhondge was 17 when he first developed white patches on his skin, typically the first signs of leprosy. Some months later, the teen from the north-central Maharashtra district of Buldhana started to lose sensation in the affected areas, and swellings developed on his face and body, also signs of leprosy.
A doctor in Buldhana's district hospital made the right diagnosis. But it took his parents three-and-a-half years to admit him to a Leprosy Trust hospital in Pune. They worried about what people might say. It was very late for Dhondge.
"When I was admitted, I was so far gone that doctors doubted that I would survive two more days, let alone be cured," said Dhondge. "I couldn't walk, I had severe swellings on my face and body, the fingers of my left hand and both my feet had become claw-like, and my haemoglobin level had fallen to 6 g/dL (grams per decilitre, anything below 13 g/dL is suspect in men as per WHO norms)," said Dhondge.
Two-and-a-half years of multi-drug therapy brought Dhondge back from the brink, while physiotherapy helped him regain movement in his diseased limbs.
After a year of therapy from Ram Manohar Lohia Hospital, Delhi, Kumar, who we introduced earlier, is now prepping for surgery to correct the deformed fingers of his left hand, also an outcome of delayed treatment.
"Deformities occur when the nerves come under attack," said Rajeev Joy Nathan, deputy superintendent, The Leprosy Mission Community Hospital, Delhi, where Kumar will be operated on. "Starting treatment within three months of onset can correct disfigurement and prevent further damage. This becomes more challenging as time passes and very difficult after six months."
Starting treatment early prevents deformities—the crux of the new global effort.
A strategy for success: Mass training
Reducing the number of new cases with leprosy-related deformities hinges on early detection and treatment, something India is currently not focusing on.
After India eliminated leprosy as a public health problem in December 2005, leprosy services fell off the government's priority list. They were integrated with general health services to cut costs. Identifying leprosy was now the responsibility of poorly trained frontline primary health care workers, who also run higher priority programmes.
"ASHA (Accredited Social Health Activist) workers and multi-purpose workers are more focused on maternal and child health targets and other diseases than leprosy," said Anand. "Also, they are trained only to suspect and refer (to doctors) possible leprosy cases."
Over five campaigns between 1997 and 2005, grassroots leprosy health workers were trained en masse to identify the disease. That effort has largely ended. The budget for leprosy fell over three straight years, IndiaSpend recently reported, probable cause for the lack of training.
Suresh Dhondge from Buldhana, Maharashtra, 37, was detected with leprosy 20 years ago. Delaying treatment by three and a half years meant Dhondge almost succumbed to leprosy. It took him all of two and a half years to recover. Dhondge has since married--another leprosy survivor--and works for a leprosy NGO (seen at work in the photo, standing, wearing ID badge). Some trust hospitals help detect and treat leprosy in India, where 50% of the new cases detected annually are of a more infectious variant, slowing global elimination of the disease.
Treatment typically lasts anywhere between six months for the less infectious paucibacillary leprosy (which only produces negative skin smears, as per the WHO) and a year or two for the more infectious multibacillary variant, which returns at least one positive skin smear. So, a leprosy diagnosis must be confirmed before prescribing medication.
"In district and block hospitals of high endemic areas, we need more doctors trained in conducting clinical examination, performing skin smears and skin biopsies to confirm preliminary diagnosis," said Archana Singal, professor, Department of Dermatology and STD, University College of Medical Sciences and Guru Teg Bahadur Hospital, Delhi.
"India has too few dermatologists to rely on. We also need to train doctors to manage the inflammatory reactions associated with leprosy with steroids and additional drugs to MDT," she said. "In a significant proportion of our patients, the WHO guidelines on the use of steroids for managing leprosy reactions have not been effective; we have needed to vary the dose and duration of steroid or other immuno-suppressants used to manage severe reactions."
Why India must make multi-drug therapy more widely available
When Kumar developed leprosy symptoms, he took his time to visit a private hospital in Baraut, a city in his native Uttar Pradesh district Baghpat, where he was correctly diagnosed and started on treatment—for payment.
MDT, the WHO-standard course for leprosy, is available free in government hospitals, dispensaries and in some trust hospitals. It is a combination of dapsone and rifampicin, for all patients, with clofazimin added for multibacillary cases.
Uttar Pradesh farmhand Pradeep Kumar, 24, was detected with leprosy three years ago, one of about 125,000 Indians diagnosed with the disease annually, 58% of the global burden. A private hospital in his native district Baghpat made the correct diagnosis but made him pay for treatment--which would have been free and hence more sustainable in a government health centre. Delaying "correct" treatment has meant Kumar developed a deformity which now needs surgical intervention. India's rate of leprosy cases with deformities is nearly 5 times the new WHO global target.
"Dapsone, rifampicin and clofazimine are available individually in the market, so some private practitioners prescribe them," said Nathan.
A few months into treatment, Kumar stopped because he showed no improvement. It would help to make MDT more widely available and to improve supply.
"Supplies of MDT are generally available but stock-out situations do happen which may impede treatment," said Anand.
A year after stopping treatment, Kumar eventually made it to Ram Manohar Lohia Hospital, Delhi.
Bring back surveillance to identify hidden cases
Like Dhondge, a lot of patients delay treatment because of the continuing stigma of leprosy.
Before December 2005, repeated drives persuaded leprosy victims to sign up for treatment. Today, however, "we are relying too heavily on self-reporting by patients, which presupposes high awareness and an encouraging social environment, while frankly, we are not very good at either," said Bhushan Kumar, former head, Dermatology, Venereology & Leprology, Postgraduate Institute of Medical Education & Research, Chandigarh.
Instead, Bhushan Kumar suggested surveillance in endemic areas to identify (and treat) hidden cases, and vaccinating or prescribing preventative medicine to people at high risk of contracting leprosy, such as those with a relative suffering from the disease and those living in endemic areas, such as Chhattisgarh and Dadra & Nagar Haveli, which have not achieved "elimination".
"Research shows that a second dose of BCG (tuberculosis vaccination) or the Mycobacterium W (MIP) vaccine could help prevent the development of leprosy in a large number of patients," he said.
Why India can't afford to be complacent about leprosy
That about half of the new cases detected annually in India are the more infectious multibacillary strain and the number of children detected with leprosy is consistently high is an indication of continued disease transmission, said Singal.
Leprosy is believed to be contracted by prolonged close contact or through respiratory droplets, but science is still hazy about the precise mechanism of transmission.
"Three kinds of people are transmitting the infection—people exposed to the infection who carry it without suffering any consequences; patients with sub-clinical infection, where we suspect something is going on but the patient presents no visible symptoms, which either develops into full blown leprosy or passes on its own; and those with leprosy, prior to starting treatment," said Kumar.
Without a way to figure out who are carriers, the best course forward is to treat those who are visibly suffering from leprosy without delay. "Most of the cases on treatment become non-infectious in just one to three months of treatment," said Kumar.
Correction: The name of Archana Singal, professor, Department of Dermatology and STD, University College of Medical Sciences and Guru Teg Bahadur Hospital, was misspelt. We regret the error.
(Bahri is a freelance writer and editor based in Mount Abu, Rajasthan.)
We welcome feedback. Please write to respond@www.health-check.in. We reserve the right to edit responses for language and grammar.
__________________________________________________________________
Liked this story? Indiaspend.org is a non-profit, and we depend on readers like you to drive our public-interest journalism efforts. Donate Rs 500; Rs 1,000, Rs 2,000.