The Mystery Behind India's Present-Absent Doctors: Study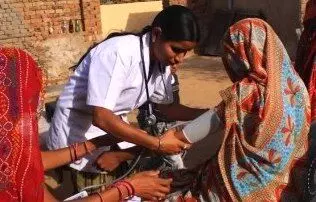 Highlights *Cost of medicine is the largest driver of out-of-pocket health expenditure *Absence of doctors and lack of diagnostic facilities are the major reasons for people to avoid public healthcare *Around 85% people surveyed wanted to shift to public healthcare if challenges are addressed
A major cause of poverty in India is the high cost of medical facilities which eat into a common man's savings. A
recent report
, for instance, said states like Rajasthan have reduced poverty by ensuring cheap medicines and diagnostic services for people across the state. A recently released study
"Understanding Healthcare Access in India: What is the Current State?"
by privately owned IMS Health
,
(a US-based company operating in 100+ countries providing healthcare data to various stakeholders) also blames doctor absenteeism for the gaps in public healthcare system, apart from lack of diagnostic facilities. Interestingly, this is not just doctors who are not present but those who sign in and then, apparently, disappear! As a backdrop, India's per capita public expenditure on health was only around Rs 130 in 2004-05 while the per capita private expenditure was around Rs 846. The debate on increased spending on public health to overcome the drawbacks in meeting the
Millennium Development Goals (MDGs)
has not really translated into action.
IndiaSpend
has earlier reported on several aspects of India's healthcare - from
missing targets despite doubling spending
to
doctor shortages
. The IMS survey covered nearly 15,000 households in 12 states, covering rural and urban areas cutting across socio-economic groups. Moreover, around 1,000 doctors were also interviewed along with other key healthcare experts. The key findings are: Doctor absenteeism (61%) and lack of diagnostic facilities (52%) are the major reasons people avoid public healthcare. Cost of medicine (50%) is the largest driver of out-of-pocket expenditure (OOP). On the other hand, 'official duty' (35%) is the favourite reason behind doctors being absent from public facilities.
Figure 1 (a)
Figure 1(b)
Research
has shown that individuals, even the most poor, tend to chose private facilities over public facilities. The IMS survey also confirms this and provides greater details of why individuals shun public facilities. Inpatient treatment in public healthcare facilities suffers mostly from lack of infrastructural facilities while outpatient departments face resource challenges. Interestingly, doctor availability turns out to be the biggest reason why individuals choose private inpatient and outpatient facilities. Doctor availability is the direct outcome of high doctor absenteeism in public healthcare facilities in India. The reason cited in the study for absence from duty is 'official duty (absence on duty after signing in):
Figure 2
Of the states surveyed, Bihar (68%), Tamil Nadu (58%) and Jharkhand (57%) have the highest rate of doctor absenteeism while Madhya Pradesh (28%), Maharashtra (30%) and Orissa (36%) have the lowest doctor absenteeism. Incidentally, nationwide, around 85% of people surveyed wanted to shift to public healthcare if the challenges are addressed. The main reason- private healthcare is twice as expensive as public facilities for outpatient treatments and 4-6 times more in case of inpatient treatments.
Comparing Expenditure
The average money a family spends on healthcare, as a percentage of monthly household expenditure, nearly doubles when you shift from public to private healthcare. In case of acute care (secondary healthcare where necessary treatment of a disease for only short span of time), the difference in spending by the poor goes up from 5% of their health spending to 14% and 3% to 7% for households who can afford when they shift from public to private OPD. In case of chronic care (addressing long-term illness), the spending difference goes up from 23% to 44% (8% to 21% for the affording populations)
Figure 3(a)
Figure 3(b)
The study also observes that the share of medicines is the major reason due to which out-of-pocket (OPP) expenditure rises. Here are the top 3 expenditure in OPD and IPD treatments across India:
Figure 4(a)
Figure 4(b)
On average, medicines take around 50% of OOP expenditure followed by diagnostics which takes around 17%.
IndiaSpend
has earlier written about the Government's slow progress on opening
Jan Aushadhi stores
for providing low-cost drugs. The programme was initiated in 2008, but as of 2012 only 112 stores had opened. The idea was to open 600 by the end of 2012. Supply of medicines is a concern including from state-run pharmaceutical companies.
In a recent written reply
in the Lok Sabha, Srikant Kumar Jena, Minister of State for Chemicals and Fertilisers, highlighted that market prices of basic painkillers, common cold, pain and fever tablets are around 15 times higher than Jan Aushadhi stores. It would seem that the Government, in its endeavour to provide affordable healthcare to public, especially the poorest, must focus on the issue of doctor absenteeism, quality of healthcare and waiting time at public hospitals. The bottom line (at least from this study) is that 85% of those surveyed want to use public healthcare because of the high cost in accessing private facilities.