Text Messages Save Lives In State With Highest Maternal Deaths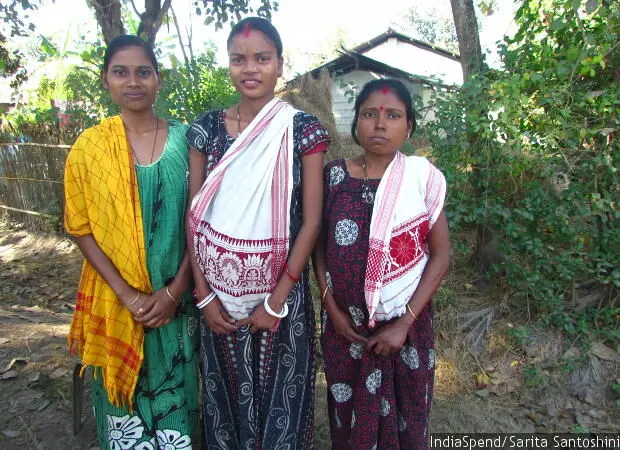 First-time mothers Bishwasi, Leela and Anita were in their last trimester but had received their first routine antenatal check-up only a week before. During the community meeting organised as part of the End Maternal Mortality Now project, they were told--for the first time--what to eat, what to do during emergencies, and what they were entitled to.
Tezpur, Assam: On a sunny, winter afternoon here on India's eastern edge, in a land where mothers die in the highest proportion nationwide, a few men, children, and about 40 women--either pregnant or cradling infants--listened to a robust, articulate woman talk in the local Sadri dialect about a text message that could save their lives.
"It's your duty to get regular check-ups done, to ensure that both you and your child are disease-free. And speak up if you're treated unfairly when seeking treatment," said Geeti (name changed), a paralegal coordinator with End Maternal Mortality Now (EndMMNow), a nonprofit project, which trains volunteers from local communities--like Geeti--to help mothers know their rights and report officials who deny them access to free government services. This is done via a text message to an Android phone co-owned by the project staff and synced with their website.
The women silently listened to Geeti talk, but when she mentioned that they are entitled to receive free check-ups, blood tests and medicines during pregnancy, almost all of them interrupted to say that they seldom received anything for free.
Women attentively listen to Geeti (not in the photograph), a paralegal coordinator of the EndMMNow project, speak about the measures and rights that could save the lives of pregnant women during a community meeting.
The attentive mothers are Adivasis who work at Narayanpur tea estate, about 50 km west from Tezpur, the headquarters of Sonitpur district in north Assam, a state with a maternal mortality ratio (MMR) of 300 deaths per 100,000 live births, the worst in India and nearly the same as Ghana (321) and Sudan (325).
Assam's Maternal Mortality Is Double The National Average; On Par With Ghana, Sudan
Source: Ministry of health & family welfare; Maternal mortality ratio: Deaths per 100,000 live births
Over the last three years, the text-message-borne empowerment of Adivasi women has rolled out across 16 tea gardens, villages and public health facilities in two blocks of Sonitpur district. As many as 40 women have been trained to spread the word, and the programme's success has sparked a similar effort among Dalit women in Delhi.
More than 230 violations have been reported by paralegals under the EndMMNow project since 2014, 91 of which related to payment demands for free medical services, such as blood tests, transfusions, ambulance and medicines, and 82 about denial of entitlements by an anganwadi centre, such as take-home rations and food benefits guaranteed under a government scheme to ensure safe maternity.
Source: EndMMNow Project; Figures for the period May 5, 2014, to March 8, 2017
The text message sent by paralegals is immediately recorded and mapped on the project's interactive website with a brief report added after verification or a fact-finding investigation. During community grievance forums conducted every three months, the messages are presented to the block programme manager, responsible for implementing the National Health Mission (NHM) in the area, and possible solutions are discussed. The NGO staff also meet with the deputy commissioner of Sonitpur district to discuss violations and make recommendations.
"I've fought for our rights in hospitals, brought up our issues in meetings with officers, but that's not enough," said Geeti. "You all should be aware too; only then will there be less suffering and pain for women like us. We have the right to live, and to live healthy."
It is a right often denied to poor women nationwide.
Pregnant women across India asked to pay for free services
The stories of medical neglect suffered by pregnant Adivasi women in distant tea gardens of Assam are not isolated instances.
The government's big push to ensure low maternal mortality is not reaching the country's poorest women, an IndiaSpend and Video Volunteers investigation, with a special focus on tribal areas, revealed on February 15, 2017.
Inadequate public-health infrastructure, combined with a shortage of doctors and nurses, unhygienic conditions at health facilities and poor quality of care keep India's MMR high at 167 deaths per 100,000 live births--worse than Sri Lanka, Bhutan, Cambodia and the Arab world.
Over the last decade, rising female literacy, later marriages, financial independence, improved healthcare, better cooking facilities and water supply have ensured that Indian mothers and children are living longer, as IndiaSpend reported, analysing data from the National Family Health Survey, 2015-16 (NFHS-4), the latest available.
However, Assam's MMR of 300 is double India's average. Assam is one of 10 states where a 29% of babies--compared to the national average of 21%--are not born in hospitals, according to latest available data. This is an improvement since the last survey in 2005-06 when Assam recorded 78% babies not born at healthcare institutions compared with the national average of 62%, attracting special attention from the central government's flagship maternal health scheme, Janani Suraksha Yojana (JSY).
The EndMMNow project illustrates how other interventions are possible, particularly those that use technology and encourage community participation.
Limited access to incentives, medical help promised by govt
The EndMMNow project is run by a collective of three NGOs--Nazdeek, International Center for Advocates Against Discrimination (ICAAD), and the Promotion and Advancement of Justice, Harmony and Rights of Adivasis (PAJHRA)--that came together in 2014.
Among the women Geeti spoke to were three first-time mothers--Bishwasi, Leela and Anita. They were all in their last trimester but had received their first routine antenatal checks (ANC) only a week before.
"The ASHA worker gave us iron tablets, which we have been taking, but she didn't tell us anything else," Anita said, and the others agreed. That was the first time they were told what to eat, what to do in an emergency, and what they are entitled to. This is a briefing that is meant to be given at the start of a pregnancy.
Omina, 20, cradled her five-month-old infant for almost an hour. She looked frail and had visible wounds on her right ear. "I feel fine," she softly answered, when asked if she was alright.
Bheema (name changed), one of the two paralegals at the venue, said Adivasi women here were so used to hardship that they rarely sought help. "They know little about nutrition and wellbeing," he said. "They quietly internalise pain and are unaware when to seek help."
Most women attending the meeting there said they visited the Community Health Centre (CHC) in Dhekiajuli where they spent large sums on medicines and laboratory tests during pregnancy, and some were even asked to pay the nurses for their services--in violation of rules.
Only a handful of the women had received a cheque for Rs 1,400 guaranteed under JSY for institutional delivery and none had received the Rs 1,000 given for nutritional support after three antenatal checks under the state-run Mamoni Scheme. Most cheques remained uncashed because the women did not have bank accounts.
Why 95% of women workers in tea gardens are anaemic
One of the reasons for the high maternal mortality in Assam is the high prevalence of anaemia in the state's female population: 46% of the state's women between the ages of 15 and 49 were anaemic, according to NFHS-4. This is an improvement from the previous survey when the prevalence was 69%, but it continues to be a major cause of concern. The national average is 55%.
In 2014, among 16 tea gardens in the Dibrugarh district of Assam, it was found that anaemia among women was almost universal (95%), according to a sample study conducted by the United Nations Children's Fund (UNICEF) and the Assam Medical College.
The sample study also found that most girls and women were unable to consume nutritious meals due to low family incomes. Thousands of women living and working in tea gardens--whether privately-run or government owned--work long hours, earn low wages, and often live in poor conditions.
"Due to the lack of adequate health facilities and skilled personnel, in most tea gardens, pregnant women are usually referred to community health centres or public hospitals which are often more than 10 km away," said Arpana Choudhury, justice programme associate with Nazdeek.
"This means a long wait for an ambulance or a private car for which families have to pay."
Arpana Choudhury, justice programme associate with Nazdeek, addresses a group of men, children and about 40 women in Narayanpur Tea Estate during a community meeting where women are educated about measures to take during pregnancy and informed about the rights that they are entitled to. Their grievances are also noted down and taken to local government officials.
What happens when a woman in labour reaches a public health facility is a story echoed by poor women across the country, especially those living in remote tribal belts, as IndiaSpend reported in February 2017.
"The wards are dirty. Women are sometimes also referred to another hospital, which means more travel. They are made to pay for blood transfusions and medicines, and often also harassed and discriminated against by the staff," said Choudhury.
A visit to the CHC in Dhekiajuli, about 35 km west from Tezpur, shows why pregnant women in the state are in danger of a medical crisis from the time they reach a centre.
No medical attention, dirty wards: Why communal health centres are failing poor women
The CHC is the go-to facility for pregnant women from about 236 villages and over 21 tea gardens in Dhekiajuli block. It continues to function without a blood bank.
In April 2016, I saw a woman writhing in pain post-childbirth. She had not been checked by any doctor for 12 hours; and the painkillers, which the the doctor prescribed her at the time of delivery and the family bought at their own expense, had not helped.
Another woman lay in an adjacent bed, unable to hold her baby or speak because she was in pain. Relatives simply stood around looking helpless.
A visit in December 2016 offered similar scenes. The beds in the ward were covered with torn mattresses, and some were occupied by two women. A patient in labour stood outside, holding on to an iron railing, her eyes shut and head hung low as a relative stood consoling her. There was no doctor in sight, and the nurses sat chatting in a room nearby.
"Funds for various schemes and medicine supplies are regularly delayed. There's only one ambulance under the '108' emergency service, and it can't cover the entire area so it's not always available when needed," said Dibakar Hatiboruah, the block programme manager of Dhekiajuli responsible for implementing NHM in the area. "In the tea gardens, managements are profit-oriented and do not prioritise workers' health as much as they should. The women are illiterate, overworked and unaware. They remain helpless."
Most maternal deaths in Assam are preventable and are mostly recorded in tea gardens, according to local authorities and activists.
How speaking up made a difference in Sonitpur
Though Assam records a high MMR, there exist little or no data relating to its marginalised communities. The EndMMNow project, for the first time, highlights a pattern in these problems. The coded text messages sent by paralegals have also led to changes in the last two years.
Since the release of the project's first report in 2015, titled No time to lose: Fighting maternal and infant mortality through community reporting, 527 anganwadi centres (courtyard shelters) in the area have provided regular supply of rations to about 27,000 pregnant and lactating women, and children.
All previous pending JSY payments of the year 2015-16 were released following a meeting with Sonitpur district's former deputy commissioner, Laya Madduri, in early 2016, said Choudhury. The DC also ensured that a doctor in Dhekiajuli CHC was trained to use the ultrasound machine so patients did not have to be referred elsewhere for the test.
Complaints about expensive medicines being prescribed without good reason to pregnant women have now stopped following a complaint and investigation. In August 2016, the CHC conducted its first Caesarean operation.
In the community health centre in Dhekiajuli, about 35 km west from Tezpur, a mother lies writhing in pain post-childbirth. She had not been checked by any doctor for 12 hours; and the painkillers, which the family bought at their own expense, had not helped her. Many pregnant women in Assam are denied public health entitlements, and also harassed and discriminated against by the hospital staff.
"Local authorities are aware (of the violations) but often don't know how to implement changes. We're helping them through the project, and also bridging the communication gap between them and the Adivasi community," said Choudhury.
In addition to community meetings in villages and tea gardens, citizen grievance forums too have been organised by the collective since February 2016. Women get to speak about their problems in the presence of local authorities, and solutions are discussed.
"The nurses and ASHA workers are all from the same community, but even they take advantage of our lack of awareness," said Sabina (name changed), a mother of two, and a paralegal. "After I trained to be a volunteer for the project, I learnt so much. Problems will continue, but I can finally speak up for myself and other women."
The project has run into some hurdles, but the results are encouraging the collective to replicate it in other corners of India.
Mobile reporting project goes to Delhi
The EndMMNow project currently has about 17 paralegals, but for most of them, it is a challenge to find the time to volunteer. Bheema works on a child rights project with PAJHRA, and Sabina is an anganwadi worker. "Some women were married and moved away, a few others don't find enough time out of work and household responsibilities. The progress has been slow, but it hasn't stopped," said Geeti.
The large area and inclusion of tea gardens in the project has meant monitoring rights guaranteed by both the government and the tea companies.
Jayshree Satpute, co-founder of Nazdeek, said the biggest hurdle has been reaching out to company officials in tea gardens who have not been responsive. "There's a Big Brother kind of overseeing of activities there, so it becomes difficult for paralegals to report violations."
The project is now on its second initiative--SMS for Justice--in New Delhi. Nazdeek has partnered with five other NGOs, including ICAAD, to train about 70 Dalit women to report violations relating to not just reproductive health but also nutrition, housing services, and water and sanitation in the capital.
Since the project began in the last week of December 2016, more than 200 violations have been reported by 20 paralegals from the Bhim Nagar slum in Nangloi in west Delhi, and the government resettlement colony under Rajiv Ratan Awas Yojana (RRAY) in Baprola, in south-west Delhi. About 50 more paralegals are being trained in two other slums.
Source: SMS For Justice Project; Figures for the period December 23, 2016 to April 13, 2017
By covering a larger number of rights and violations in smaller pockets of Delhi, Satpute's idea is to demonstrate that the approach can be used to empower marginalised communities across different parts of India, hold the government accountable for different kinds of issues, and to do wider reporting.
"No woman should be denied access to a service or treatment," said Geeti. "It shouldn't matter where we live or what community we belong to. We don't deserve to die."
Note: Names of three paralegals in this story have been changed to protect their identity. They feared retaliation by government and tea company officials.
(Santoshini is an independent journalist based in Assam, reporting on human rights, development, and gender issues. She was the 2016 Bitch Media Writing Fellow in Reproductive Rights & Justice.)
We welcome feedback. Please write to respond@www.health-check.in. We reserve the right to edit responses for language and grammar.
__________________________________________________________________
"Liked this story? Indiaspend.org is a non-profit, and we depend on readers like you to drive our public-interest journalism efforts. Donate Rs 500; Rs 1,000, Rs 2,000."