Swine Flu Cases Rise 9-Fold As India's Response System Falters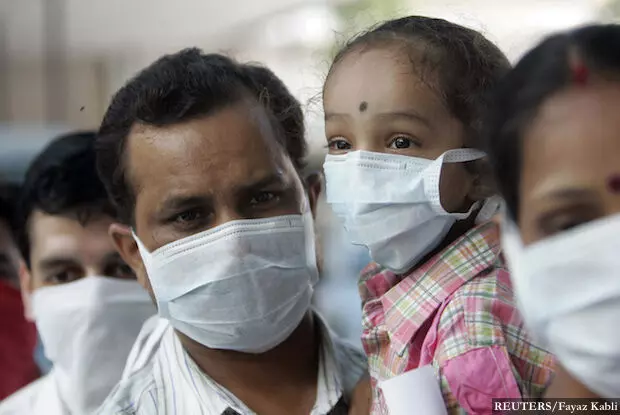 People wearing masks wait in a queue for a H1N1 flu screening at a hospital in New Delhi.
Mumbai: So far this year, H1N1 or swine flu has infected 18,000 people and killed 871, a nine-fold rise over the 1,786 cases and 265 deaths reported last year.
Two years after a massive outbreak in 2015 that infected 42,500 people and killed almost 3,000, India's response remains inadequate.
Seasonal flu vaccination is not part of India's national vaccination policy, and a public database that could measure the magnitude, year-to-year variations, strains, risk factors, etc. of the virus has not been properly maintained.
Doctors say young children, the elderly and those with preexisting chronic conditions are more likely to contract the virus due to lower immunity. Such persons, as well as pregnant women and health workers, should get vaccinated, doctors suggest.
More cases this year
Swine flu or Influenza A is caused by the H1N1 virus, which primarily affects the respiratory system and has symptoms similar to seasonal flu such as sudden onset of fever, chills, sore throat, headache, cough and body ache. Since it spreads through droplets when the infected person sneezes and coughs, its transmission is swift.
The worst outbreak of H1N1 influenza was in 2015 when over 42,500 people were infected and almost 3,000 died. Although nowhere close, the number this year is 10 times that of last year.
Maharashtra has been the worst hit, with over 50% of all influenza deaths at 414, and 4,014 cases.
Gujarat, meanwhile, has lost 210 lives to swine flu this year--more than 30 within three days from August 13-15. On August 16, 2017, the Gujarat High Court rapped the Ahmedabad Municipal Corporation for "taking its directions lightly" on curbing the spread of swine flu.
Why the increase?
The rise in the number of cases reported is due to better national surveillance and better laboratory detection systems, Devendra Maurya, director, National Institute of Virology, Pune, told IndiaSpend.
Source: Ministry of Health & Family Welfare, Rajya SabhaNote: Figures for 2009 are for the period May to December; Figures for 2017 are up to July 16, 2017.
Experts say another reason is that the immunity acquired during previous outbreaks has worn off. Immunity develops either through an infection or by vaccination and wanes over time. After the 2015 outbreak when large populations would have been exposed to the virus, there were only 1,786 cases of H1N1 recorded in 2016. It is likely that there are more cases this year because fewer people are immune.
Early detection is the key
The elderly, young children and those with pre-existing chronic conditions are more likely to contract the virus due to lower immunity.
"We are definitely seeing more cases in younger patients," said Rahul Tulle, consultant physician, Vedant Hospital, Thane. "Since the virus spreads through air, young people are more affected as they are more exposed to overcrowded places like malls, trains, cinema halls, railway stations and bus travelling."
Seeking medical help as soon as the first symptoms arise is the key to better results. "Deaths due to swine flu are commonly seen in those who are not treated on time and who do not complete the medication course," Om Srivastava, a Mumbai-based infectious disease specialist, told IndiaSpend. "If you suspect a patient has H1N1, start the treatment. The longer you wait, more likely that it gets worse."
Surveillance remains poor
Although India has an Integrated Disease Surveillance Programme (IDSP) which is supposed to receive samples on a regular basis from 11 laboratories that collect influenza samples, it has been criticised for slackening during years when there is no influenza outbreak.
"The current IDSP results are skewed and inaccurate," G Arun Kumar, a virologist whose laboratory at the Manipal Virus Research Centre is part of IDSP, told IndiaSpend, "They [district surveillance officers] collect samples only when there are deaths or only during flu season and not on a weekly and all year around basis, as they should."
Apart from H1N1, which is a type of influenza A virus, there is H3N2 and also influenza B, both of which cause similar symptoms and even death, but their data are not collected because they are not hyped.
India lacks a dedicated public health cadre, T Jacob John, a virologist and public health expert who was formerly at Christian Medical College, Vellore, told IndiaSpend. "In the absence of public health [cadre], public health surveillance cannot be enforced. The IDSP is a stop-gap arrangement that does not fall within the definition of public health surveillance," he said, adding that without surveillance, it is impossible to know the magnitude, year-to-year variations, strains, risk factors, mortality rates, etc. of the virus.
IDSP is not integrated with private or public sector healthcare providers, or with national vertical programmes for tuberculosis, malaria, etc. "IDSP collects statistics. In public health, surveillance statistics is not the primary objective but it is side product," he said, explaining that the focus instead should be on addressing social and environmental determinants that cause the disease.
Flu vaccine protects but government does not promote it
Getting a seasonal flu vaccine offers 60-80% protection against influenza viruses and lessens the severity of the symptoms. Vaccination is a critical input for preventing H1N1 influenza since it helps develop herd immunity—in which large parts of the population are immune to the virus, slowing down its transmission.
Flu vaccine offers protection for 8-10 months, and a yearly flu vaccine is common in western countries. However, there is little awareness about the vaccine in India.
Seasonal flu vaccination is not part of India's national vaccination policy and the overall coverage of seasonal flu vaccine has been less than 10 doses per 1,000 people, according to a 2015 World Health Organization global review (as against 286 per 1,000 people in the US, for instance).
The review noted that the coverage of seasonal flu vaccination is low (<5%) in most low- and middle-income countries but making the vaccine free through the public healthcare system increases coverage.
Priced between Rs 500 and Rs 700 for different brands, the H1N1 vaccine may be too expensive to be given universally, but can be targeted at the vulnerable such as the elderly, children, those with pre-existing chronic diseases, pregnant women and health workers.
(Yadavar is principal correspondent with IndiaSpend.)
We welcome feedback. Please write to respond@www.health-check.in. We reserve the right to edit responses for language and grammar.
__________________________________________________________________
"Liked this story? Indiaspend.org is a non-profit, and we depend on readers like you to drive our public-interest journalism efforts. Donate Rs 500; Rs 1,000, Rs 2,000."