Stopping India's #1 Killer Is Up to Indians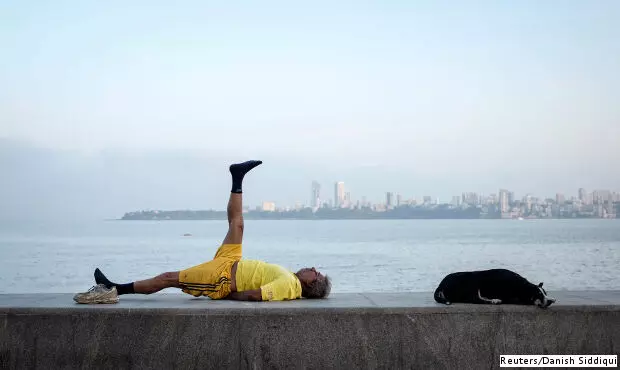 A man stretching near the Arabian Sea in Mumbai. 30 minutes of aerobic exercise a day could cut your risk of heart disease by 30%.
One evening after dinner in 1991, Satish Karekar, then 42, a Mumbai businessman, experienced a dull pain and heaviness in the chest and lightness in the head. When the feeling persisted well into the night, his brother, who's a doctor, whisked him off to hospital.
"There, I was diagnosed as having suffered a heart attack, and promptly put on medication," recalled Karekar.
Unlike Karekar, many heart attack victims don't get a second chance. About 1.7 million Indian hearts stop beating every year, according to the World Health Organisation (WHO).
Heart attacks typically happen when a blockage in blood vessels prevents blood from flowing to the heart. Usually, the offending cause is a build-up of fatty deposits on the inner walls of blood vessels. Another 0.8 million Indians are felled every year by stroke, the brain's equivalent of a heart attack, caused by obstructions in blood vessels feeding the brain.
Various kinds of heart diseases, stroke and diseases of blood vessels nourishing the limbs are collectively called cardiovascular diseases. Of all these, coronary artery disease, also called ischemic heart disease, and stroke account for the lion's share, 83%, of deaths (see table).
Source:
WHO
Cardiovascular disease emerged as India's top killer around the mid-1980s. Since the turn of the century, it is a growing threat. In 2012, one in four Indians who died, died of cardiovascular diseases, according to WHO data. It was one in five Indians in 2000.
Indian men and women have about an equal chance of suffering a stroke. However, men have 1.5 times the odds of suffering a heart attack as women.
Growing numbers of young people are being afflicted. About 12% of those experiencing heart attacks in India are below 40, double the number in the West. P P Ashok, head of neurology at Hinduja Hospital has observed a 15-20% increase in strokes in the 25 to 40 age group.
Why is India experiencing a cardiovascular disease epidemic?
Don't give yourself a heart attack
Heart disease doesn't run in Karekar's family. Both he and his other brother, who's a businessman, have acquired heart conditions—"through faulty lifestyles," he admitted.
On a list of risk factors for coronary heart disease, Karekar could have ticked off almost all in 1991.
High fat intake/low fruit and vegetable intake? Yes ✔
Sedentary lifestyle? Yes ✔
Overweight? Yes ✔
Heavy smoker? Yes ✔
Alcohol consumer? Yes ✔
Stressed out? Yes ✔
Diabetic? No ✖
Hypertensive? No ✖
Diets loaded with refined carbohydrates and saturated fats, found aplenty in processed foods, fast food and snacks, predispose you to cardiovascular disease.
Poor dietary habits are expressed as obesity, which accounts for 23% of the global cardiovascular burden. Home to 30 million obese persons, India has the third-highest number of obese people of any country.
Many more Indians are overweight. The last National Family Health Survey classified more than 10% of adults as overweight or obese.
Smoking or chewing tobacco doubles the risk of cardiovascular disease.
Tobacco consumption among Indian men has remained more or less constant since 1995. About one in two men consume tobacco in some form or the other. Consumption by women, however, has doubled since 1995, from 10% to 20%.
Drinking too much alcohol can cause high triglycerides and high blood pressure, forerunners of cardiovascular disease. Binge drinking has been associated with strokes.
India's per capita consumption of alcohol increased 37% between 2003 and 2012, from 1.6 litres to 2.2 litres.
Not everyone drinks, but those who do far exceed the country's per capita average. Male drinkers (over 15 years old) consume 33 litres of alcohol a year while the average consumption among women is 11 litres, according to the WHO. Globally, alcohol consumers down an average 17 litres.
The genetic disadvantages of being Indian
Scientists studying the Indian propensity for cardiovascular disease have found causes at the cellular level—specifically in genes.
Early insights into the association between bad tickers in Indians and bad genes came from the USA, when American-Indian cardiologist and head of the CADI (Coronary Artery Disease among Asian Indians) Research Foundation, Enas A Enas, was drawn to investigate the cause for an inconsistency he called the South Asian Paradox.
"Half of the Asian Indian community in the US is comprised of life-long vegetarians; this should have lowered the occurrence of cardiovascular diseases among them because consuming meat is a traditional risk factor. Also smoking, another traditional risk factor, is uncommon among Asian Indian women," he said. "Instead, we found Indians in the United States have three times the prevalence of heart disease, compared to the general US population."
Enas showed that Asian Indians are more likely to have high levels of lipoprotein (a), a variant of low-density lipoprotein (LDL) cholesterol, also called bad cholesterol, and a risk factor.
Research in India has seconded this finding, as this 2013 study said.
"People with high levels of lipoprotein (a) are not only at higher risk of developing heart disease but also at higher risk of developing its aggressive multi-vessel variants, earlier in life, and of suffering repeat blockages despite surgical interventions," explained Fauzia Ashfaq, a member of that research team from the Department of Cardiology, Sanjay Gandhi Post Graduate Institute of Medical Sciences, Lucknow.
Elevated lipoprotein (a) is a risk factor for stroke as well.
Indians are also genetically predisposed to develop Metabolic Syndrome, or Syndrome X, a metabolic condition associated with doubling the risk for cardiovascular diseases.
Syndrome X implies having any three of these five factors: abdominal obesity, or being of apple shape; elevated blood pressure; high fasting blood-glucose levels; high levels of triglycerides and low levels of high density lipoprotein (HDL, also called good cholesterol for its protective action).
About 92% of Indians have low HDL, reckoned Enas, while about 42% Indians have the potent combination of high lipoprotein (a) and low HDL.
Gene mutations are the leading reason for cardiomyopathy, a cardiovascular disease involving damage to the myocardium, the heart muscles, lessening the heart's ability to pump blood. Cardiomyopathy can trigger sudden cardiac death.
In 2009, a group of scientists across the country studying the MYBPC3 gene mutation found that carriers have seven times the odds of developing cardiomyopathy versus the normal population. While 1% of the global population carries the MYBPC3 gene mutation, 4% of South Asians—and that includes Indians—bear the disorder, called the 25bp (for base pair) deletion.
"About 1 in every 25 Indians, leave aside those from the northeast and the tribal populations of Andaman and Nicobar Islands, has the 25bp deletion," said Kumarasamy Thangaraj, a senior member of the study group and scientist at the Centre for Cellular and Molecular Biology, Hyderabad.
The 25bp deletion causes about a fifth of all cases of inherited hypertrophic cardiomyopathy in India. Since then Thangaraj and others have identified cardiovascular-disease-causing gene mutations exclusive to Indians.
Lessons in healthy living
Bad genes are bad news, but not as bad as you think.
"Genetic predisposition to develop heart disease creates a loaded-gun scenario," said cardiologist Ashok Seth, chairman of Fortis Escorts Heart Institute, New Delhi. You need fewer risk factors to trigger heart disease in the first instance and to suffer repeat cardiac episodes, he added.
Seth's experience of a quarter century in treating heart disease and performing more than 50,000 angiographies has convinced him that a family history of heart disease is one of the strongest predictors of the likelihood of developing it.
Genes account for half of the reason for developing Syndrome X, said Gerald Reaven, Terry Kirsten Strom and Barry Fox in their book Syndrome X: Overcoming the Silent Killer that Can Give You a Heart Attack.
Lifestyle accounts for the other half.
Some months after the attack, Karekar underwent bypass surgery, then imposed self discipline: "I switched to a majorly vegetarian, oil-free diet. I quit smoking. I knocked off some weight (84 kilos to 70 kilos). I started to exercise every day, even when travelling. I learned pranyama and meditation, and use these techniques to manage stress."
Satish Karekar, a 66-year-old heart-attack survivor from Mumbai, is determined not to waste his second chance at life.
Lifestyle changes can prevent and stave off further brain and heart attacks and the ensuing damage—no matter what genes you carry. Sustained effort pay handsome rewards.
Smokers can cut their risk of having a heart incident to the level of non-smokers within 15 years of quitting, according to Seth.
Making the right food choices helps to offset Syndrome X—even if it was inherited—and, conversely, Syndrome X can be acquired by a faulty diet.
It helps to limit calorie intake from fats, to eliminate trans-fatty acids and to switch from saturated to unsaturated fats, say WHO guidelines. Limiting the consumption of free sugars and salt, eating whole grains, nuts and 500 gms of antioxidant-rich fresh fruits and vegetables daily is recommended.
Getting 30 minutes of aerobic exercise every day cuts the risk of heart disease by 30%, according to the World Heart Federation. A 30-minute walk five days a week can decrease the risk of stroke by 24%, double the walking time to cut the risk by half, as per a Harvard study.
Thangaraj advises those with family histories of aggressive forms of heart disease to undergo early screening, in their twenties, for the presence of gene mutations, and if it is warranted, to get treated before the myocardium is irreversibly damaged.
In your hands: Your heart, your brain
Karekar's preventative armoury includes medication to help avoid another attack, which he takes religiously.
"Heart patients, even those who have never had a cardiac episode but with high cholesterol, are typically prescribed statins and aspirin," said Seth.
Hypertensive patients are prescribed medication to avert strokes.
Vijaylakshmi, a patient of hypertension, was 52 when she suffered her first stroke in 1991—a strange sensation in her head before falling unconscious.
It took six hours to admit Vijaylakshmi to a hospital because of limited health facilities in the rural district of Palakkad in Kerala. That's six times the golden hour, the period in which to get stroke victims to a doctor to prevent permanent damage.
Vijaylakshmi spent a gruelling month in hospital, then she underwent physiotherapy for several months to wrest back control of her paralysed left side.
"She started walking again, and could look after herself and manage the household," said her daughter Geetha Rani. "But she never regained the ability to lead an active outdoor life."
Many of the one million Indians who survive stroke every year struggle for normality, as Vijaylakshmi does. Suffering two more strokes in 2000 and in 2006, each triggered differently, has made walking, even with help, very difficult for her. Her family suspects she has suffered strokes because her disease hasn't been adequately controlled. "We feel she may have been careless about taking her medication, and missed doses," said Geetha Rani.
That is possible.
Awareness, treatment and control of cardiovascular disease risk factors correlates with education levels, an Indian Heart Watch study found, and are low even among literate middle-class urban Indians vis-à-vis developed countries.
"Of the one-third of adults we found to have hypertension, only about half were aware of their condition, only 40% were taking treatment for it and only one in four had adequate control," said Rajeev Gupta, study leader and head of medicine at the Fortis Escorts Hospital, Jaipur.
Death is only one threat of cardiovascular disease. "What is debilitating is living with the outcomes of stroke," said V G Pradeep Kumar, senior consultant neurologist at Baby Memorial Hospital, Kozhikode, and secretary, Indian Stroke Association. "Caring for a stroke victim can take a huge toll on families. It is emotionally, physically and financially exhausting."
Might a lesson from someone who has been to the twilight zone and back inspire lifestyle changes in Indians?
Karekar is proud and relieved today, with good reason.
"I am not a heart patient," he said. "I am an ex-heart patient." ■
You can read the first part of this series here, the second part here, the third part here and the fourth part here.
(Bahri is a freelance writer and editor based in Mount Abu, Rajasthan.)
"Liked this story? Indiaspend.com is a non-profit, and we depend on readers like you to drive our public-interest journalism efforts. Donate Rs 500; Rs 1,000, Rs 2,000."