Stealthily, Smoke Kills 1 in 8 Indians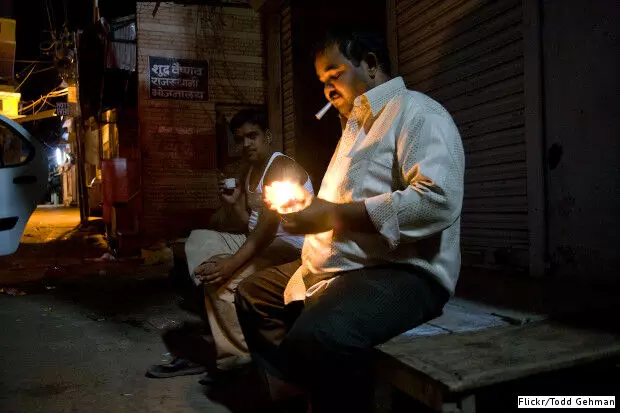 Breathing doesn't come easy to Asgar Ali Siddique, 45, a Mumbai resident, especially if he walks fast or climbs stairs—all because at the age of 15, he and his friends started to experiment with smoking.
One cigarette led to another and soon, Siddique evolved into a chain smoker. Cigarettes, beedis, Siddique tried them all. At 35, he first saw a doctor for his breathing troubles.
"I quit as soon as I realised smoking was causing my breathing difficulty," said Siddique.
His volte-face was too little, too late because Siddique had developed chronic obstructive pulmonary disease, or COPD.
Asgar Siddique, because of his COPD, cannot work as a blacksmith any more.
People with COPD breathe as if something were obstructing the flow of air. Toxins in smoke inflame and narrow the airways of the lungs and gradually damage the alveoli, tiny air sacs at the ends of the airways where oxygen is deposited.
Asthma, the second most deadly chronic respiratory condition, involves a sudden allergic response of the immune system to a trigger—anything from vehicle exhaust to peanuts—causing inflammation and construction of the airways. Asthma is marked by breathing difficulties, wheezing, chest tightness and coughing.
Chronic respiratory diseases, with COPD and asthma in the lead, killed 1.25 million in 2012, up 115% from 0.58 million in 1998.
Since the turn of the century, respiratory diseases have stayed at second position in India's list of top killer diseases. In this time, however, COPD has become a bigger threat, individually overtaking neonatal diseases, a major communicable disease listed third in the rankings.
As a result, more people than ever before are living with the discomfort inflicted by blackened lungs, many more in rural India than urban.
Living with weak lungs in the Indian countryside
As a young bride, Ranjana Vahile never thought twice about cooking on a wood fire. That was the way of life in rural Pune in the 1980s.
She did not know the hearth smoke was quietly making its way into her lungs. Vahile first got wind of the trouble ten years ago, at the age of 45.
"I started to experience breathing difficulties. Coughing spells, with expectoration, followed. Now I also experience fatigue that simply refuses to go away," she said.
Switching to cooking on a gas stove has made no difference to Vahile's suffering. She has now developed COPD.
Roughly three times the number of rural people suffer from COPD than urban people. Between 1996 and 2011, the rural prevalence of COPD increased from 9.54% to 14.19% while the urban prevalence rose from 3.46% to 5.15%.
COPD is predominantly a disease of the poor, according to an Indian study on epidemiology of asthma, respiratory symptoms and chronic bronchitis (INSEARCH), funded by the Indian Council of Medical Research.
"A staggering 62.9% of persons with chronic bronchitis were from socio-economically less-privileged backgrounds versus only 3.2% from privileged families," said Surinder K Jindal, INSEARCH study leader and former head, Department of Pulmonary Medicine, Post Graduate Institute of Medical Education & Research, Chandigarh.
About 2.05% of adults suffer from asthma, according to INSEARCH. However, asthma is predominantly a children's disease.
In Asthma: The Biography, Mark Jackson, professor of the History of Medicine at the University of Exeter, UK, says its prevalence in India has grown from 2% to 15% between 1960 and the late 1990s. Asthma has a current prevalence rate of 10% to 15% in the 5 to 11 age group in India, according to the World Health Organisation.
A one-way street to slow death
Smoking cigarettes and beedis are the biggest cause for COPD in men. Smokers face a threefold risk of developing COPD as compared to non-smokers, according to INSEARCH.
Roughly one in four adult Indian men smokes. They pose a danger to themselves and to those around.
"Passive smokers have twice the odds of developing chronic bronchitis as those with no such exposure," said Padma Sundaram, respiratory medicine specialist at Manipal Hospitals, Bengaluru.
Indoor air pollution is the biggest cause for female COPD in India.
"In Asia, female COPD is predominantly household air pollution induced," said Pune-based pulmonologist and chest physician Arvind Bhome.
Outdoor air pollution, such as smoke from traffic effluents, fire crackers, industrial fumes and mining dust, can also cause COPD and set off asthma.
Other asthma triggers are strong odours as from paint and air fresheners, smoking, suspended pollen and dust, sudden climatic changes like entering an air-conditioned room straight after being in the sun, eating cold food and exposure to dampness and cold. Intense emotion, expression and stress also provoke asthma.
Certain foods can bring on asthma. Popular triggers are eggs, milk, peanuts, soy, wheat, fish, sulfites and sulfating agents occurring naturally and used in food processing, some preservatives and food additives.
A global study, the International Study of Asthma and Allergies in Childhood (ISAAC), based on the experience of half a million children and teens, draws a connection between fast food consumption and asthma.
In study centres across the world, researchers found that eating fast food at least three times a week increased a teen's risk of developing severe asthma by 39% and children's risk by 27%.
Another common asthma trigger is sudden exertion.
Weak-chested Indians shouldn't tax their lungs
Indians have weak lungs, which compounds the respiratory malaise sweeping their country.
"Our forced vital capacity (a measure of lung function) is low vis-à-vis Caucasians and even other Asians like the Chinese. Indians have shorter chests in comparison with those races," said Parvaiz A Koul, head of the Department of Internal & Pulmonary Medicine, Sher-I-Kashmir Institute of Medical Sciences, Srinagar.
Research shows Indians have about 20% less lung capacity than Caucasians.
Koul is investigating the role of genetics in developing chronic bronchitis, driven by its high prevalence in non-smoking men and women in Kashmir.
"Here, nearly 1 in 5 men and 1 in 7 women above the age of 40 suffer from lung function abnormalities consistent with COPD," he said.
Breathe easy: How you can get back your life
Asthma is the lesser evil of the two major chronic respiratory diseases, it is both reversible and preventable.
Medication and inhalants can help control asthma flare-ups. But drugs are expensive and progressive, in that successively higher doses are needed to manage symptoms. So after recuperating from an attack, it makes sense to control exposure to triggers and work on other preventive measures.
Healthy eating helps cut the risk of asthma. This includes restricting salt intake and eating a lot of fruit.
Fruits are rich in antioxidants like Vitamin A/betacarotene, vitamin C, vitamin E and selenium, which help repair the damage caused to the epithelial lining of the lungs by inhaled oxidants or inflammatory processes. Also antioxidants boost the immune system as does exercise.
Asthmatics who exercise experience fewer flare-ups, and they recover faster. But working out during an attack and pushing comfort limits are not good ideas. It takes time to build up stamina for aerobic exercises.
Nikhil Anand, 19, will always remember his first asthma attack. While playing cricket with his friends in Muzaffarpur, his hometown, at the age of 5, he suddenly felt breathless.
Things have gotten much better since his preteens when he would experience a flare-up every couple of months. Today, Anand swears by his workout but is careful to stick to a certain set of exercises.
"I can sense my body protesting if I try to overstep this limit," he said.
Breathing exercises help improve lung function, affirms Tarun Saxena of the Department of Internal Medicine, Mittal Hospital, Ajmer, and lead investigator of a study to gauge the effect of pranayama in patients with bronchial asthma of mild to moderate severity.
"Since patients of asthma (and COPD) struggle with expiration (breathing out), we taught patients breathing exercises and expiratory exercises," said Saxena. "In particular, bhramari, making the sound of the honey bee while exhaling and performing a high pitch/forceful prolonged omkara helped patients to maximise the expiration of trapped air."
Pranayama works on the physical level, by aiding deep breathing and controlled breathing, as well as on the mental plane by helping to de-stress.
Unlike asthma, COPD develops gradually.
"It takes 20 to 30 years to develop COPD," said Sundaram.
Moreover, there's no turning back the clock once COPD develops.
"Lungs afflicted with COPD are damaged beyond repair, and severely starved of oxygen," said Anurag Saxena, internal medicine specialist at Primus Hospital, New Delhi.
Medication can help partially alleviate COPD symptoms. Vahile continues to suffer despite taking three tablets daily, since being "officially" diagnosed with COPD three years ago.
Oxygen therapy is an option, but it is out of the reach of the poor, as is intensive care, when COPD gets exacerbated.
"In case of COPD, exacerbation warranting hospitalisation, the median out-of-pocket costs are as high as Rs 44,390," said Koul.
It's a hard life for less privileged people who fall prey to chronic respiratory diseases.
Siddique couldn't have been given a worse life sentence for smoking. A blacksmith, he's out of work because breathing in front of a furnace is impossible.
Siddique, a former chain-smoker, cannot climb up stairs without feeling short of breath.
Hardly a day goes by when Siddique does not brood over the government's approach to curbing tobacco use.
"Of what use are written warnings on cigarette packets for illiterate people like me who can't read?" asked Siddique. "Pictures are good, we need more pictures. Why doesn't the government just stop making cigarettes and beedis available?"
A few days ago, we learned Siddique had travelled to Hyderabad to swallow a fish as a miracle cure. ■
You can read the first part of this series here, the second part here, the fourth part here and the fifth part here.
(Bahri is a freelance writer and editor based in Mount Abu, Rajasthan)
---
"Liked this story? Indiaspend.com is a non-profit, and we depend on readers like you to drive our public-interest journalism efforts. Donate Rs 500; Rs 1,000, Rs 2,000."