Six Cities Corner 27% Of India's Health-Insurance Payouts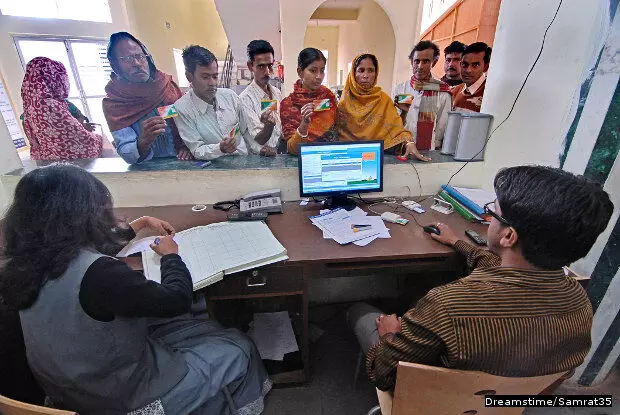 Recent news has it that the government is considering introducing two universal health-insurance policies—offering Rs 50,000 and Rs 100,000 cover for a family of five, the premium for which is likely to be Rs 700 and Rs 1,300 respectively.
If it does, the government will be introducing pan-India coverage at a uniform price, at a time when insurance companies, hit hard by higher hospitalisation expenses in leading metros, are increasingly moving away from the concept of 'one policy, one price'.
In 2012, claimants in India's top six cities—4.5% of India's population—accounted for 21% of all health-insurance claims and received 27% of all health insurance payouts, according to the Insurance Information Bureau of India.
KPMG, a consultancy, estimates that 30 to 40% of all claims come from India's top six cities, and their average claim size is about 30% higher than the all-India average.
Consider these disparities:
At Rs 46,806, Mumbai's average claim size was 497% that of Jharkhand's Rs 9,403.
Bengaluru's average claim of Rs 43,143 was 380% that of Bihar's Rs 11,340.
As a result, the price of a health cover has become a complex variable, depending on where you live, what hospital you plan to use and your age.
Mumbai, India's most expensive city for healthcare
Most insurance companies in India are switching to geographical pricing to address inconsistencies in health-care costs. Geographical pricing ties premiums to the average cost of healthcare in different cities and regions.
"We have demarcated various zones across the country based on the prevailing medical costs and trends in costs," said Sandeep Patel, managing director & CEO, Cigna TTK Health Insurance, a private health-insurance company.
Zonal premium rates also take cognizance of the existing health infrastructure because tertiary care hospitals in the private sector are fairly expensive, said Patel.
Mumbai is by far India's most expensive city for healthcare. Its average claim size is 70% higher than the rest of the state of Maharashtra alone.
Health Insurance Claims By State 2012-13
State
Region
Number of Claims
Total Claim Paid Amount (in Rs cr)
Average Claim Paid (in Rs)
Maharashtra
West India
2,81,609
1,028.27
36,514
Gujarat
West India
1,30,477
332.27
25,466
West Bengal
East India
1,27,518
399.53
31,331
Delhi
Union Territories
1,26,126
506.76
40,179
Tamil Nadu
South India
1,24,925
362.76
29,038
Karnataka
South India
1,00,795
389.10
38,603
Andhra Pradesh
South India
81,091
253.44
31,254
Kerala
South India
76,751
124.81
16,262
Haryana
North India
62,616
271.03
43,285
Uttar Pradesh
North India
52,487
158.61
30,219
Madhya Pradesh
Central India
25,608
57.35
22,396
Punjab
North India
21,827
61.65
28,245
Rajasthan
West India
19,122
53.08
27,757
Jharkhand
East India
13,784
12.96
9,403
Bihar
East India
9,043
10.25
11,340
Orissa
East India
7,603
16.28
21,418
Goa
West India
3,812
10.79
28,296
Uttarakhand
North India
2,872
6.49
22,584
Assam
East India
2,441
7.31
29,944
Chattisgarh
Central India
2,276
6.23
27,373
Source: Insurance Information Bureau of India
Having an angioplasty in Nasik or Pune would set a heart patient back about Rs 2.5 lakhs. Undergoing the same procedure in Mumbai (or Delhi) would cost Rs 4 lakh, according to Suresh Sugathan, head, Health Insurance at Bajaj Allianz General Insurance.
Delhi, Bengaluru, Hyderabad, Kolkata, Chennai are pricey but several notches below Mumbai.
Number of Claims and Amount of Claims Paid In Leading Metros, 2012
Metro City
Number of Claims
Total Claims Paid (Rs crore)
Average Claim Paid (in Rs)
Mumbai
1,33,326
624.05
46,806
Bengaluru
75,709
326.63
43,143
Delhi
1,26,126
506.76
40,179
Chennai
52,065
183.63
35,269
Kolkata
87,207
294.72
33,795
Hyderabad
62,435
207.23
33,192
Source: Insurance Information Bureau of India
Hyderabad, the laggard in the class of six, had an average claim size of Rs 33,192 in 2012, which was lower than Maximum City's by 41%.
Cities in Gujarat, such as Ahmedabad, Vadodara and Surat, are surprise entries in the list of most expensive places to get healthcare, zone 1, as it is called. Gujarat also made the second-highest number of claims of all states in 2012.
Providers classify the rest of India based on their experience. For instance, CignaTTK classifies Chandigarh and Ludhiana in zone 2, while public-sector provider, New India Assurance Company, puts these cities in zone 3.
Zoning India For The Sake of Health Insurance
City
What zone does it fall in?
Mumbai, Thane, Navi Mumbai
Zone 1
Delhi/NCR
Zone 1 (CignaTTK ProHealth), Zone 2 (New India Assurance), Zone 1 (Max Bupa)
Bengaluru
Zone 2, Zone 1 (Max Bupa)
Hyderabad
Zone 2, Zone 1 (Max Bupa)
Chennai
Zone 2, Zone 1 (Max Bupa)
Chandigarh
Zone 2 (CignaTTK ProHealth), Zone 3 (New India Assurance)
Ludhiana
Zone 2 (CignaTTK ProHealth), Zone 3 (New India Assurance)
Kolkata
Zone 2, Zone 1 (Max Bupa)
Gujarat
Zone 2 (CignaTTK ProHealth), Ahmedabad/Baroda in Zone 2 (New India Assurance), Zone 1 (Max Bupa)
Pune
Zone 2 (New India Assurance), Zone 3 (CignaTTK ProHealth), Zone 1 (Max Bupa)
Bhopal
Zone 3, Zone 2 (Max Bupa)
Jaipur
Zone 3, Zone 2 (Max Bupa)
Lucknow
Zone 3, Zone 2 (Max Bupa)
Patna
Zone 3 (CignaTTK ProHealth), Zone 4 (New India Assurance), Zone 2 (Max Bupa)
North-East India
Zone 4 (New India Assurance), Zone 2 (Max Bupa)
Jharkhand, Orissa, Chhatisgarh
Zone 4 (New India Assurance), Zone 2 (Max Bupa)
J&K, Uttaranchal
Zone 4 (New India Assurance), Zone 2 (Max Bupa)
Source: Health insurance companies
Small town India enjoys lower healthcare costs and hence, discounts on premiums
Premium rates vary from 7% to 20% between zones for covers from private companies and from 2% to 15% for policies from public companies.
As an example, Max Bupa has defined two zones and introduced tiered pricing based on where customers live and where they opt to get treated.
"Health Companion customers living in zone 2 typically get 10% discount on the premium," said Somesh Chandra, chief operations officer and chief quality officer, Max Bupa Health Insurance. "Additionally, opting to get treated in their hometown or another zone 2 city fetches them a further discount of about 10%."
But patients who pay a lower premium but get treated in a more expensive zone, for whatever reason—better doctor, only option, advanced medical technology—will be reimbursed only a proportion of the cost of treatment.
How health-insurance costs vary by city
A 40-year-old Mumbai resident using a health cover of Rs 500,000 from the public-sector New India Assurance would pay a basic premium of Rs 7,000, exclusive of service tax.
Residents of the same age in Delhi (zone 2) and Bhopal (zone 3) would pay marginally less, Rs 6,900 and Rs 6,800 respectively.
However, for a patient living in any of India's north-eastern states, or in other states—all classified as zone 4 by New India Assurance—would pay considerably less, about Rs 5,935.
Pricing by category: the future of health insurance in India
Zone-based health insurance pricing is fair to people living in smaller cities.
"Zone-based pricing ensures that customers in Tier II/Tier III cities do not cross-subsidise customers in Tier I city by paying the same premium," said Patel.
Keeping premiums lower in smaller cities also helps push purchases of health insurance in those areas, which Patel said have a very low penetration vis-à-vis metros.
As importantly, differential pricing is vital for the health of the insurance business itself. It helps maintain uniformity in the claims ratio—a measure of the claims incurred and the earned premium—across regions.
Claims ratio is a key indicator of the wellbeing of insurance business—the higher the claims ratio, the less profitable is the insurance business.
It hasn't been faring too well lately.
Net Incurred Claims ratio exceeded 90% for every year between 2006 and 2013, despite the Gross Direct Premium Income growing from Rs 3,331 crore to Rs 17,799 crore.
Who's Buying Health Insurance, Gross Direct Premium Income From Health Policies By State 2013-14
State
GDPI (in Rs crore)
Maharashtra
5,576.76
Tamil Nadu
2,198.96
Karnataka
1,689.08
Delhi
1,578.66
Gujarat
1,104.23
West Bengal
1,032.81
Haryana
810.00
Andhra Pradesh
717.69
Uttar Pradesh
613.92
Kerala
604.72
Orissa
293.49
Rajasthan
252.20
Madhya Pradesh
198.79
Punjab
165.55
Chhattisgarh
117.57
Jharkhand
91.19
Assam
84.10
Bihar
82.31
Chandigarh
69.26
Uttrakhand
40.33
Goa
29.45
Jammu & Kashmir
16.89
Himachal Pradesh
15.02
Puducherry
13.59
Meghalaya
11.73
Tripura
11.06
Daman & Diu
5.26
Manipur
5.01
Mizoram
1.95
Dadra & Nagar Haveli
1.92
Nagaland
1.50
Sikkim
0.62
Arunachal Pradesh
0.44
Andaman & Nicobar Islands
0.15
Lakshadweep
0.02
Total
17,436.23
Source: General Insurance Council
So, expect the trend toward geographical pricing to pick up, and intensify.
"I expect the pricing differential to grow to reflect the significant disparity between the cost of health care in leading cities and the rest of India," said Shashwat Sharma, partner, Management Consulting, KPMG in India.
Some contend that corporate hospital chains may make inroads in smaller cities, pushing up health costs in those places. Even if this happens, metros will see the influx of higher-priced advanced medical technologies, as well as relatively higher inflation, which will preserve or even strengthen the price differential.
To increase the penetration of health insurance in cities, Sharma also expects insurers to take cognizance of the variation in cost of healthcare between corporate hospitals and smaller hospitals, including those run by charitable trusts, and nursing homes.
"The cost of health insurance must fall for huge numbers of low-income customers in metro cities to be brought into the health-insurance net," said Sharma. "One way of achieving this is to offer policies for different classes of hospital, based on the understanding that economically less privileged people would be willing to get treated in a less expensive government or trust hospital or nursing home."
This is where government sponsored health-insurance enters the picture. Those covers are likely to restrict treatment to public hospitals in cities. These hospitals are seriously overloaded with patients. Potential partner hospitals of the government, low-cost institutions run by trusts, are likely to face limitations on account of restricted diagnostic facilities, fewer beds and less experienced doctors.
"While the government proposes to gradually increase health spending to 2.5% of the GDP, from 1% currently, it is primarily looking at universal health coverage through strengthening the primary health care (PHC) network," said Dr Shaktivel Selvaraj, head of Health Economics and Policy, Public Health Foundation of India.
In other words, the government is hoping to nip disease in the bud and thereby minimise the need for hospitalisation, and hence, secondary healthcare and tertiary health services.
That may be of limited consolation for those buying universal health-insurance policies. ■
(Bahri is a freelance writer and editor based in Mount Abu, Rajasthan)
_________________________________________________________________
"Liked this story? IndiaSpend.org is a non-profit, and we depend on readers like you to drive our public-interest journalism efforts. Donate Rs 500; Rs 1,000, Rs 2,000."