Rural Women Are Increasingly Accessing Government Hospitals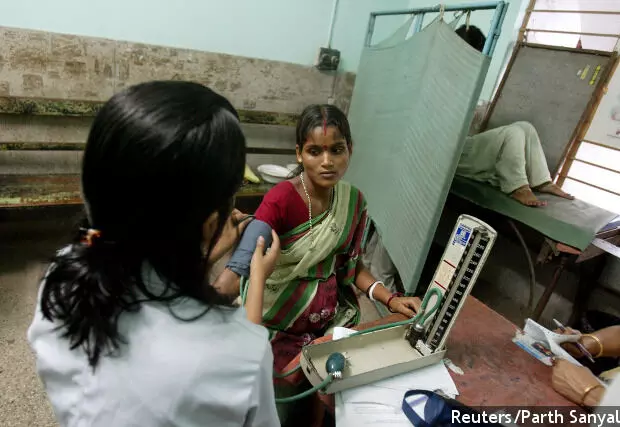 There was a 24% rise in rural women accessing public healthcare between 2004 and 2014, according to a new report by Brookings India, a think tank, significant in a country where half the rural population uses private healthcare, which is four times costlier.
Overall, there was a 6% rise in dependence on public healthcare for out-patients and 7% for in-patients over the decade ending 2014, said the Brookings report, which analysed National Sample Survey Office (NSSO) data over this period.
An in-patient is formally admitted for at least one night to a hospital, while an out-patient visits a hospital, clinic, or associated facility for diagnosis or treatment.
For out-patient care, 74.9% of ailing patients (who sought care) exclusively accessed a private facility in 2014, compared to 79.7% in 2004. The biggest decrease was seen among rural women, as we said. While 78.2% of them sought private care in 2004, 70.4% did in 2014.
Source: Brookings India, based on National Sample Survey Office data
In-patients depend less on the private sector than do out-patients, the data reveal.
The percentage of in-patients seeking public care increased from 42.3% in 2004 to 45.4% in 2014; the percentage of rural women accessing public care rose from 45.1% in 2004 to 56.1% in 2014.
Source: Brookings India, based on National Sample Survey Office data
"The number of people seeking private healthcare, however, might be an underestimation, as NSSO surveyors are instructed to mark all those who went to both government and private facilities as "only going to government facilities," said the Brookings report.
Indians spend eight times more in a private hospital than a government hospital, according to this analysis of National Health Accounts (NHA) 2013-14 data by The Hindu.
Quality of care biggest constraint for not accessing public hospitals
Despite the decline in exclusive dependence on private care, 29 of every 1,000 Indians pointed to the unsatisfactory quality of healthcare, the most commonly cited reason for not accessing a public hospital.
Long waiting periods at government health services appears to be an increasing bottleneck in seeking public care. In 2004, 6.8 of every 1,000 cited this as a reason for not using a public hospital; it rose to 18.6 in 2014.
Of 930,000 doctors in India, 11.4% (106,000) work for the government. This means there is one government doctor for every 11,528 people, according to the National Health Profile 2015, IndiaSpend reported in November 2016.
Public-health centers across India's rural areas–25,308 in 29 states and seven union territories–are short of more than 3,000 doctors, the scarcity rising 200% (or tripling) over 10 years, IndiaSpend reported in February 2016.
Source: Brookings India
More people required medical care over a decade
The number of people not using medical services fell from 15.1 in every 1,000 in 2004 to 12.4 in 2014, which implies an 18% increase in Indians seeking some form of healthcare.
There was an increase, however, in the proportion of people not seeking services, as they felt their ailment wasn't serious enough, and more women than men report not using healthcare due to the same reason--the gender gap has widened over the decade.
More Indian men are likely to be admitted to hospital during the last moments of life than women–62.5% to 37.5%, IndiaSpend reported in November 2016. For every 1,000 men whose death is certified by medical professionals, the corresponding figure for women is 600.
Source: Brookings India
The number of people not using healthcare due to financial reasons reduced from four of every 1,000 in 2004 to 0.7 in 2014, said the Brookings report, possibly a result of rising incomes or use of publicly funded health-insurance schemes implemented over the last 10 years by the central and state governments.
About 12% of the urban and 13% of the rural population got health insurance through the Rashtriya Swasthya Bima Yojana (National Health Insurance Scheme) or similar plans, IndiaSpend reported in July 2015.
(Saha is an MA Gender and Development student at Institute of Development Studies, University of Sussex.)
We welcome feedback. Please write to respond@www.health-check.in. We reserve the right to edit responses for language and grammar.
__________________________________________________________________
"Liked this story? Indiaspend.org is a non-profit, and we depend on readers like you to drive our public-interest journalism efforts. Donate Rs 500; Rs 1,000, Rs 2,000."