Rural India Healthier Than Urban India, Malayalees Sickest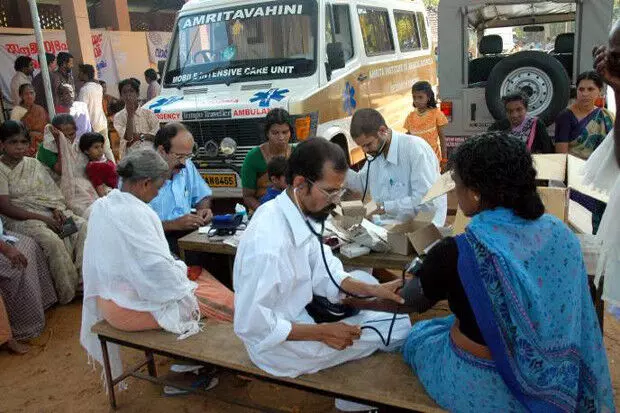 As much as 86% of the rural population and 82% of the urban population is without health-expenditure support.
The average medical expenditure for treating one ailment without being admitted to hospital was Rs 509 in rural India and Rs 639 in urban India.
Up to 58% of hospital care occurred in private hospitals in rural India; it was 68% in urban India.
Allopathy was the most prevalent form of treatment for both urban and rural India, and private doctors were the most important single source of treatment across India, according to the latest health survey conducted by the statistics ministry.
Nearly 12% of people in urban areas reported ailments over a survey period of 15 days, an increase of 2% over the previous survey in 2004. Only 9% of rural India reported some ailment during the period, a marginal increase.
The urban-rural divide becomes more pronounced when you look at the age-wise break-up of those suffering ailments:
The rural-urban divide is particularly evident in the 45-59 age group. While only 13% of people in rural India reported some ailment, the figure was nearly 21% in urban India, greater by 8%.
This was also evident in the 70+ category: 31% in rural India were unwell, as against 37% in urban India.
Changing lifestyles are driving an epidemiological transition from communicable to non-communicable diseases across India, particularly urban India, IndiaSpend previously reported.
The indicators are based on surveys between January and June 2014 across 4,577 villages in rural areas and 3,720 urban blocks spread across all states and union territories. The number of households contacted for the survey was 36,480 in rural India and 29,452 in urban India.
Expenditure in private hospitals four times higher than in state hospitals
While 4% of people in urban India were hospitalised over the year before the survey, only 3.5% of people in rural India were hospitalised.
While 42% in hospitals in rural India chose public hospitals, it was only 32% in urban areas, as we mentioned. That means 58% of the people in rural areas and 62% in urban areas were treated in private hospitals.
Expenditure in private hospitals was almost four times higher than in public hospitals: Rs 25,850 in private hospitals and Rs 6,120 in public hospitals.
About 12% of the urban and 13% of the rural population got health insurance through the Rashtriya Swasthya Bima Yojana (National Health Insurance Scheme) or similar plans, the report said.
Malayalees Sicker Than Other Indians
Kerala reported the highest deviation for both urban and rural areas at 31%, against the all-India ailment average of 12% and 9%, respectively.
This implies prosperous Kerala, with one of India's best public-health systems, is particularly susceptible to lifestyle diseases, as IndiaSpend has reported.
Dipping Into Savings
While 75% of urban India relied on income or savings to pay hospital expenses, only 68% of rural households could do the same. Almost 25% of households in rural areas had to borrow money to meet hospital expenses. ■
Image Credit: Flickr/Direct Relief
__________________________________________________________________
"Liked this story? IndiaSpend.com is a non-profit, and we depend on readers like you to drive our public-interest journalism efforts. Donate Rs 500; Rs 1,000, Rs 2,000."