Ruksana's Journey And Rural India's Search For Healthcare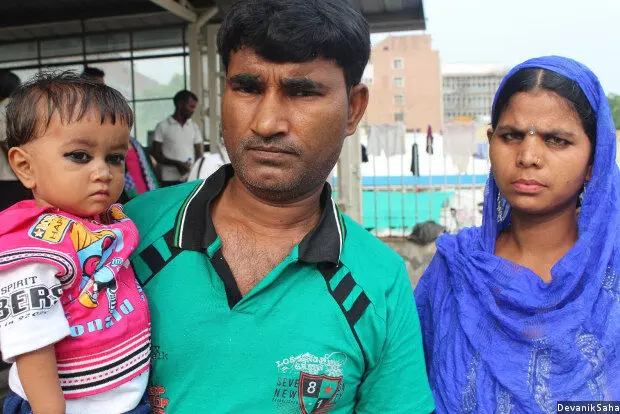 With a wound that refuses to heal on her shoulder, nine-month-old Ruksana lives with her parents--and hundreds of others patients from across India--on the footpath outside the metro station of Delhi's All India Institute of Medical Sciences (AIIMS). After waiting six months amid the noise, dust and traffic, they finally have an appointment with an AIIMS doctor--a year from now.
Ruksana, a quiet, unsmiling child with kohl-lined eyes, and her parents journeyed about 1,023 km from East Champaran, Bihar, for medical help. They embody recently released data--from the National Sample Survey Office (NSSO)--that 48% of overnight trips made by millions of Indians from rural areas (25% in urban areas) are for medical purposes, their journey reflecting the growing failures of the public-health system in the world's fastest-growing economy.
More than half of India's rural population uses private healthcare, which is four times as costly as public healthcare, and can cost the poorest 20% of Indians more than 15 times their average monthly expenditure, another NSSO survey found last year.
Source: National Sample Survey Office
Ruksana's father, Mohammed Kalimuddin, 38, is a farmer. He has spent Rs 60,000 during the family's six-month-sojourn in Delhi. That includes Rs 24,000 on failed medical treatment. Since Kalimuddin's average annual earnings are no more than Rs 40,000, the gap has been bridged by his savings.
"The basic diagnosis and examination has been done but full treatment is yet to commence," said Kalimuddin. "These doctors are giving appointments almost one year from now--how will her wound get treated?"
People like Kalimuddin make the journey to Delhi because they are rarely assured of quality healthcare near home. More than 90% of treatments for childhood diarrhoea and pneumonia in Bihar–the leading causes of death among Indian children–were found to be incorrect, IndiaSpend reported in February 2015.
Healthcare expenditure pushes families into debt
Kalimuddin's story is shared by several other families who live outside the AIIMS metro station, as they try to reach a doctor. They do not have money to stay in a hotel or rent a room. The money spent by Kalimuddin is almost four times the average expenditure of Rs 15,336 per health trip, as the NSSO reports.
Up to 86% of the rural population and 82% of the urban population are without health-expenditure support, and about 12% of the urban and 13% of the rural population got health insurance through the Rashtriya Swasthya Bima Yojana (National Health Insurance Scheme) or similar plans, IndiaSpend reported in July 2015.
Inadequate public healthcare and healthcare expenses push an additional 39 million people back into poverty in India every year, this Lancet paper said.
"Thankfully, many come every week and provide us with food, which helps us survive here," said Kalimuddin, who mostly gets food from a group of Sikhs. When they don't come by, the family spends Rs 30 for a plate of rice and vegetables from a nearby stall.
Source: National Sample Survey Office
Greatest proportion of medical migrants from Bihar
More than half of overnight trips in Kalimuddin's state--581 of every 1,000--Bihar, were for medical reasons, sixth-highest among all Indian states and union territories. West Bengal (633 of every 1,000) and Assam (599 of every 1,000) were the states that reported the highest number of trips made for medical reasons from their rural areas.
In contrast, 211 and 250 of every 1,000 trips from rural areas of Delhi and Meghalaya, respectively, were for medical purposes, the lowest in India.
With 104 million people, Bihar is India's third-most populous state, and has the third-highest percentage of people (33.7%) living below the poverty line–defined as the ability to live on Rs 26 per person per day in rural areas; Rs 31 per person per day in urban areas. After Bihar, the greatest percentage of people below the poverty line are in Chhattisgarh (39.9%) and Jharkhand (36.9%).
In general, poverty is correlated with the lack of healthcare. For instance, among states with the highest proportion of undernourished children, Jharkhand and Chhattisgarh have the worst infrastructure for institutional deliveries.
Although 18 states with poor health indicators–called "high-focus states"–increased health spending in anticipation of cutbacks on centrally sponsored health schemes, smaller states have cut health spending because they did not have the money, IndiaSpend reported in February 2016.
The North-East region requires over eight lakh additional hospital beds to tackle the inaccessibility of healthcare services for the rural population, according to Federation of Indian Chambers of Commerce and Industry and the Public Health Foundation of India.
India's poorer states have health indicators that are worse than many nations poorer than them, and India's healthcare spending is the lowest among BRICS (Brazil, Russia, India, China, South Africa) nations, as are its health indicators.
While Chief Minister Nitish Kumar is credited with turning around the economy of Bihar, the state is still at the bottom rungs of India's poverty ladder, unemployment and public and personal infrastructure—from highways to toilets at home.
Source: National Sample Survey Office
Struggling: Public health infrastructure in India
The medical migrants outside AIIMS and the journeys they make reflect the low priority India accords to healthcare. Here are some indicators:
The Centre's spending on health has declined over two years, part of the 14th Finance Commission devolution reforms aimed at giving states more money without spending conditions imposed from Delhi. The money allocated for key centrally sponsored social schemes—Integrated Child Development Services (ICDS) and National Health Mission—declined 10% and 3.6%, respectively, over two years.
The plan: Outsource healthcare
Currently, the National Institution for Transforming India (NITI) Aayog is working on a vision document on public health. Some salient features:
All rural MBBS doctors should be trained as family physicians with the government paying for each patient so treated.
Incentives to low-cost private alternatives, such as NGO-run institutions and missionary-run hospitals, to bolster government-run institutions.
Promote competition between private and government hospitals at the secondary level, which involves services of medical specialists, while primary centres are usually single-physician clinics, usually with facilities for minor surgeries.
In a meeting in April 2016, the NITI Aayog called for the outsourcing primary healthcare to private doctors.
It does not appear that journeys like Ruksana's will end any time soon.
(Saha is a freelance journalist and MA Gender and Development candidate 2016-17 at Institute of Development Studies, University of Sussex.)
We welcome feedback. Please write to respond@www.health-check.in. We reserve the right to edit responses for language and grammar.
__________________________________________________________________
Liked this story? Indiaspend.org is a non-profit, and we depend on readers like you to drive our public-interest journalism efforts. Donate Rs 500; Rs 1,000, Rs 2,000.