Punjab Tops In Rural Healthcare Access, Gujarat Lags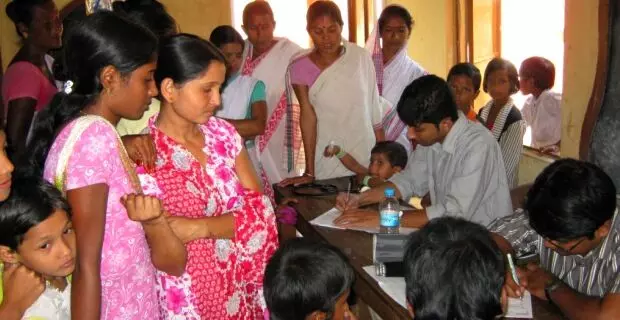 Highlights * Gujarat has among the lowest doctor density ratio (1.5) in rural areas as against the national average of 2.4 doctors * India's public health system has a shortfall of over 12,000 specialist doctors and over 100,000 health workers * Tamil Nadu, which has strong health indicators, runs community health centres with hired specialists
India's healthcare system is often criticised for its inadequate coverage. Concerns are raised about low public expenditure, doctor absenteeism, scams in the Government-run National Health Mission (NHM)and insufficient infrastructure. As a whole, these challenges explain the poor health indicators of the country. Vacancies in the healthcare sector remain the starkest concern among policy makers and those in need of treatment. This affects both overall doctor density, particularly in rural areas, as well as the availability of specialist doctors. For instance, Punjab (5.5), Himachal Pradesh (4.5) and Andhra Pradesh (5.4) have the highest doctor density per 10,000 people in rural areas. Orissa (0.5), Jharkhand (1) and Uttarakhand (1.2) have the lowest doctor density. Gujarat, in the list of larger states, has the worst doctor-density ratio in rural areas (1.5). On the other hand, India's public health system has a shortfall of over 12,000 specialist doctors and over 100,000 health workers.
IndiaSpend
had
earlier reported
how rural India is 60% short of the ideal number of doctors.
Figure 1 (a)
Figure 1 (b)
Data shows that states like Tamil Nadu have the highest shortfall of 1,540 specialists in Community Health Centres (CHCs) while the requirement is also 1,540 (presently, specialists are attending cases on a hiredbasis). Tamil Nadu also has the highest shortfall of health workers (accredited social health activists, anganwadi workers, auxiliarynurses and mid-wives) of 7,626, of the total requirement of 18,616. Gujarat has 1,144 specialist shortfalls in CHCs, 345 doctor vacancies in primary health centres and 4,366 vacancies in health workers and nursing staff.
Figure 2 (a)
Figure 2 (b)
Tamil Nadu, West Bengal and Gujarat lead the states ranking with high shortfalls of more than 1,000 while Kerala and Karnataka have the least shortfalls of less than 150. Interestingly, Tamil Nadu, which has strong health indicators, runs CHCs with hired specialists. Gujaratranks third with 1,144 vacancies (total requirement of 1,220). The All-India number is 12,301. Moreover, the low doctor density ratio or the high number of vacancies for specialist doctors does not necessarily affect the health indicators. We specifically looked at the healthcare personnel shortfalls of states that have strong health indicators like low infant mortality rate (IMR) and maternal mortality rate (MMR). Tamil Nadu's IMR ( children dying per 1,000 live births) is 24 and MMR ( female deaths per 100,000 live births) is 97 and Gujarat ( IMR 44 and MMR 148) have strong health indicators compared to All-India IMR of 44 and MMR of 212, . We also looked at other states like Punjab, Kerala and Karnataka that have good health indicators.
Figure 3 (a)
Figure 3 (b)
Now, let's look at health workers. Tamil Nadu (7,626), Andhra Pradesh (7,446) and West Bengal (5,878) have the highest vacancies for health workers (male + female)who form the backbone of the healthcare system. Incidentally, both Tamil Nadu and West Bengal rank in the top 3 states with vacancies for health workers as well as specialists. The total all-India vacancies for health workers are 102,464.
Snapshots of vacancies
Incidentally, out of all these states, only Gujarat (345) and Karnataka (221) have doctor vacancies in PHCs while all other states have excess allopathic doctors. The norm is one doctor per PHC. Similarly, only Gujarat (553) and Kerala (363) have vacancies for nursing staff in CHCs and PHCs. All the other states accounted for in this article have no vacancies. The norm is 1 nursing staff per PHC and 7 per CHC. Let us now see the total number of doctors registered with the medical councils in these states:
Figure 4
Maharashtra (211,442), Karnataka (91,461) and Tamil Nadu (90,728) have the highest number of registered doctors while Kerala (39,180), Punjab (39,370) and Gujarat (49,026) have the lowest number of registered doctors. Incidentally, there were 922, 177 registered doctors in India as of 2011 but there are 12,301 vacancies in CHCs. We can also see that while Tamil Nadu has a high number of registered doctors and better doctor density compared to other states, it still has high vacancies of specialists for CHCs. One of the biggest challenges of India's healthcare system is personnel management. In a reply to the Lok Sabha recently, the Health Minister said that steps like increasing intake of medical students to increasing the number of medical colleges have been taken to address the issue. However, the number of vacancies suggests the journey will be a long one.