Private Hospitals Treat Twice As Many TB Cases As Govt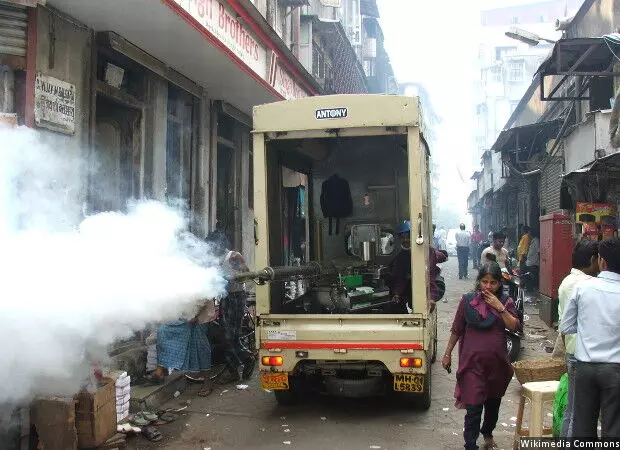 A woman walks by as municipal workers fumigate a street in central Mumbai. India now has an enormous number of tuberculosis patients, "appreciably higher than is currently recognised"–between 1.9 million to 5.34 million cases, according to a new paper.
Ground zero of the global battle against one of humankind's deadliest diseases, India could have between two and three times more tuberculosis (TB) cases than currently assumed, said a new paper released in Lancet, a medical journal.
The study found that, in 2014, the private sector treated--"an enormous number of (TB) patients... appreciably higher than is currently recognised"--between 1.9 million to 5.34 million cases, or about double the cases handled by government-run hospitals.
Before this study, India was believed to have about 2.2 million TB cases, a quarter of global TB burden, thus far estimated at about 6.3 million.
The private sector helps and hinders TB treatment, the study implies.
"Although standardised tuberculosis treatment in India is delivered by the public sector... early diagnosis and treatment are hampered by the presence of a vast and unregulated private health-care sector," said the study, whose eight authors come from a variety of institutions, including London's Imperial College, the Indian government, the World Health Organization and the Bill and Melinda Gates Foundation, which funded the study.
"Poor diagnostic practices in this sector prolong tuberculosis transmission by delaying diagnosis, whereas a general lack of counselling and support of treatment adherence hampers successful, relapse-free cure," said the study. "Moreover, most cases treated in the private sector are never notified to public health authorities."
Analysing sales patterns of 189 drugs containing rifampicin--a key anti-TB formulation--over 2013 and 2014, the researchers estimated how many were sold to the private sector. In 2014, the WHO estimated that 800,000 TB patients escaped public-sector diagnosis, but these statistics were mostly compiled from expert opinion. So, the new study provides an empirical estimate that is independent of such opinion.
"This study illustrates the need to address the burden of tuberculosis treated by the private sector and improve surveillance," the researchers wrote, acknowledging the paper's limitations, including the failure to capture TB patients who do not approach a doctor, use the informal sector or are being treated for multiple-drug resistance.
"This study also raises an urgent need to revise current estimates of tuberculosis burden, informed by more systematic evidence relating to tuberculosis management in the private sector," the researchers wrote.
Although the incidence of TB in India has been declining, drug resistance and its interaction with other diseases, such as HIV, has slowed progress.
Throughout history, TB has killed more humans than any conflict, disaster or disease known to mankind. In the 5th Century, the Greek philosopher Hippocrates advised doctors to stay away from TB patients, since there was no cure. In the 17th, it was called the great white plague of Europe, as it swept the continent, killing thousands over 200 years. In the 21st Century, it infects 10 million people every year, killing a fifth of those.
TB bacteria have in-built armour, acids that protect them against the body's cellular defenders. Most people infected with it have latent tuberculosis, where the bacteria are walled off in clumps by the cells of the immune system. Sometimes, the containment fails, particularly in people with weakened immune systems. If a drug doesn't kill the bacteria completely, it becomes immune to that drug and can eventually overwhelm the immune system.
We welcome feedback. Please write to respond@www.health-check.in. We reserve the right to edit responses for language and grammar.
__________________________________________________________________
"Liked this story? Indiaspend.org is a non-profit, and we depend on readers like you to drive our public-interest journalism efforts. Donate Rs 500; Rs 1,000, Rs 2,000."