Only 1 In 10 Indian Children Aged 6-23 Months Gets Adequate Diet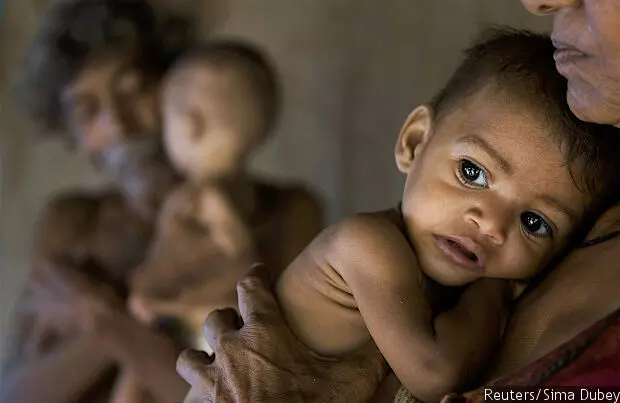 Only one in 10 Indian children aged 6-23 months gets "adequate diet", according to an IndiaSpend analysis of data from National Family Health Survey 2015-16 (NFHS-4). Consequently, 35.7% of children below five years of age are underweight, according to NFHS-4 data.
After birth, between 0-6 months, breastmilk alone is sufficient to meet an infant's requirement for food and water. Only 55% children are exclusively breastfed for six months, according to NFHS-4, a rise of 9% from 2005-06 (NFHS-3).
The period of transition from exclusive breastfeeding to family foods, referred to as complementary feeding, covers a child from 6-23 months and is a vulnerable period. It is the time when malnutrition starts in many infants, contributing to the high prevalence of malnutrition in children under two years of age. Optimal breastfeeding in the first year and complementary feeding practices together can prevent almost one-fifth of deaths in children under five years of age, according to the United Nations Children's Fund.
Optimal complementary feeding is the most effective intervention that can significantly reduce stunting during the first two years of life. Stunted children are more susceptible to fall sick, underperform in schools, more likely to become overweight and often earn less than non-stunted co-workers. Furthermore, inadequate iron intake can lead to iron deficiency anaemia (IDA) which leads to permanently impaired cognitive ability, which leads to a reduction in adult wages, according to this 2015 study.
An "adequate diet" is defined as introduction of nutritionally-adequate and safe complementary (solid) foods at six months together with continued breastfeeding up to two years of age or beyond.
The guidelines for adequate diet, as per the World Health Organization (WHO), include:
Continue frequent, on-demand breastfeeding until two years of age or beyond;
Start feeding at six months with small amounts of food and increase gradually as the child gets older;
Increase the number of times that the child is fed: 2–3 meals per day for infants 6-8 months of age and 3-4 meals per day for infants 9-23 months of age, with 1-2 additional snacks as required;
Use fortified complementary foods or vitamin-mineral supplements as needed; and
During illness, increase fluid intake including more breastfeeding, and offer soft, favourite foods.
India has more malnourished children than sub-Saharan Africa and nearly one of every five malnourished children in the world is from India.
The worst performing state was Rajasthan where only 3.4% of children in the 6-23 months age-group reportedly got adequate diet, followed by Gujarat (5.2%) and Uttar Pradesh (5.3%). The best performing state/union territory was Puducherry (31%), followed by Tamil Nadu (30.7%) and Meghalaya (23.6%).
In 21 of 36 states/union territories (UTs), the percentage of non-breastfed children having an adequate diet was more than that of breastfed children.
Among the larger states, only Tamil Nadu met its millennium development goal (MDG) target with a reduction of 67% in infant mortality rate to 19 deaths per 1,000 live births in 2015, IndiaSpend reported on January 9, 2017.
Children Aged 6-23 Months Receiving An Adequate Diet, By State/Union Territory
Source: National Family Health Survey, 2015-16
Despite having an Integrated Child Development Services (ICDS) scheme, a flagship programme of the central government since 1975 and one of the world's largest for child-care and development, and increasing the budget for child health by more than three times over a decade to 2014-15, India missed its MDG targets, IndiaSpend reported on January 4, 2016.
From not actually covering all eligible children to having infrastructural gaps, many deficiencies of ICDS have been documented, IndiaSpend reported on May 3, 2017.
"The NFHS data is not just a reflection of the state of health and nutritional well-being of children and expecting mothers, but also provides the direction for corrective measures in state policies and programmes on child health and malnutrition," Soha Moitra, regional director (north), Child Rights and You (CRY), an advocacy, told ABP Live in an interview on April 19, 2017.
"In the context of addressing child malnutrition, universalisation of anganwadi centres (courtyard shelters) and a robust system of growth monitoring are measures that can lead us to lasting solutions to such issues," Moitra added.
NITI Aayog, the government's premier think-tank, in its three-year (2017-20) agenda draft, made some suggestions for tackling nutrition issues:
There is an urgent need for web-enabled Nutrition Information System, which should be synergised with the health information management system and mother- and child-tracking system.
For optimal nutrition outcomes, coordination among different frontline workers is essential. One of the mechanisms to motivate them could be through provision of joint-performance based incentives.
Convergence of nutrition is important. Of 194 districts with high levels of child undernutrition, there are only 11 districts where three major nutrition programmes are running concurrently.
More flexibility to states under ICDS, where states can devise interventions to suit their local needs.
Engaging the private sector for fortification of wheat, flour, rice, edible oils and milk. Fortified food can be incorporated into mid-day meals, public distribution shops and anganwadi centres that provide hot cooked meals.
(Saha is an MA Gender and Development student at Institute of Development Studies, University of Sussex.)
We welcome feedback. Please write to respond@www.health-check.in. We reserve the right to edit responses for language and grammar.
__________________________________________________________________
"Liked this story? Indiaspend.org is a non-profit, and we depend on readers like you to drive our public-interest journalism efforts. Donate Rs 500; Rs 1,000, Rs 2,000."