More Sanitation, Literacy = Fewer Anaemic, Pregnant Women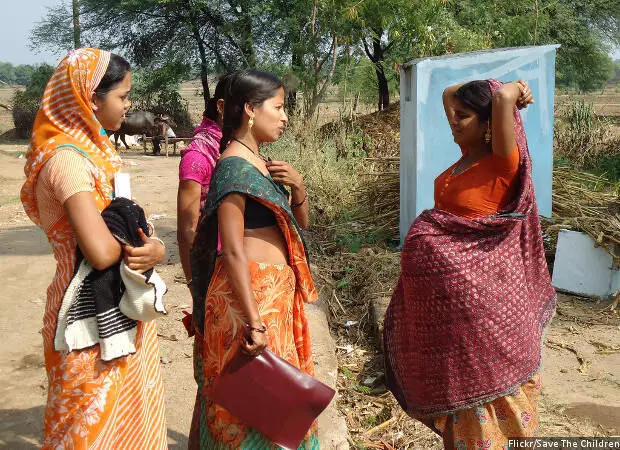 A frontline health worker counsels a pregnant woman on antenatal care, in Banswara district, Rajasthan. All 14 states surveyed for the National Family Health Survey, 2015-16, showed a decline in anaemic, pregnant women, and the decline is correlated with improved sanitation and female education.
The proportion of anaemic, pregnant women dropped 12 percentage points over a decade to 2015, government health data show, but India still has more anaemic women than any other country and a prevalence rate above the global average.
All 14 states surveyed for the National Family Health Survey 2015-16 (NFHS-4) showed a decline in anaemic, pregnant women, the proportion dropping to 45% from 57% a decade ago.
The decline in anaemia among pregnant women (15 to 49 years) is correlated with improved sanitation and female education, according to an IndiaSpend analysis of NFHS-4 data. An anaemic, pregnant woman is more likely to die or deliver a baby lighter than normal, increasing chances of the infant's death.
In 2011, 54% of pregnant women in India were anaemic, worse than Pakistan (50%), Bangladesh (48%), Nepal (44%), Thailand (30%), Iran (26%), Sri Lanka (25%), and Vietnam (23%), according to World Health Organization (WHO) data. The trends suggest that, in 2015, India was still doing worse than neighbouring countries, even relatively poorer ones.
Source: World Health Organization
Mainly caused by blood loss, anaemia results from the lack of healthy, red blood cells or haemoglobin, a protein that binds oxygen. Common symptoms include light-headedness and fatigue.
The largest decline in the 14 states surveyed was reported in the north-eastern state of Sikkim--a decline of 39 percentage points over a decade; 24% of pregnant women are now anaemic in Sikkim. The state was the third in the use of improved sanitation in 2014-15 and reported the second largest increase in female literacy over 10 years from 2005-06 to 2014-15.
The eastern state of Bihar had the largest proportion of pregnant, anaemic women (58%); it also had the lowest literacy rate and improvement in sanitation, according to NFHS-4 data. In 2005, five states had a greater proportion of pregnant, anaemic women than Bihar, which has now displaced Assam to occupy the top spot after improvements in other states. The decline in Bihar was two percentage points over the decade to 2015.
Bihar is followed by Madhya Pradesh and Haryana, both with 55% of pregnant women anaemic.
Sikkim is followed by Manipur (26%) and Goa (27%).
"The government should implement the universal Rs 6,000 cash transfer to pregnant women that was legislated by the 2013 National Food Security Act," Diane Coffey, visiting researcher at the Indian Statistical Institute, Delhi, told IndiaSpend. The money was supposed to allow pregnant women to access an 'adequate quantity of quality food', as stated in the Act, hopefully leading to more nutrition in the diet.
How improved sanitation controls anaemia
The 14 states surveyed also witnessed a 20 percentage-point increase in households using improved sanitation facilities, according to NFHS-4 data--toilets connected to a sewer system, septic tank, pit latrine, ventilated improved pit/biogas latrine, pit latrine with slab, or twin pit/composting toilet not shared with other households. These facilities are now used in 57% of homes, up from 37% a decade ago.
Only 25% households feature these improvements in Bihar, a 10 percentage-point increase since they were surveyed in 2005-06, but lowest among all states.
Madhya Pradesh, with 34% households using improved facilities, is the next worst state for sanitation improvements, as it is with anaemia.
Assam is the third worst, with only 48% households using improved sanitation facilities.
Source: National Family Health Survey, 2015-16
Poor sanitation can lead to environmental enteropathy, an intestinal disease preventing people from absorbing nutrition in their food, a cause of anaemia, according to this 2014 study. The intestinal disease is caused by exposure to faecal pathogens that result from poor sanitation.
Up to 88% of households now use improved sanitation in Sikkim. Haryana saw the largest increase (39 percentage points) of households with improved sanitation.
Despite the increased usage of improved sanitation facilities, open defecation is still relatively high. As many as 54% Indians defecate in the open, according to Census 2011. The open-defecation rate was 35.5% in Nepal and 4.6% in Bangladesh, poorer developing countries, the same year.
Open defecation, argued Coffey, can lead to both environmental enteropathy and worms, closely linked to anaemia.
"The government should invest in teaching rural people about how affordable latrines work, and convincing people to use them, rather than simply building the kinds of latrines that rural people don't want because they are concerned about pit emptying, a task they believe only untouchables can do," Coffey said.
Better education also reduces anaemia
As many as 76% of Indian women are now literate, and the 14 states surveyed witnessed a 12 percentage-point average increase in female literacy.
Half of Bihar's women can now read and write, a 13 percentage-point increase over a decade.
No more than 59% of women are literate in Madhya Pradesh, making it the state with the second-worst female literacy rate. This is in spite of a 15 percentage-point increase in female literacy, the largest increase reported, alongside Haryana.
Source: National Family Health Survey, 2015-16
As many as 89% of women are now literate in Goa, followed by Sikkim (87%) and Manipur (85%).
On average, the 14 states surveyed saw a 12 percentage-point rise in women studying for at least a decade; 38% women now do so. The largest increase was 19 percentage points in Tamil Nadu, followed by 18 in Sikkim and Karnataka.
Education may help women stand up for themselves within their families and ask for better food during pregnancy, which would reduce anaemia, Coffey suggested.
(Moloney is a multimedia journalist and has a BA (Hons) degree from the University of Birmingham, UK.)
We welcome feedback. Please write to respond@www.health-check.in. We reserve the right to edit responses for language and grammar.
__________________________________________________________________
"Liked this story? Indiaspend.org is a non-profit, and we depend on readers like you to drive our public-interest journalism efforts. Donate Rs 500; Rs 1,000, Rs 2,000."