More Education, Fewer Child Brides, Healthier Children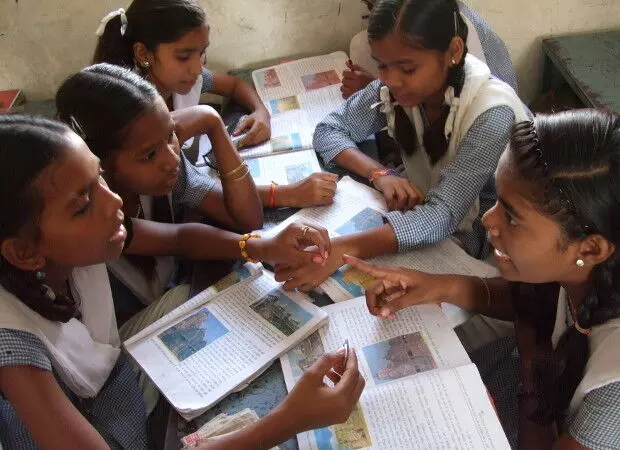 Over 13 million adolescent girls between 10 and 19 years--equivalent to the population of South Sudan--were married in India in 2011, according to census data, but fewer literate women were married as children or had children early compared to those who were illiterate, according to an analysis by Child Rights and You (CRY), a Mumbai-based child rights nonprofit.
The number of child brides and mothers have not improved substantially from 2011. In 2015-2016, an estimated 4.5 million girls between the age of 15 and 16 years were pregnant or had already become mothers, according to data from the National Family Health Survey 4 (NFHS 4).
Becoming a child bride initiates a process for the girl where societal pressure, expectations and the responsibilities she is supposed to shoulder in her new role could make her lose focus from education and eventually drop out of school.
She is also at the risk of facing violence, abuse and exposure to HIV/AIDS and other sexually transmitted diseases and is also exposed to underage motherhood as adolescents. Adolescent pregnancy can lead to several health problems – anaemia, malaria, HIV and other sexually transmitted infections, postpartum haemorrhage and mental disorders, according to the World Health Organization.
In 2011, about 3.8 million adolescent girls in India had children. Of these, 1.4 million have 2 or more children, even before completing adolescence, data show.
Early childbearing also increases the risk of childbirth complications such as obstetric fistula (a condition which causes a hole between the vagina and rectum or bladder that is caused by prolonged obstructed labor, leaving a woman without control of urine or feces or both, called incontinence), which commonly occurs among young girls who give birth before their bodies are physically mature and causes chronic incontinence, often resulting in, among other things, social exclusion, according to a 2014 report on women empowerment by the World Bank.
Source: Census 2011
But education could delay pregnancy. As many as 39% of Indian girls who were illiterate had begun child bearing, compared to 26% of those who were literate, data show.
In West Bengal, for instance, in 2011, among married adolescent girls (1.35 million), aged between 10 and 19 years, more than 50% of the girls who were illiterate had reached motherhood, compared to 37% of the girls who were literate.
Over the next seven years, India could save $5 billion (Rs 33,500 crore) in healthcare and related costs if it eliminates child marriage and early childbirth, IndiaSpend reported in July 2017.
Lack of education could make child marriage more likely
"Lack of education is both a risk factor and an outcome of child marriage," as highlighted by a 2014 study, and subsequently quoted by the authors of a 2015 paper titled 'Child Marriage: A Critical Barrier to Girls' Schooling and Gender Equality in Education.'
"Across 18 of the 20 countries with the highest prevalence of child marriage, girls with no education were up to six times more likely to marry than girls with a secondary education," the study said, using research from the International Center for Research on Women (ICRW).
"Child marriage virtually puts an end to a girl's education" according to a 2011 report on solutions to end child marriage by ICRW.
Out of the 1.35 married adolescent Indian girls, 242,613 girls (17.97%) were illiterate.
The greater the duration of girl's education, the lower the chances of her getting married early, found a 2002 study on Uttar Pradesh. Research suggests that education could even delay girls' marriage beyond the legal age, according to a global analysis of child marriage by ICRW.
Lack of education is also associated with higher risks of violence, child marriage and early pregnancy, and the ability to negotiate within a sexual relationship, such as the ability to refuse sex with a partner or to ask a partner to use a condom," which makes the woman more vulnerable, found the 2014 report on women's empowerment by the World Bank.
Educated mothers, healthier children
Mothers who are educated, are also healthier mothers; they are better prepared for child birth and motherhood, and are more open to accessing healthcare facilities and understanding the implications of their health on their children.
For instance, in 2015-2016, more mothers (63%) who had completed secondary education, or higher levels of education, had at least four antenatal visits, compared to those who has no education (28%) or had completed only primary education (45%), according to NFHS 4 data.
Source: National Family Health Survey 4
As many as 90% of mothers who had completed secondary education, or more, had institutional births compared to 62% of those who were illiterate, data show.
Further, higher the level of education of mothers, better are the health outcomes of their children.
Source: National Family Health Survey 4
More children get access to full immunization if their mothers are educated. In 2015-2016, 67% of children whose mothers completed secondary education received a full course of immunizations versus 52% of those whose mothers had no education, according to NFHS data. ,
Source: National Family Health Survey 4
Stunting, low height for age, is more common in children whose mothers had no education (51%) than those whose mothers had completed secondary school or more (31%).
Source: National Family Health Survey 4
Komal Ganotra is director of policy research and advocacy at Child Rights and You (CRY).
We welcome feedback. Please write to respond@www.health-check.in. We reserve the right to edit responses for language and grammar.
__________________________________________________________________
"Liked this story? Indiaspend.org is a non-profit, and we depend on readers like you to drive our public-interest journalism efforts. Donate Rs 500; Rs 1,000, Rs 2,000."