Leading Food And Beverages Brands Fail India's Double Nutrition Challenge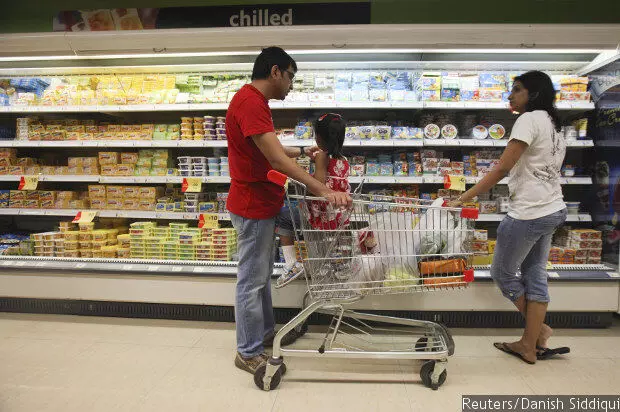 People shop for packaged food at a supermarket in Mumbai. The products of Delhi's Mother Dairy were ranked the healthiest of the nine companies assessed, while those of Hindustan Unilever and Britannia were ranked second and third, according to the Access to Nutrition Index.
No more than 12% of beverages and 16% of foods sold by nine leading Indian food and beverage companies were of "high nutritional quality", according to the Access to Nutrition Index India Spotlight, 2016, the first survey of its kind.
The index, created by Access to Nutrition Foundation, a Dutch nonprofit, and funded by the Bill and Melinda Gates Foundation , evaluated the manufacturers' policies, practices, nutritional disclosures in India and globally. The nine companies assessed said they were committed to combat undernutrition, but most did not produce or produced very few fortified packaged food products.
Fortification is the process of addition of micronutrients--vitamins and minerals--to foods to tackle nutritional deficiency. It is known to be an affordable and efficient way to improve micronutrient status in a population.
India is facing two opposing nutritional challenges: Malnutrition and increasing obesity, especially among children, as IndiaSpend reported in April 2016.
As many as 38.4% of India's under five children are stunted, meaning low weight for height--the highest such proportion of stunted children globally--according to the National Family Health Survey, 2015-16 (NFHS-4), the latest available data.
At the same time, 135 million Indians are obese, according to this 2015 Indian Council of Medical Research study.
The consumption of packaged foods is increasing steadily nationwide, especially in urban areas, and the new nutrition index found that most do not address India's twin nutritional challenges.
The products of Delhi's Mother Dairy were ranked the healthiest of the nine companies assessed because 77% of their sales came from drinking milk products. Hindustan Unilever and Britannia were ranked second and third. Nestlé India was ranked seventh.
Source: Access to Nutrition Index, India Spotlight, 2016Note: Amul did not provide information to ATNI
The index based what it called the "product-profile rating" on nutritional quality of the products and relative sales of more and less healthy products. It also assessed compliance of the nine companies to Indian nutritional labelling regulations.
"Nestlé India is looking closely at the areas where the Index has recommended improvements," a Nestle India spokesperson told IndiaSpend over email. "We are trying to explore possibilities of fortifying products across portfolios. Some of our existing fortified products include Masala-e-Magic and CEREGROW," said the spokesperson.
Mother Dairy did not respond to our request for comment.
The index recommended that manufacturers improve their product profile by making nutritious products more affordable to low-income consumers, be more transparent about funding to industry organisations that lobby the government and about fortifying products.
Between 2-5% of products were fortified with micronutrients lacking in Indian diets, the survey found. Wheat and milk products were mainly fortified with vitamins A, D, C and iron but most manufacturers do not fortify healthy products.
Iron deficiencies, for instance, are common in India because most Indians consume a high proportion of cereals and fewer animal products. India has the highest burden of iron-deficiency anaemia in the world--a leading cause of disability--as IndiaSpend reported in October 2016.
"Moreover, other than one or two examples of companies using salt fortified with iodine to make their products, most do not commit to exclusively using fortified ingredients such as wheat or milk," the index noted.
Nestlé India topped the corporate profile ranking, with its policies, practices and disclosure on nutrition and undernutrition.
Food and beverage manufacturers have the potential to make an impact on India's nutritional challenges, as market shares of packaged food increase with lifestyle and income changes, said Inge Kauer, Executive Director, Access to Nutrition Foundation.
"Companies can make a difference by fortifying their products with micronutrients, selling smaller packets and making their products affordable," Kauer told IndiaSpend in a telephonic interview from Utrecht in the Netherlands.
(Yadavar is principal correspondent with IndiaSpend.)
We welcome feedback. Please write to respond@www.health-check.in. We reserve the right to edit responses for language and grammar.
__________________________________________________________________
"Liked this story? Indiaspend.org is a non-profit, and we depend on readers like you to drive our public-interest journalism efforts. Donate Rs 500; Rs 1,000, Rs 2,000."