Inside Godda, India's Heart Of Maternal-Care Darkness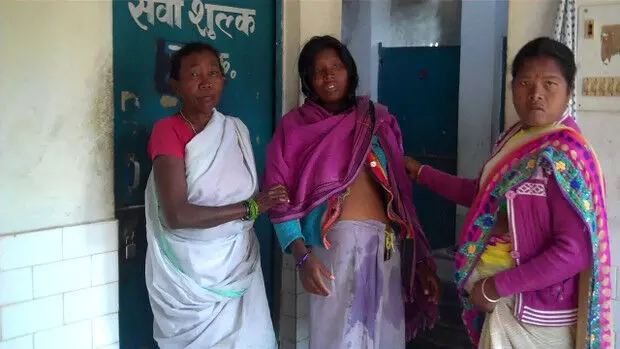 This ground report by Video Volunteers was produced by a community journalist and activist, one among many women who endure the sparse health facilities of Godda, Jharkhand's lowest-ranked district in terms of maternal and infant care. Only 18.6% of mothers in Godda opted for institutional deliveries and only 23.4% of mothers received financial help they are entitled to under Janani Suraksha Yojana (JSY), a decade-old national programme for safe motherhood. The 24-year-old pregnant woman featured in this video went to a health centre, where she was kept waiting for nearly six hours, not provided free nutrition, medicines and treatment, as the government guarantees, and was charged Rs 400 for her delivery. The JSY promises free, cashless deliveries for all women living below the poverty line nationwide. In Godda, nearly 40.3% of mothers do not receive any post-natal care. Nationally, in terms of infant mortality (under five years), Godda ranks fifth from the bottom.
This week, as Prime Minister Narendra Modi announced--quoting the World Health Organisation (WHO)--that India was free of maternal and neo-natal tetanus, the state of maternal health in the eastern state of Jharkhand indicates the long road still ahead in the country's dark spots.
Modi was speaking at the just-concluded 24-nation Call to Action Summit, which discussed how to end preventable maternal and infant deaths, particularly in high-risk areas globally, including the eastern state of Jharkhand.
Since its birth in March 2000, Jharkhand has seen its maternal mortality ratio (MMR), or maternal deaths per 100,000 live births, improve from 261 in 2007-09 to 219 in 2011-12 due to improved access to healthcare.
But this is 41 points higher than the national MMR average of 178 in 2011-12, worse than Myanmar and Nepal and about the same as Laos and Papua and New Guinea, according to WHO data.
Surajmuni Marandi (centre), 24, an expectant mother at the Godda district hospital in Jharkhand, where she was kept waiting for six hours without medical assistance. The doctor on duty never showed up and the hospital did not provide her food or medicines either. She was forced to pay out of her pocket for her delivery as well as for using the toilet.
Jharkhand is a part of a group of eight poor states, called the empowered action group of states (EAG), which includes Bihar, Chhattisgarh, Madhya Pradesh, Orissa, Rajasthan, Uttaranchal and Uttar Pradesh. The EAG was formed by the central government following the 2001 Census to contain the population explosion in its constituent states.
The real maternal and infant-health problems in Jharkhand are revealed when we compare the state's health indicators with other EAG states, such as Chhattisgarh and Bihar.
Indicators for Maternal Health in Jharkhand, Bihar and Chhattisgarh, 2011-12
Mothers who received any Antenatal Check- up (%)
Coverage
Bihar
Chhattisgarh
Jharkhand
All areas
85.4
91.8
60.2
Rural
84.9
91.5
55.2
Urban
90.5
93.2
78.3
Delivery conducted by skilled health personnel at home (%)
Coverage
Bihar
Chhattisgarh
Jharkhand
All areas
30
50.5
27.4
Rural
29.6
49.5
26.6
Urban
36.1
57.9
34.7
Delivery at government institutions (%)
Coverage
Bihar
Chhattisgarh
Jharkhand
All areas
39.5
29.2
23.6
Rural
39.7
29.2
23.2
Urban
37.2
29.5
25.1
Mothers who stayed for less than 24 hours in institution after delivery (%)
Coverage
Bihar
Chhattisgarh
Jharkhand
All areas
65.2
37.9
41.6
Rural
66
40.1
46.9
Urban
59.5
31.6
31.8
Mothers who received post natal checkup within 1 week of delivery (%)
Coverage
Bihar
Chhattisgarh
Jharkhand
All areas
63.8
75.3
71.7
Rural
62.2
72.3
67.8
Urban
78.5
89.4
86.3
Mothers who did not receive any postnatal check-up (%)
Coverage
Bihar
Chhattisgarh
Jharkhand
All areas
19.4
22
26.1
Rural
19.9
24.9
29.8
Urban
14.3
9.1
12.7
New borns checked within 24 hours of birth (%)
Coverage
Bihar
Chhattisgarh
Jharkhand
All areas
61.9
65.9
64.8
Rural
60.8
62.3
60
Urban
72.2
82
82.2
Mothers who used financial assistance for delivery under JSY (%)
Coverage
Bihar
Chhattisgarh
Jharkhand
All areas
40.9
34
23.9
Rural
41.4
32.9
25.5
Urban
36.1
39
18
Mothers who used financial assistance for government institutional delivery under JSY (%)
Coverage
Bihar
Chhattisgarh
Jharkhand
All areas
91.2
85.1
75.9
Rural
91.7
87.3
80.3
Urban
86.1
75.4
61.3
Source - Census
Jharkhand does not fare well on any of the nine key indicators including government schemes, such as the Janani Suraksha Yojana (Mothers' Protection Programme).
JSY is fully sponsored by the central government and provides cash incentives, including out-of-pocket expenditure incurred by pregnant women: Rs 1,400 for rural women and Rs 1,000 for urban women.
Jharkhand has the lowest ante-natal care coverage with only 60% of women receiving such facilities. Compare that to Bihar with 85.4% and Chhattisgarh with 91.8%.
Mothers who opted for institutional deliveries in Jharkhand was also low at 23.6%, compared to 39.5% and 29.2% in Bihar and Chhattisgarh, respectively. The women who do use state-run health institutions receive poor quality care, as the video at the start of this story details.
Seen from the view of those who provide healthcare, they work at substandard facilities and there are too few of them.
The video above tells the story of Ahilya Devi, a septuagenarian auxiliary nurse midwife from Jharkhand. Her story reveals the state of 14 sub-health centres that she manages alone in the district of Dhanbad. Midwives like Ahilya are not supposed to look after more than eight such sub centres. These centres are not only short of medical staff but also lack basic facilities, such as water and electricity. In Dhanbad, which is on the lowest rungs of Jharkhand's healthcare system, no more than 13% of mothers have had their delivery in an institution. As many as 86% did not receive the money they were entitled to under JSY.
The gulf between targets and reality in India's dark areas
At the Call To Action Summit, Prime Minister Modi talked about how India had achieved 75% institutional deliveries nationwide, a significant factor in improving maternal and infant healthcare.
But as Video Volunteers' ground reports reveal, absolute numbers are not enough: The quality of healthcare is an important draw for women in remote, rural areas. If infrastructure is crumbling, centres lack medical staff and patients must pay out of their pockets--apart from being treated badly--they are unlikely to use institutions.
The idea behind the JSY is to encourage women to deliver babies at health facilities by making these services free and available, especially in rural areas.
Of Jharkhand's 24 districts, there is a significant urban bias among the bottom five districts, based on maternal-health indicators.
Delivery At Government Institutions (%)
Districts
Total
Rural
Urban
Godda
18.6
18.2
NA
Bokaro
16.3
11.9
21.5
Giridih
15.5
15.1
22.4
Chatra
14.9
13.4
29.2
Dhanbad
13
9.2
16.2
Mothers Who Used Financial Assistance For Delivery Under JSY (%)
Districts
Total
Rural
Urban
Godda
23.4
23.3
NA
Dhumka
18.2
17.2
35.7
Chatra
16.3
15.8
20.3
Giridih
16
15.8
18.2
Dhanbad
14
17.2
11.2
Bokaro
13.3
15.9
10.2
Mothers Who Did Not Receive Any Post-Natal checkup (%)
Districts
Total
Rural
Urban
Godda
40.3
41.2
NA
PurbiSinghbhum
20.4
28.2
12.9
Hazaribagh
18
19.7
9.9
Bokaro
16
20.1
11.1
Kodarma
15.8
15.5
17.6
Dhanbad
12.5
13.2
11.8
Source - Census
In general, mothers in urban areas received better maternal care in Jharkhand, including facilities under JSY, emphasising the point that poor facilities attract fewer women.
(This story is the result of a collaboration between Video Volunteers, a global initiative that provides disadvantaged communities with story and data-gathering skills, and IndiaSpend. Salve is a policy analyst with IndiaSpend.)
You can see the full playlist of Video Volunteers' videos--revealing gaps in maternal-health services--here.
_________________________________________________________________
"Liked this story? IndiaSpend.org is a non-profit, and we depend on readers like you to drive our public-interest journalism efforts. Donate Rs 500; Rs 1,000, Rs 2,000."