IndiaSpend Budget Primer – VI: Will Healthcare Spending Be Doubled?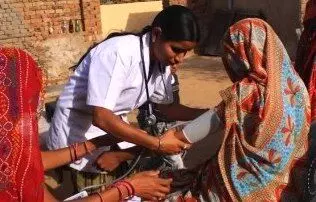 The UPA Government has hinted at the possibility of cutbacks in allocations for several social programmes in Budget 2013-14, thanks mostly to due to the difficult financial position. While there are many programmes that could face a hit, a cut in healthcare expenditure could have adverse effects. Let us look at what's at stake and begin with the total allocation for the Ministry of Health and Family Welfare for the last five years:
Figure 1
While Rs 130, 862 crore has been allocated as central health expenditure, only Rs 93,653 crore has been spent on healthcare programmes. The most interesting highlight is that barring 2008-09, the Revised Estimates have declined every year, which would mean that crucial healthcare programmes actually end up spending less money that budgeted at the start of the year. Delhi-based think-tank Accountability Initiative says one reason is that states are unable to utilise the funds with them. Most funds from the central health budget pool go to the National Rural Health Mission (NRHM). A total of Rs 71,880 crore (out of the total Budget Estimates during this period) has been budgeted for NRHM since its launch in 2008-09. Figure 2 shows the expenditure figures for NRHM from 2007 to 2012
Figure 2
The main objective behind NRHM was to increase healthcare infrastructure and personnel but as
IndiaSpend
reported earlier, there is 60% shortage in rural doctors, poor Government doctor ratio ( around 25,000 government doctors in rural areas serve around 830 million people) and insufficient hospitals beds (around 2,000 people per Govt hospital bed). And healthcare progress for important indicators is way behind desired targets of the Millennium Development Goals. We will look at three broad based parameters by which healthcare efficiency is measured. These are: overall spending on health, health indicators like infant mortality ratio (IMR), maternal mortality ratio (MMR) and health infrastructure and personnel. India's healthcare spending, when compared with BRICS nations and the United States, leaves much to be aspired:
Figure 3 (a)
Figure 3 (b)
So, India has: * The lowest total expenditure on health (public + private) as % of GDP. *The lowest government expenditure as share of total health expenditure. *The highest out-of-pocket expenditure as share of total private expenditure; and *The lowest per capita Government expenditure. India's public expenditure as % of GDP hovers around 1%. Neighbours like Thailand (3.3%), Nepal (2.1%) and Bangladesh (3.4%) spend more on their healthcare programmes. So, it is evident that India's expenditure on health is not meeting the needs, which is shown in the tables below;
Figure 4 (a)
Figure 4(b)
India has: *The 2
nd
lowest life expectancy. *The highest infant mortality rate and under-5 mortality rate. *The 2
nd
highest maternal mortality rate; and *The worst immunisation coverage. India can, at best, be compared with South Africa but it must be kept in mind that South Africa has been suffering severe AIDS (a prevalence rate of 17.8% in 2009) outbreak historically. India is also way behind other countries if you look at the health workforce and infrastructure availability:
Figure 5
India has: *The lowest density of physicians per 10,000 population *The 2
nd
lowest density of nursing personnel; and *The lowest number of hospital beds. So, some micro challenges still remain for the Government including tackling: *Shortage of 88% specialists and 76% doctors during 2007-12 (11
th
Plan) *60% shortage of specialists in rural India *Only 19 health workers per 10,000 people while WHO norm s is 25. *Widespread doctor absenteeism (around 40%) . Even Peru, Bangladesh and Uganda have lesser health worker absenteeism; and *Slow progress on 6 new AIIMS.
Glossary: Infant Mortality Rate: Probability of child dying by age 1 per 1,000 live births Under 5 Mortality Rate: Probability of child dying by age 5 per 1,000 live births Maternal Mortality Rate: Probability of women dying during child birth per 100,000 live births.