India Readies A New Cadre Of Certified Midwives To Improve Maternal, Infant Care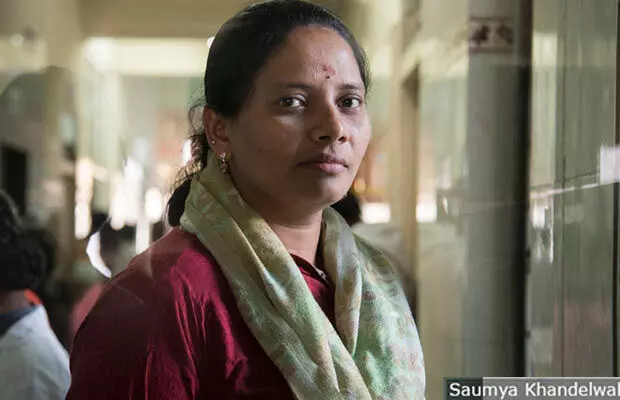 Karimnagar (Telangana) and Delhi: "As a nurse, we used to refer to mothers as patients. The first thing we learned as a midwife was to treat them as mothers and not patients," said Jyothirmayee Akkaladevi, 35, as she rattled off a list of everything she had to unlearn to train as a midwife.
Akkaladevi is from the first batch of professionally trained midwives in India, part of a pilot programme started by the state government of Telangana. When we met in November 2018, she had completed a year-long academic training for midwifery at the Mother and Child Health Centre in Karimnagar.
This programme will now be studied closely as India gets ready to introduce midwifery-led care in the country. The government of India announced Guidelines on Midwifery Services, which include recommendations for midwifery training and certification, at Partners' Forum, a World Health Organization (WHO)-led global forum for maternal, newborn and child health, in Delhi in December 2018. The development has taken years of advocacy and international pressure, and represents a big shift in India's maternal health policy.
"This is going to be a game changer for the country," said Dinesh Baswal, deputy commissioner for maternal health at the central ministry of health and family welfare, "We need to accelerate the decline in maternal and infant mortality, and we see this as an effective intervention."
The cadre of midwives would support overburdened secondary and tertiary care facilities that do not have enough obstetricians, helping meet India's Sustainable Development Goals related to infant and maternal health. "It would also improve the quality of care and help women have positive birth experience," Baswal said.
Globally, midwives are known to save lives and provide quality care during pregnancy and childbirth--83% of all maternal deaths and newborn deaths could be averted with midwifery care, WHO data show.
When midwives were the main providers of care during pregnancy, women were less likely to give birth prematurely or lose their babies before 24 weeks of gestation, research by the WHO has shown. Women attended on by midwives needed fewer epidurals, fewer assisted births and fewer episiotomies, and were less likely to have caesarean births.
Too many caesarean sections
The Telangana government launched India's first midwifery course in October 2017 in the district of Karimnagar. Two years on, by the middle of 2019, Akkaladevi and 29 other women will graduate and be posted as midwives in public hospitals across the state.
Trainee midwives at Mother and Child Health Centre, Karimnagar in Telangana. The state launched India's first midwifery course in October 2017 in Karimnagar. Two years on, by mid-2019, 30 women will graduate and be posted as midwives in public hospitals across the state.
To know why Karimnagar was chosen for implementing the project on midwifery, the following data are instructive. Telangana had the highest rates of caesarean births in the country, with 74.9% in the private sector and 40.3% in the public sector, according to the National Family Health Survey (2015-2016). Globally, 10-15% is considered the "ideal rate", as per the WHO.
Although caesarean sections are becoming more common around the world, Karimnagar recorded an alarming figure of over 80% of caesarean births.
The case of B. Nandini and her family is illustrative.
Nandini is a 25-year-old accountant, and a mother of two from Laxmipur village in Karimnagar. She has had two babies, both through caesarean section. Her mother Nirmala, 42, also had children through cesarean section. The only woman in their family to have given birth naturally is Nandini's grandmother Bhu Devi.
"In my time it was different. But now, everyone has an operation," Bhu Devi, now in her 70s, told IndiaSpend, "I'm not sure why it's changed."
Over the decade upto 2016, the percentage of caesarean deliveries doubled from 9% to 18.5% in India, as IndiaSpend reported on December 20, 2018. The caesarean section is recognised globally as a maternal health-care indicator: When caesarean section rates rise towards 10% across a population, maternal and newborn deaths decrease; if the rate goes above 10%--as in India--there is no evidence of improvement in maternal or neonatal mortality, IndiaSpend reported on February 10, 2017, based on a WHO study.
One of the solutions, experts agree, is to bring in midwives--it would lower the caesarean birth rates, reduce unnecessary risks to women and their babies, and improve maternal and infant health overall, as global evidence shows.
How midwives can help
Midwifery-led care is based on the principles of dignity, privacy and compassion for women and respectful maternal care.
"When I signed up for the course, I thought to myself, what new thing can they teach us about birthing? We did not know anything about respectful maternal care. Now when we counsel a mother to opt for a normal delivery in the case of low-risk pregnancy, it's only after communicating with her, gaining her trust and making her aware of her choices," Akkaladevi said.
A midwife attends to a mother at the Mother and Child Health Centre, Karimnagar in Telangana. Midwifery-led care is based on the principles of dignity, privacy and compassion for women and respectful maternal care.
Akkaladevi had worked as a general nurse in Mother and Child Health Centre in Sangareddy district in Telangana for 14 years when she saw a notification in a local Telugu paper inviting applications for a course in midwifery. In the last two weeks of December 2018, a year into the course and now working as a midwife intern, Akkaladevi had already assisted in the delivery of more than a dozen babies at the Mother and Child Care Hospital in Sangareddy district in Telangana.
"I have assisted in a delivery a day since the internship began," Akkaladevi told IndiaSpend, "At first, the doctors and nurses were not happy to see us in the labour room and felt we were trespassing, but when they saw our work and how we take care of the mothers, they told us we are needed."
There has been a singular emphasis in India over the last decade on increasing institutional deliveries, but there has been little talk about the quality of care for mothers. The increase in the number of institutional deliveries in India has been accompanied by calls to humanise childbirth so women can go through it with dignity and as autonomous individuals.
It was partly for this reason that the central ministry of health and family welfare had launched a programme, 'LaQshya', in 2018 to improve the quality of care in labour rooms.
For a country that has been striving to improve its maternal health indicators, India has greatly underestimated midwifery, lagging behind countries such as Sri Lanka, Bangladesh and Afghanistan that have invested in creating a professional cadre of midwives.
There is little awareness on midwives as qualified health professionals in India and the term is still used interchangeably for traditional birth attendants (dais), auxiliary nurse-midwife (ANMs) or registered nurse and registered midwife (RNRM). India has so far not recognised midwifery and provides midwifery training only with nursing training to its ANMs and RNRMs.
A certified midwife, in the globally accepted context, like in Europe where 75% of births are attended by midwives, is someone who has completed a midwifery education programme based on the International Confederation of Midwives standards, and has acquired the requisite qualifications to be registered legally and licensed to practise midwifery.
"India is one of the few countries to have not made any progress in midwifery. We have been deliberating it for a long time, but it has gained momentum only now," Baswal said. Earlier attempts to establish midwifery in India, in West Bengal and in Gujarat, for instance, failed to take off.
The new guidelines on midwifery in India, released in December 2018, state that a cadre of Nurse Practitioner in Midwifery (NPM) will be created that will be skilled in accordance with International Confederation of Midwives standards. The NPM will be a registered nurse-midwife with an additional 18 months of post-basic training in midwifery.
Five regional midwifery training institutes (for training of NPMs) are proposed to be set up in the first phase in Assam, Maharashtra, Gujarat, Tamil Nadu and Uttar Pradesh. "All pregnant women would first be screened at midwifery-led care units, which would be established at public health facilities," Salima Bhatia, lead consultant on maternal health in the ministry of health and family welfare, said.
To create a cadre of well-trained midwives, it would be critical to have proficient midwifery educators to train the NPMs. One of the limitations of the Bangladesh model of midwifery has been the shortage of competent midwifery educators. India has planned a national midwifery training institute for education and training of educators, which will be supported by international institutions and experts from countries in Europe where midwifery is well established.
"India will need hundreds of thousands of midwives, but it is not impossible. We've seen how the push for institutional deliveries has been successful," said Mallavarapu Prakasamma, founder of the Society of Midwives in India who now runs Answers Foundation, which has for long advocated for midwifery in the country.
The way ahead
As India gears up to implement midwifery, the Telangana model will provide a crucial case study. The state has created 126 new posts for midwives and offers an additional Rs 15,000 as salary to nurses who complete the 18-month training (one year of combined classroom/hands-on training and a six months' clinical internship). The project has been developed as a public-private partnership. The state government sought support from UNICEF and Fernandez Hospital in Hyderabad, the only one in India to provide professional midwifery services and training for midwives since 2011.
"It will be a few decades before professional midwifery gets embedded in the country to be able to meet the needs of every woman," said Evita Fernandez, managing director of Fernandez Hospital. "The present guidelines do not allow for direct-entry midwives, as only nurses can qualify for midwifery training. We do not have enough nurses in India and direct entry would allow midwifery to flourish, but at least a start has been made."
Apart from the institutional support it offers, midwifery also creates jobs for women, allowing them to enter a new profession, upgrade their skills and earn better. After years of working as a general nurse, Akkaladevi said, "This course has allowed me to specialise, to be better at my work. Nursing was my profession, midwifery is my calling."
(Kumar is an independent journalist based out of Delhi.)
Reporting for this story was supported by a grant from the European Journalism Centre, with funding from the Bill & Melinda Gates Foundation.
We welcome feedback. Please write to respond@www.health-check.in. We reserve the right to edit responses for language and grammar.