India Misses Healthcare Targets Despite Doubling Spending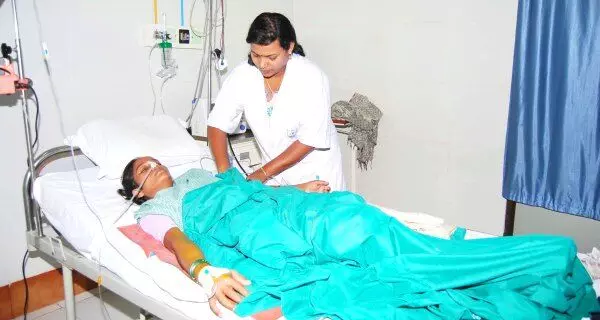 Highlights * India's healthcare spending increased by Rs 194,000 crore between 2007-2012. * Child sex ratio declined 13 points during the five-year period as against the target to increase it by 8 points. * There was a shortage of 88% specialist doctors between 2007-12 .
Healthcare spending by federal and state governments increased by nearly Rs 194,000 crore between 2007 and 2012. Yet, targets of key indicators like infant mortality rate (IMR) and maternal mortality rate (MMR) were missed. And the child sex ratio declined alarmingly by 13 points as against a target to increase it by 8 points.
IndiaSpend
earlier wrote about how under-funding and shortages of infrastructure and health personnel were responsible for poor health indicators. IndiaSpend's
Sourjya Bhowmick
now examines a most recent
Planning Commission document
to find that while spends have doubled over the last five years, none of the targets were met. Here's a look at the allocation and expenditure of the Ministry of Health during the 10th and 11th Plans.
Figure 1 (a)
(
NOTE:
Core health includes central and state healthcare expenditure, while total health includes drinking water and sanitation, ICDS and mid-day meal expenditure.) Figure 1 (b) shows us the expenditure as a percentage of GDP over the 10th and 11th Plans.
Figure 1 (b)
Interestingly, the Central Government's expenditure during the 2007-12 period (Rs 119,364 crore) was more than double the amount that was spent during the 10
th
Plan (Rs 47,077 crore). Similarly, states' expenditure more than doubled from Rs 107,466 crore during the 10th Plan to Rs 229,928 crore during the 11
th
Plan. The total expenditure during the 10
th
Plan (centre + state) was Rs 154,543 crore while it was Rs 349,292 crore during the 11
th
Plan - an increase of Rs 194,749 crore. So, did such a huge increase in spending translate into better health indicators during the 11
th
Plan?
Figure 2
(We can see that while there have been improvements in MMR and IMR, total fertility rate has not reduced much. Unfortunately, the child sex ratio has gone down by 13 points. Let us now look at the progress in various health indicators during the 10th and 11th plans:
Figure 3 (a)
Let's take a look at the states that have performed the best and the worst.
Figure 3 (b): TN, Kerala Meet Targets; Bihar, UP Miss Them
From Figure 3 (b), it can be seen that states like Kerala and Tamil Nadu have achieved almost all the targets while states like Bihar and Uttar Pradesh have missed all the targets. Let us now look at infrastructure and health personnel:
Figure 4 (a)
Figure 4 (b)
As you can see from the table above, the most progress in infrastructure has been in the District Hospitals (45%), which is still below 50 per cent. Incidentally they don't have any shortfalls. Community Health Centres on the other hand have the greatest shortfall of almost 40 per cent. With regards to the status of healthcare personnel, Nurses have seen the biggest increase (about 119%). Specialists have the highest shortfall to the tune of 88%. It is evident that infrastructure and health personnel have increased but shortfalls still exist in the system. Shortage of medical personnel is being attributed to delays in recruitment and irrational postings. The Planning Commission,
in the draft 12th Plan document
, has broadly recommended better access to healthcare services, monitoring and evaluation of systems, training of health professionals for better achievements during 2012-17. To meet all these needs, it has suggested spending around 2.5% of GDP on healthcare, which would mean doubling India's expenditure over the next five years on providing better health facilities to citizens. However, it can be seen that while expenditure on core health has increased from 0.94% of GDP to 1.04% of GDP, the increase (Rs 194,749 crore) did not necessarily translate into major achievements on any health parameters. On the contrary,
as we have written earlier
, India is sure to miss the United Nations' Millennium Development Goals, which aim to reduce infant mortality rate by 2/3
rd
between 1990 and 2015 and maternal mortality rate by ¾ between 1990 and 2015.