In Mumbai, TB Deaths Spark Data Dispute Between Govt, NGO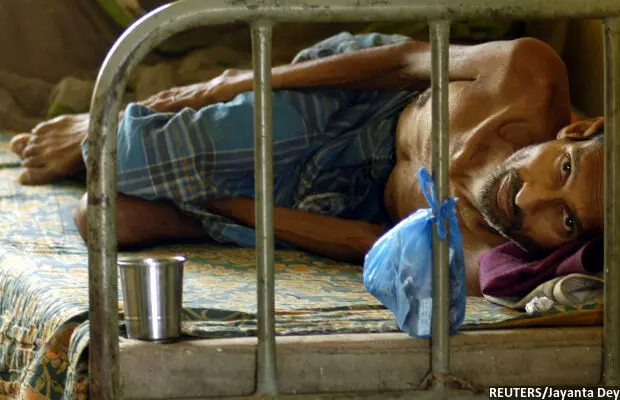 India's richest municipal corporation has denied nonprofit Praja Foundation's assessment--made from the corporation's own data--that 18 people die of tuberculosis every day, even as Praja Foundation claims the Brihanmumbai Municipal Corporation (BMC) has no way of knowing if the assessment is wrong because it cannot access its own death-related data ever since it moved to a new software.
The assessment, released two weeks back, was based on data accessed through Right to Information (RTI) filings from the Brihanmumbai Municipal Corporation (BMC), which refutes its conclusions saying the data has been put together "unscientifically."
Praja Foundation alleges that the BMC switched to a new software in December 2015, whose design prevents it from accessing its own data on mortality, leaving it with no way of knowing if Praja Foundation's estimate is incorrect.
What the report said
In its The State of Health of Mumbai report, Praja Foundation assessed that 6,472 Mumbaikars died of tuberculosis during 2016-17--nearly 18 people every day.
It showed a 37% increase in the number of TB cases in Mumbai--from 36,417 in 2012-13 to 50,001 in 2016-2017.
Source: Praja Foundation Report
NOTE: *calculated through predictive model
Data for the report were compiled through Right to Information (RTI) filings with municipal and government hospitals and dispensaries.
Data on the cause of death were not available from December 2015 onwards. Praja, working in collaboration with data analytics company Hansa Cequity Solutions, extrapolated the cause of death from January 2016 to March 2017 using a predictive model that Praja Foundation claims gives "the closest possible accuracy of up to 95.5%."
TB data now on central platform but cannot be accessed
Until December 2015, cause-of-death information was made available by all 24 BMC wards in System Application Protocol (SAP) software, which was managed locally by its public health department.
After that, the BMC moved from SAP to the Civil Registration System (CRS) managed by the central government. The system's design is such that the Medical Officers of Health of all 24 wards are unable to access mortality data.
"We have written to the central government to allow this access about two months ago," Padmaja Keskar, Executive Health Officer, BMC, said.
"Medical Officer of Health who is the sub-registrar should have access to this data since he or she is responsible for all deaths and births registered in the ward," said Milind Mhaske, Programme Director, Praja Foundation. "However, after adopting the CRS system, they have no way to access data and they aren't following up with the IT department of CRS to get it."
Fewer patients treated, more TB programme defaulters
The number of TB cases treated through DOTS, the standard treatment programme for TB, has fallen by 50% over four years--from 30,828 in 2012 to 15,767 in 2016.
Simultaneously, the percentage of defaulters--patients whose TB treatment was interrupted for more than two months--in DOTS centres has increased from 9% in 2012 to 19% in 2016, even as the government has been promoting its "TB haarega, desh jeetega" (TB will lose, India will win) campaign.
A ward-wise compilation of the number of TB cases shows that from 2012-2013 to 2016-2017, TB incidence was highest in L ward (Kurla), which had 1,254 patients.
The report also reveals a discrepancy in the number of TB deaths reported by different sources. The Tuberculosis Control Unit of the BMC reported 1,459 deaths in 2015, while the public health department issued 5,680 death certificates in which the cause of death was recorded as across 24 wards in 2016.
This means the municipal corporation is not accessing data from private-sector and other sources such as trust hospitals even though 75% of patients seek private treatment.
Source: Praja Foundation Report,
NOTE: *calculated through predictive model
BMC's written response to Praja
The BMC has written to Praja Foundation to refute its findings.
"..the interpretation of the results should be based on the knowledge of the programme and the field situation and adopt scientific methodology," Dr Padmaja Keskar, executive health officer, Brihanmumbai Municipal Corporation and Sunil Dhamne, Deputy Municipal Commissioner, Public Health, wrote to Nitai Mehta, Founder Trustee of Praja Foundation on July 13, in a letter reviewed by IndiaSpend. "It seems you have done random collection of data from various health facilities and added it which is vague."
In a letter back to the BMC on July 17, which IndiaSpend has also reviewed, Praja Foundation has said it collected data from various health facilities in formats chosen by the facilities themselves because in its past experience, "whenever we have applied for data/information to a centralized department we have always been advised to [go] to the local units for information."
The foundation has suggested that the public health department bring out an annual statistical health report for various diseases and ailments, causes of death and similar data. It has also stated that it would support the department in this exercise.
Councillors show little concern for TB
Despite the widespread prevalence of TB and rising deaths, Praja Foundation's report notes, Mumbai's municipal councillors asked 68 questions about the naming or renaming of hospitals, health centres and cemeteries in the house during the past five years, and 45 questions about TB.
"Five questions were raised regarding renaming of Jogeshwari Trauma Hospital. Corporators first suggested the name Hinduhridaysamrat Shivsena Pramukh Manviya Shri Balasaheb Thackeray Trauma Hospital and later, other corporators came asking for removal of the word 'Shivsena Pramukh' over a series of queries," The Indian Express reported on July 15, 2017.
(Marbaniang is an intern with IndiaSpend. Yadavar is principal correspondent with IndiaSpend.)
We welcome feedback. Please write to respond@www.health-check.in. We reserve the right to edit responses for language and grammar.
__________________________________________________________________
"Liked this story? Indiaspend.org is a non-profit, and we depend on readers like you to drive our public-interest journalism efforts. Donate Rs 500; Rs 1,000, Rs 2,000."