In 3 Months, Swine Flu Deaths Top Worst Annual Toll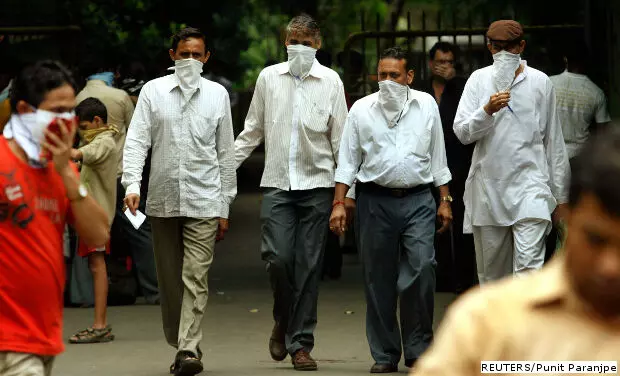 The H1N1 influenza, commonly known as swine flu, has claimed 1,947 lives and infected 32,663 people across India according to official data (as on March 23, 2015). In less than three months this year, the toll has crossed the 2010 peak of 1,763 deaths.
H1N1—a virus with a mix of swine, bird and human genes—is a seasonal influenza that that is threatening to become pandemic in India. Medical professionals
predicted
it would die down with the start of warm weather; instead the toll has spiralled. Varieties of influenza cause between 250,000 and 500,000 deaths every year and an annual global attack rate of 5-10% in adults and 20-30% in children, according to the
World Health Organisation
(WHO). The toll skyrockets in pandemic years. H1N1 is a
respiratory infection
that spreads through coughs, sneezes and touch. Short-distance airborne transmission of the influenza virus may occur, particularly in crowded enclosed spaces. The western state of Gujarat is the worst-affected, reporting 415 deaths and 6,417 cases of swine flu this year. H1N1 fears have now put
public events
on hold in Gujarat. This
report
says the toll could even be higher than officially reported.
Source: PIB/Ministry of Health and Family Welfare; *Figures for 2009 are for May-Dec 2009, Figures for 2015 as on March 23, 2015
Rajasthan is second after Gujarat with 403 deaths, followed by Maharashtra (360) and Madhya Pradesh (286).
IndiaSpend
recently reported
a mutation in the H1N1 virus, which could be one explanation for its growing virulence. The genetic sequences—or alphabet chains—of the Indian H1N1 strain revealed important changes linked to greater virulence, according to an
MIT paper
released in the international journal
Cell Host and Microbe
. The Indian government rejected that study, questioning the authenticity of the sample—supplied by an Indian government laboratory—and called it an "incorrect conclusion", but did not answer many
questions
and held back genetic data. As on March 23, 2015, 6,088 people have died and 92,340 have been affected by H1N1 influenza in India since May 2009.
Source: PIB/Ministry of Health and Family Welfare; *Figures for 2009 are for May-Dec 2009, Figures for 2015 as on March 23, 2015
In 2015, Rajasthan reported the most swine flu cases (6,461) followed by Gujarat (6,417). Prior to 2015, for the period from May 2009 to December 2014, Maharashtra had reported the most deaths from swine flu—1,271. Gujarat was next with 773 deaths, followed by Rajasthan (573) and Karnataka (366). Maharashtra was also the worst affected state in terms of swine flu cases for the period from May 2009 to December 2014—13,743 people were infected. Delhi was next with 12,816 cases followed by Rajasthan (6,050). ____________________________________________________________________
"Liked this story? Indiaspend.org is a non-profit, and we depend on readers like you to drive our public-interest journalism efforts. Donate Rs 500; Rs 1,000, Rs 2,000."