In 2015, India Lost 2 Children Below Age 5 Every Minute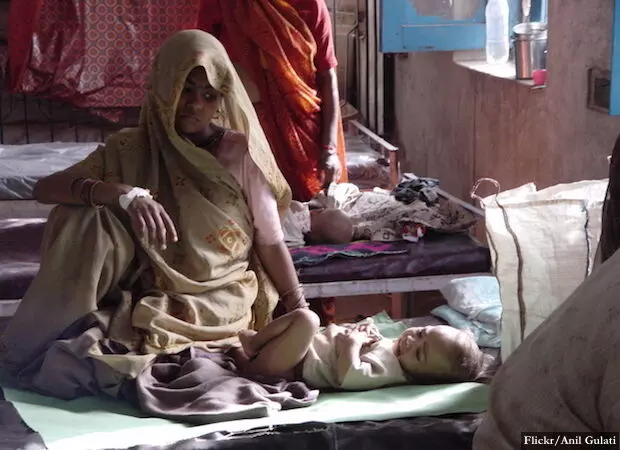 Nearly 1.08 million Indian children under the age of five years died in 2015--that's 2,959 deaths every day or two each minute--many of them of causes that were preventable and treatable.
India's under-five mortality rate (U5MR)--the probability that a child born in a specific year will die before reaching the age of five--was reported to be 43 deaths per 1,000 live births in 2015 in the Sample Registration System Statistical Report 2015, the latest available data.
Child mortality is considered one of the bellwethers of the health and well-being of a nation because factors that impact child mortality also affect the health of entire populations. During 2015-16, when the economy was scaling the growth charts by recording a best-in-five-years growth rate of 7.6%, India's U5MR of 43 in 2015 placed it the worst among BRICS countries and the third worst in South Asia, despite a 26-point improvement from a rate of 69 in 2008.
Some Indian states such as Assam and Madhya Pradesh recorded worse U5MR than Ghana in sub-Saharan Africa.
Most under-five deaths were attributed to neonatal causes (53%), pneumonia (15%), diarrhoeal diseases (12%), measles (3%) and injuries (3%), the Ministry of Health and Family Welfare's Annual Report 2016-17 said, citing World Health Organization data from 2012.
"More than two-thirds of infants die in the very first month. About 90% of these deaths are due to easily preventable causes like pneumonia and diarrhoea," according to Save the Children.
Source: Ministry of Health and Family Welfare/Census - SRS Statistical Report 2015
More under-five children died in rural areas (48 deaths per 1,000 live births) than in cities (28), data show.
The government has identified 209 low-performing districts as priority areas which would be closely monitored while receiving higher per capita funding, technical support and help in adopting innovative approaches, Faggan Singh Kulaste, minister of state in the Ministry of Health and Family Welfare, told the Lok Sabha (lower house of parliament) in a reply on July 28, 2017.
The minister outlined government initiatives to reduce child mortality under the National Health Mission such as the Janani Suraksha Yojana (safe motherhood scheme) and the Janani Shishu Suraksha Karyakaram (mother and child care programme), which entitle pregnant women who deliver in public health institutions to free ante-natal check-ups, post-natal care and treatment for sick infants for up to one year of age. Special neonatal care units have also been set up in government facilities, he said.
Under the universal immunisation programme, the government provides free vaccination against life-threatening diseases such as tuberculosis, polio, tetanus and measles, the reply stated.
U5MR: Assam, Madhya Pradesh worst in India and as bad as Ghana in sub-Saharan Africa
Despite these government programmes, the data paint a worrying picture.
Among the 22 Indian states and union territories (UTs) with a population of 10 million or more, Kerala reported the lowest U5MR at 13, while Assam and Madhya Pradesh reported the highest at 62.
Only four of these states--Madhya Pradesh, Odisha, Himachal Pradesh and Punjab--have lower female U5MR than male.
India's sex ratio at birth--the number of girl children born per 1,000 male children--was 903 girls per 1,000 boys in 2015, IndiaSpend reported on August 2, 2017. This was worse than Pakistan (920) and Nepal (939).
Source: Census - Sample Registration System Statistical Report 2015
NOTE: Data available only for 22 larger states as per survey
The Millennium Development Goal (MDG)-4 (to reduce child mortality) was to bring U5MR down to 42 deaths per 1,000 live births by 2015, the Lok Sabha reply stated.
The Sustainable Development Goal, which replaced MDG-4 from January 2016 onwards, is a U5MR of 25 deaths per 1,000 live births for all countries by 2030.
Data show that 14 of the 22 larger Indian states have attained MDG-4 (<42 deaths per 1,000 live births) and four states have surpassed the SDGs, namely Maharashtra (24), Delhi (20), Tamil Nadu (20) and Kerala (13).
This wide variance across states is due to systemic but potentially remediable differences in one or more aspects of healthcare facilities across states, as well as other social and cultural factors such as women's education and sanitation.
India sluggish in tackling child deaths despite fast economic growth, says UNICEF
About 5.9 million children under the age of five died worldwide in 2015--16,000 every day--due to diseases that are preventable or treatable, such as pneumonia, diarrhoea, malaria, meningitis, tetanus, measles, sepsis and AIDS, the United Nations Children's Fund (UNICEF) said in its The State of The World's Children report for 2016.
The report said countries such as India and Nigeria are "sluggish" in reducing child mortality, despite leading on the economic growth front globally. This indicates that "economic growth does not guarantee improved child survival, and a country's income need not hinder progress", it noted.
South Asia and sub-Saharan Africa accounted for 80% of under-five deaths in 2015, nearly half of which took place in the Democratic Republic of the Congo, Ethiopia, India, Nigeria and Pakistan, the report said.
India reported the highest U5MR among BRICS countries at 43 deaths per 1,000 live births in 2015, followed by South Africa (41), Brazil (16), China (11) and Russia (10).
Among its South Asian neighbours, India fared better only than Afghanistan (91) and Pakistan (81). Maldives reported the lowest U5MR at nine deaths per 1,000 live births, followed by Sri Lanka (10), Bhutan (33), Nepal (36) and Bangladesh (38).
Source: Lok Sabha
"More than three-fourth of under-five-deaths in India are due to neonatal causes, pneumonia and diarrhoea," Rajesh Khanna, senior technical advisor with child rights NGO Save the Children India, told IndiaSpend. Babies with birth asphyxia (deprivation of oxygen during delivery that can lead to lifelong brain damage and death), preterm babies, babies delivered at home, babies of poor and/or migrant families, and malnourished children are most vulnerable, he said.
Khanna said although interventions to prevent and treat childhood diseases are available, there are many challenges: Lack of knowledge and awareness about these solutions among communities, inadequate availability and access to these interventions within the public health system, and patchy quality of services provided for these interventions. "All these challenges are more pronounced for the marginalised and underprivileged population which has the maximum burden of child deaths," he said.
Khanna said all pregnant mothers must be provided with proper antenatal care services and nutritional supplements. "Institutional delivery or delivery by skilled personnel, early and exclusive breastfeeding for all babies, access to universal immunisation and hygiene must be ensured" in order to reduce infant mortality, he said.
(Mallapur is an analyst with IndiaSpend.)
We welcome feedback. Please write to respond@www.health-check.in. We reserve the right to edit responses for language and grammar.
__________________________________________________________________
"Liked this story? Indiaspend.org is a non-profit, and we depend on readers like you to drive our public-interest journalism efforts. Donate Rs 500; Rs 1,000, Rs 2,000."