How India Cut Neonatal Tetanus Mortality By 99.76%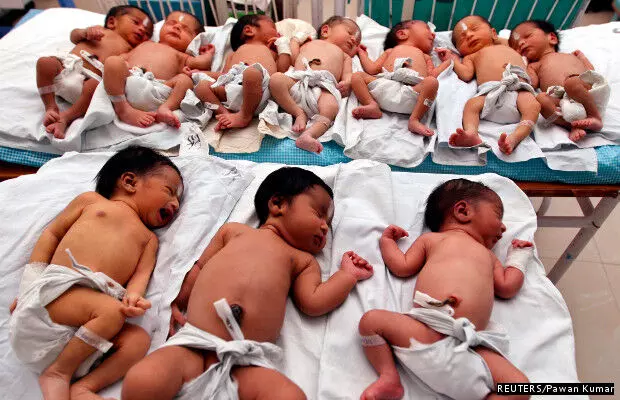 In 2012, a 12-day-old boy (we will call him "Baby Boy") in Assam's Sivasagar district could not be given his feed because he had lockjaw—his face muscles went rigid, making it impossible for him to open his mouth. As the spasms spread from Baby Boy's jaw downwards, his body writhed and went into violent spasms, advanced symptoms of the bacterial infection called tetanus.
It's been about three years, but Jenita Baruah, 39, remembers Baby Boy well. He was the last neonatal tetanus case that Baruah—an assistant professor of community medicine at the Assam Medical College, Dibrugarh—saw.
In the 48 hours it had taken the mother to get to the paediatrics clinic of Assam Medical College from the neighbouring district, Baby Boy's condition considerably worsened.
"When he was brought in, he was feverish, with an elevated respiratory and heart rate and the spasms had become so severe and brisk they caused his back to arch," recalled Baruah. At the local public health centre, the health officer had recognised tetanus and also recognised that it needed more skill and intervention than he had at his disposal.
But administering anti-tetanus immunoglobulin, intravenous fluids, anticonvulsants and oxygen did not help. Baby Boy died five days after he was admitted, one of 588 babies who succumbed to tetanus in 2012.
Tragic though his death was, Baruah never saw another case again.
India's plummeting tetanus graph
I am happy to inform you that today the WHO (World Health Organisation) has declared India maternal and neonatal tetanus free.
--Prime Minister Narendra Modi, August 27, 2015
A "significant public health milestone," is how the WHO describes India's elimination of neonatal and maternal tetanus; the latter is considered automatically eliminated once neonatal tetanus has been eradicated.
| | 1989 | 1995 | 2008 | May 2015 |
| --- | --- | --- | --- | --- |
| Countries still to be validated for Maternal-Neonatal Tetanus elimination | 90 | 63 | 46 | 22 |
Source: UNICEF
In 2013, the number of neonatal tetanus deaths across India fell to 415, and in 2014, the country recorded 492 such deaths.
| | 1988 | 2002 | 2013 |
| --- | --- | --- | --- |
| Deaths due to tetanus globally | 787,0001 | 180,0002 | 49,0003 |
Sources: 1. WHO, 2. UNICEF, 3. US NIH
Three successive years of meeting the neonatal tetanus elimination threshold of less than one case in 1,000 live births in every district led the WHO to declare India free of neonatal tetanus in May 2015.
India has reduced neonatal tetanus mortality by 99.76% since the early 1980s, when tetanus claimed up to 204,380 babies within their first year of life, said Satish Gupta, health specialist, immunisation, with the United Nations Children's Fund (UNICEF) in India.
early 1980s
1990
Cases of neonatal tetanus in India
Up to 204,380
90,000
How that happened is not particularly well known outside the medical fraternity.
It happened because of attention to detail and a vast, nationwide effort—a combination of immunisation, institutional deliveries, training frontline health workers and spreading awareness.
The elimination of maternal and neonatal tetanus is a rare Indian example of various departments doing their job—and doing it well.
How expectant mothers were vaccinated using the nationwide crèche network
In newborns, tetanus usually occurs when the unhealed umbilical stump gets infected with the bacterium Clostridium tetani.
Maternal tetanus sets in when deliveries take place in unhygienic conditions and the same bacterial infection takes hold.
The chances of infection increase when a newborn's umbilical cord is cut with a non-sterile instrument and when the mother hasn't been vaccinated with tetanus toxoid during pregnancy.
Baruah's team, assigned the investigation of Baby Boy's case, identified both of these causes as probable reasons for his infection.
"His umbilical cord stump was dry with no sign of inflammation," said Baruah. "But the dai (midwife) who assisted the delivery, at home on a jute sack placed on the floor, had used a new but unsterile blade and unsterile thread."
Despite living near a primary health centre, his 20-year-old mother, illiterate and a daily wage earner, had not heard about tetanus and the vaccine available to prevent it.
In 1983, the Indian government introduced two doses of the tetanus toxoid vaccine for all expectant mothers as part of its nationwide expanded programme on immunisation.
Two doses provide protective concentrations of antitoxins in 80% of cases, while three doses offer complete immunity.
Maternal tetanus immunisation rates have gradually crept up as a result, from 27% in 1989 to 90% currently, according to UNICEF.
That's not quite reaching every mother but high enough to drastically cut neonatal deaths due to tetanus—"especially as a higher increase can be seen in disadvantaged populations, those living in rural areas, those falling in the lowest wealth quintile and those hailing from scheduled castes and tribes," said Gupta.
| | 1980 | 2000 | 2007 | 2012 |
| --- | --- | --- | --- | --- |
| Vaccination against tetanus for pregnant women globally | 9%1 | 62%2 | 81%1 | 75%2 |
What really helped boost maternal tetanus immunisation rates was using the anganwadi network—about 1.3 million crèches nationwide—as immunisation centres, said Bhanwar Singh Deora, former chief medical & health officer, Bharatpur, Jaisalmer, Jalore and Sirohi. Over a career spanning four and a half decades, he has seen neonatal and maternal tetanus virtually disappear.
"Assigning one day in the week for immunisation has enhanced accessibility to vaccination and improved the efficacy of the injection because the cold chain is better maintained," he said.
Thursday is the assigned day for immunisation across Rajasthan. Pregnant women, women with newborns and children queue up for the dose. Vials removed from the anganwadi cold box are opened and quickly administered.
Administering single doses in the field involves the repeated opening and closing of a vial, and re-storing it, which makes it harder to maintain the cold chain, explained Deora.
Making sure women gave birth in health institutions makes a big difference
To mitigate the threat of a resurgence of neonatal tetanus, experts recommend that at least 80% of expectant mothers must be immunised and at least 70% of births must take place in hygienic conditions.
Back in 1992, barely 26% of deliveries across India took place in health facilities.
Strategy for Eliminating Maternal and Neonatal Tetanus
Category
1992
2012
Health facility deliveries
26.1%1
73.1%2
Health facility deliveries (urban)
58.0%3
89.7%2
Health facility deliveries (rural)
16.0%3
67.9%2
Newborns protected from tetanus (1989/current comparison)
27.0%4
90.0%5
Skilled attendant at birth (India)
33.0%1
83.4%2
Skilled attendant at birth (urban)
65.2%6
97.2%2
Skilled attendant at birth (rural)
23.7%6
80.6%2
Sources: 1. NFHS, 2. MOSPI, 3. MedInd, 4. US NIH, 5. UNICEF, 6. ResearchGate
Things were better in urban India, where 58% of births took place in a health facility; in rural India the comparable figure was 16%.
In 1995, the government launched the National Maternity Benefit Scheme, involving a payment of Rs 500 to pregnant women from households below the official poverty line, for each of their first two deliveries. Payments to support a mother's nutritional needs were made eight to 12 weeks prior to delivery.
The result, by 2004, was that overall institutional deliveries increased to 42%.
In 2005, a new scheme designed to take safe motherhood to a new level in India came into effect with the launch of the National Rural Health Mission.
The Janani Suraksha Yojna (JSY), or safe motherhood programme, as it is called, involves cash incentives for institutional deliveries, in addition to vaccination services and a toll-free ambulance service to take women in labour to the nearest government health facility.
Tying pre-delivery vaccination of expectant mothers and post-delivery vaccination of newborns with cash incentives has made Jananni Suraksha Yojna very effective, said Deora, the former medical health officer.
"Mothers are paid partly on delivery, and partly after the vaccination," he said.
Recognising that there will always be occasions when women cannot be transferred to a health facility, women who give birth at home with the help of a government-certified dai also receive the cash incentive.
JSY was a shot in the arm for institutional deliveries, rising to 73% in 2012. As we said, 20 years before, it was 26%.
Training frontline workers to assist births and spread awareness
Stepping up training for dais under various government schemes recognises that some women prefer to give birth at home or need to do so.
Grassroots workers get safe delivery kits and are taught cord-care best practices and a five-point clean-delivery formula—ensure the place of delivery is clean; sanitise your hands; use a new blade for cutting the umbilical cord; use sanitised thread and discourage the application of any material to the cut cord.
The method sounds simple, but it took a lot of effort to change practices.
"Dais in areas I am familiar with have shifted from traditional cord-cutting techniques—bamboo, arrowheads, sickles, etc.—to blades, and this is one of a few public-health interventions that seems to have been successful," said Janet Chawla, director of MATRIKA, an NGO active in research and advocacy for humane and traditional birth practices.
Training has increased the percentage of women who have a skilled attendant with them at birth—if not a doctor or nurse then an auxiliary nurse midwife or trained dai—from 33% in 1992 to 83% in 2012. That year, 97% of women in urban India were assisted by a skilled attendant during birthing. In rural India, this figure was 81%.
Trained frontline health workers from local communities also help dispel fears and superstition about the vaccination of pregnant women and children and acquaint communities with sterile birth practices and the ills of some traditional birthing practices.
For instance, Baby Boy's mother bathed him immediately after he was born and then applied goat excreta mixed with mustard oil to his umbilical-cord stump. She continued doing so until the tenth day, when he stopped feeding. By then tetanus had overcome the newborn, said Baruah.
This practice is still fairly common in villages, although it isn't claiming lives because of maternal vaccination, she said.
In other parts of India, women apply ghee or what is locally called neeli dawai (topical gentian violet) to the umbilical cord after it is cut.
Why India shouldn't rest on it laurels
As significant a public-health milestone as eliminating neonatal and maternal tetanus is, it isn't the end of the dangers India faces.
Unlike polio or small pox, tetanus can't be completely eradicated because Clostridium tetani is here to stay. It is found in soil and in the intestinal tract and excreta of animals.
So, India must keep up the good work to sustain its gains.
"It's time to actively look for pockets where people have yet to comprehend the importance of immunisation," said Baruah.
To be sure, such pockets exist. WHO, UNICEF and the World Bank surveys estimate that globally less than 10% of neonatal tetanus cases are reported.
As recently as in March-April of 2015, Ramveer Goswami, a neonatologist with a practice in Sohna Road, Gurgaon, saw two cases of neonatal tetanus, both from Mewat, a poor district in Haryana.
"Both babies succumbed to tetanus because their mothers hadn't been immunised," said Goswami.
It is a story that an older India was familiar with--and a reminder that the vigil against tetanus can never be relaxed.
(Bahri is a freelance writer and editor based in Mount Abu, Rajasthan)
---
"Liked this story? IndiaSpend.org is a non-profit, and we depend on readers like you to drive our public-interest journalism efforts. Donate Rs 500; Rs 1,000, Rs 2,000."