How India Can Cut Rampant Antibiotic Misuse In Food Animals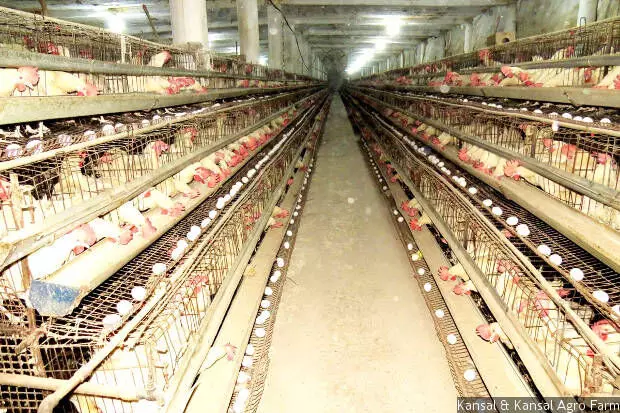 In the absence of clear regulations, most poultry farms keep chickens in confined areas lacking proper sanitation and mix small doses of antibiotics with the animal feed to prevent disease. Whereas, at Kansal & Kansal Agro Farms, Haryana, the feed is sourced from pesticide-free farms and mixed with herbs, and the chickens are kept in a partially temperature controlled environment.
India will see the highest growth rate in antibiotic usage in food animals between now and 2030, a new study has estimated. Currently it ranks fourth among the 10 nations with high levels of antibiotic use in animal farms.
Source: Reducing antimicrobial use in food animals, published in the journal Science
If regulatory authorities do not step in, 4,796 tons of antibiotics will be fed to animals reared for food by 2030, up 82%, as per the report published in the journal Science. Animals reared for food were fed 2,633 tons of antibiotics in 2013.
However, two basic interventions could change that: A cap on the amount of antibiotics that can be administered to a food animal and a price hike in veterinary antibiotics to dissuade excessive use.
These steps could result in India using 61% less antibiotics in food animals. It could also avert the health disaster expected from the widespread malpractice of using antibiotics as growth promoters.
"The [expected] hike [in antibiotic use] reflects the growing consumption of meat in India, and in particular, meat from animals administered antibiotics as growth promoters," said Ramanan Laxminarayan, director of the Center for Disease Dynamics, Economics & Policy (CCDEP) and co-author of the study.
In rural India, the consumption of mutton, beef, pork and chicken has more than doubled between 2004 and 2011. It has gone up from 0.13 kg per capita per month to 0.27 kg, according to the 61st and 68th rounds of National Sample Survey Office (NSSO) data. Urban India has seen a spike from 0.22 kg to 0.39 kg in the same period.
Food animals are given small doses of antibiotics mixed with their feed to promote growth and prevent disease. This allows farmers to save on nutrition and hygiene but has serious long term consequences for human health.
Why this antibiotic shouldn't become the poultry farm favourite
In Punjab, two-thirds of farmers of poultry--the most commonly consumed meat in India--use antibiotics for growth promotion, according to another recent study by Laxminarayan and others, as IndiaSpend reported in August 2017.
Tetracyclines and fluoroquinolones--antibiotics commonly used to treat cholera, malaria, respiratory and urinary tract infections in humans--were found to be the most commonly used antimicrobials.
Of all the medicines used in livestock in India, quinolones are projected to see the biggest increase in use, 243% through to 2030, according to the new study.
Source: Reducing antimicrobial use in food animals, published in the journal Science
"That an antibiotic commonly used in humans is projected to see the biggest increase in animal use is of great concern," said Laxminarayan. "The use in animals of ciprofloxacin, a valuable oral broad-spectrum antibiotic, should be stopped at the earliest. Such use (of ciprofloxacin) has been discontinued in the US."
The inappropriate use of antimicrobials in food animals has been cited as a leading cause of rising antimicrobial resistance at a 2016 United Nations General Assembly meeting on ways to tackle the problem.
In India, the impact of the practice is already visible. Poultry farms in Punjab that participated in the earlier CCDEP study reported high levels of multidrug-resistant bacteria that can easily escape into the environment, said Laxminarayan.
"Levels of multidrug-resistance were close to 90% in biological samples obtained from animals on those farms," he said. "The spread of multidrug-resistant bacteria would mean that many more people could die from common infectious diseases."
Indian food authorities are slow to respond to the threat
Antibiotics are freely and cheaply available in India. This is the biggest reason for the reckless use of antimicrobials as growth promoters in poultry farms.
How can this be changed?
"Agencies with the regulatory authority—such as the Central Drugs Standard Control Organization and the Food Safety and Standards Authority of India—should move quickly in this direction to avoid further degradation of antibiotic effectiveness," said Laxminarayan.
In June 2017, the Food Safety and Standards Authority of India (FSSAI) brought out a draft notification prescribing residual limits for antibiotics, veterinary drugs and pharmacologically active substances in meat, poultry, eggs and milk. This came six years after the authority prescribed antibiotic residual limits for fish and fishery products and honey.
"Antimicrobial resistance is an evolving area, we have been studying the implications of the use of antibiotics as growth promoters in food animals in India and are willing to address this concern," Pawan Kumar Agarwal, CEO of the Food Safety and Standards Authority of India, told IndiaSpend.
"But improving practices is a gradual process," he said. "Bringing out the draft notification is a first step towards creating a safer food ecosystem."
He estimated that it would take another 90 to 120 days for the regulation to be introduced.
Antibiotics used to cut costs on sanitation, diet
By specifying the limits of permissible antibiotic residue in food animals, the FSSAI regulation, when it is framed, will indirectly make it unlawful to use the drugs beyond a certain limit.
The new study proposes clearly capping the use of antibiotics in food animals to a specified limit and increasing the prices of veterinary antibiotics to dissuade use.
Both these moves are critical, said Laxminarayan, "because animal feed is practically being used as an industrial input, to avoid the costs that farmers would incur to raise the animals in hygienic conditions on a healthy diet".
In the 18 farms that Laxminarayan's team visited during the first study, it was found that large flocks, more than 50,000 birds, were kept in confined areas lacking proper sanitation.
Organic nurturing results in higher costs, price
To understand why poultry farmers use antibiotics as cheap and easily accessible growth boosters, consider the case of an agro enterprise that has adopted organic practices.
At Kansal & Kansal Agro Farms in Haryana, chicken feed is sourced only from pesticide-free farms and then mixed with herbs. The chickens are kept in a partially temperature controlled environment. The farm also invests in research to improve farming practices.
These practices keep the animals healthy but also result in higher production costs to "about double the cost of farms using antibiotics", said Mohan Lal Kansal, founder and director of the farm and a former professor of animal science at the Punjab Agricultural University, Ludhiana.
How to cut antibiotic misuse by more than half
High-income countries with highly productive livestock sectors—such as Denmark, Sweden, Norway and the Netherlands—use antibiotics sparingly. The limit is less than 50 milligrams of antibiotics per population corrective unit (mg/PCU), a measurement unit developed by the European Medicines Agency to monitor antibiotic use and sales across Europe.
The new study suggests capping the use of antibiotics in farm animals at 50 mg/PCU globally. If India were to adopt this limit, antibiotic use in food animals in the country would decline by 15%, or 736 tons through to 2030.
A second regulatory recommendation--a 50% user fee on the price of veterinary antibiotics--would reduce antibiotic use in food animals in India by 46%, or 2,185 tons by 2030.
If both of these regulations were introduced, the use of antibiotics in food animals in India would reduce by 61%.
Limiting meat intake may not help
Limiting meat intake to the equivalent of one fast-food burger, roughly 40 grams per person per day globally—or 14.6 kg per person per annum—is the third intervention proposed by the new study.
Globally, limited meat intake could help reduce the global consumption of antibiotics for food animals by 66%. However, this intervention is not needed in India, where the per capita consumption of meat is below 5 kg per capita per annum.
For comparison, the per capita annual consumption of meat in China is 50 kg, well above the recommended 14.6 kg.
Although a higher consumption of animal proteins is considered useful in protein deprived populations, increasing meat consumption beyond this daily recommended allowance of 40 grams has no health advantages, said Laxminarayan.
"On the contrary, it imposes a cost on the environment as well as on antibiotic effectiveness," he said.
Source: Organisation for Economic Co-operation and Development
The need for greater consumer and farmer awareness
One reason why many European nations adopted ethical and organic practices in its animal products industry is the high level of consumer awareness in its markets. In India, consumers of animal products have yet to become demanding.
When Kansal started out in business, he travelled to Hyderabad and Bengaluru to talk about his decision to adhere to organic poultry farming. He found southern consumers more understanding of the impact of antibiotics misuse and the benefits of organic product, he said.
"Customers in the south were willing to pay double the price of an ordinary egg for an organic egg, plus 40% more to cover the cost of transportation," he said. "Less aware consumers are usually more price conscious and that fuels the use of antibiotics in food."
Low farmer awareness is also a concern.
In the absence of regulation, most of the poultry feed available in the market is medicated. But the majority of poultry farmers in Punjab that Laxminarayan's team surveyed said they didn't know this.
(Bahri is a freelance writer and editor based in Mount Abu, Rajasthan.)
We welcome feedback. Please write to respond@www.health-check.in. We reserve the right to edit responses for language and grammar.
__________________________________________________________________
"Liked this story? Indiaspend.org is a non-profit, and we depend on readers like you to drive our public-interest journalism efforts. Donate Rs 500; Rs 1,000, Rs 2,000."