How Dengue Has Breached India's Class Barriers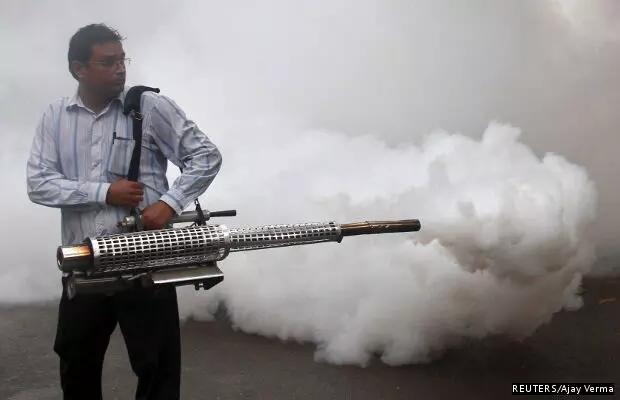 A health worker fumigates a residential area to prevent the spread of dengue fever in Chandigarh on September 20, 2015.
As the current dengue epidemic in Delhi and other urban areas of India such as Mumbai, Pune and Bangalore indicates, a once-obscure disease of poor neighbourhoods has become a great leveller, affecting and scaring both rich and poor and laying bare the infirmities of public healthcare.
The Comptroller & Auditor General (CAG), the central government's auditor, has ordered an audit of Delhi's handling of the epidemic as it prepares to analyse the preparedness in other states hit by dengue.Health experts contend that very little has been learnt despite annual dengue epidemics striking with almost clockwork precision.
The world's fastest-spreading tropical disease struck Bollywood actress Kareena Kapoor Khan earlier this year, one of the high-profile patients of the mosquito-borne virus that resides in the Aedes aegypti mosquito.
The mosquito has invaded Mumbai's toniest areas, Malabar Hills and Juhu. Many public figures, such as actors Juhi Chawla, Anil Kapoor and Jeetendra, were issued notices after mosquito breeding sites were found in their homes and gardens.
Dengue is not new to India, but there has been a sharp rise in dengue cases over the past two decades, with a 50% increase over 2014, the rich being hit as hard as the poor and rural areas increasingly being affected.
Striking rich and poor, dengue ravages India more than any other country
"Now you can find dengue-causing mosquitoes even in posh buildings, but people there do not allow (municipal corporation) workers to come and spray inside," said Shantabai (she uses only one name), a domestic worker in Pune.
Poor research, late prevention, flawed implementation, a shortage of specialists and limited community involvement hinders India's dengue-control programme.
Recognising the gravity of the situation, the World Health Organisation included dengue in its list of important vector-borne diseases that need to be controlled on a priority basis in 2014. (1)
Of an estimated 96 million cases globally every year, 70% occur in Asia, with India alone contributing about a third, 34%, of all cases. (1)
India had 33 million apparent dengue cases and 100 million asymptomatic infections every year, more than any other country, reported a recent Oxford University study. (2)
Source: Central Bureau of Health Intelligence (2009, 2012,2015) National Health Profile. Government of India
A comparison of year-wise data related to dengue and malaria in India shows that malarial deaths have been decreasing while the number of deaths due to dengue has gone the other way with a small dip in deaths in 2013. (8)
Source: Central Bureau of Health Intelligence (2009, 2012,2015) National Health Profile. Government of India
State-wise dengue reporting shows that cases have doubled this year over last.
The most affected states (with dengue cases above 1,500), according to National Vector Borne Disease Control Programme (NVBDCP), include Delhi (the highest number of dengue cases recorded), followed by Karnataka, Kerala, Tamil Nadu, Andhra Pradesh, Gujarat, Maharashtra, Punjab and Arunachal Pradesh.
Although studies have shown a high occurrence of dengue in the Indian subcontinent, only a fraction of clinically apparent cases is diagnosed and reported; the true burden of the disease remains uncertain. (3)
Very few studies have attempted to measure the extent of transmission through the population. (4)
What's changed over the past two decades
Are vaccines the answer?
Science is finding that vaccines are not practical due to the complicated nature of the epidemic. (1)
Blocking the channel of transmission by improved prevention measures against the Aedes mosquito and better community awareness measures is a more sensible option. (1)
India could learn from other countries, such as Singapore, Thailand and Indonesia that have successfully kept dengue at bay.
----------------
References
1. Editorial (2015) Dengue: A runaway epidemic and a bewildered public health worker. Medical Journal Armed Forces India, 71, (2015), 3-4
2. Gupta and Ballani (2014) Current perspectives on the spread of dengue in India. Infection and Drug Resistance 2014:7, 337–34
3. Shephard et al (2014) Economic and disease burden of dengue illness in India. American Journal of Tropical Medicine and Hygiene, 91 (6), 2014, pp 1235-1242.
4. Rodriguez-Barraquer et al (2014) The hidden burden of dengue and chikungunya in Chennai, India. PLOS Neglected Tropical Diseases, 9 (7)
5. Khan, Dutta, Topno, Soni and Mahanta (2014) Dengue Outbreak in a Hilly State of Arunachal Pradesh in Northeast India. The Scientific World Journal, Volume 2014
6. Isalkar (2015) More dengue cases in upmarket areas, healthier picture in slums. The Times of India, Pune, August 17, 2015
7. The Times of India (2015) Dengue spurt blame on water in urban containers. The Times of India, Pune, Friday, October 2, 2015
8. Central Bureau of Health Intelligence (2009, 2012, 2015) National Health Profile. Ministry of Health and Family Welfare, Government of India
(A version of this article previously appeared on the India Water Portal. Khambete, a consultant with India Water Portal, explores the relationships between health, water and the environment.)
__________________________________________________________________
"Liked this story? IndiaSpend.org is a non-profit, and we depend on readers like you to drive our public-interest journalism efforts. Donate Rs 500; Rs 1,000, Rs 2,000."