How 1 Sugary Drink Daily Boosts India's Death Rate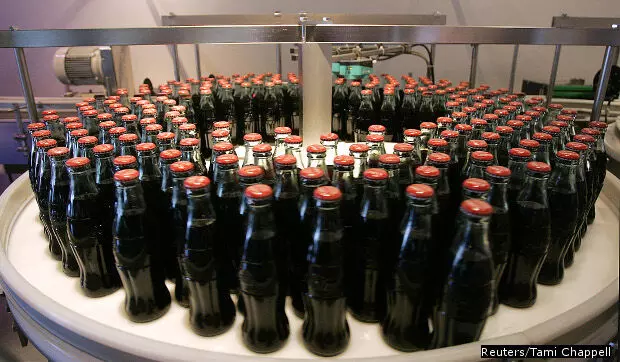 Sugar-sweetened beverages account for every one in 200 deaths caused by India's rising tide of cardiovascular disease, diabetes and obesity, according to a 2015 study.
"Over 80% of those deaths happen because sugary drinks are associated with weight gain and diabetes," Dariush Mozaffarian, study co-author and dean of the Friedman School of Nutrition, Tufts University, US, told IndiaSpend. Another 15% of those deaths occur because sugar-sweetened beverages are an established cause of heart disease, said Mozaffarian.
Heart disease and diabetes have reached epidemic levels in India, as IndiaSpend has reported, together responsible for 28% of all deaths.
Over the last quarter-century, obesity in India has risen one-and-a-half times, according to the World Health Organisation.
One or two sugary drinks a day—what you might consider "moderate" consumption, and hence safe—are enough to cause trouble, according to scientific evidence.
People consuming one to two servings a day are at 26% greater risk of developing type-2 diabetes than those consuming no sugar-sweetened beverage or less than a serving a month.
Women consuming two or more sugary drinks a day had a 35% greater risk of developing coronary heart disease than infrequent consumers, according to this study. Men who averaged a can of a sugary beverage per day had a 20% higher risk of having a heart attack or dying from a heart attack compared to men who rarely consumed sugary drinks.
How tax hikes cut demand: The Mexican experience
India's battle with excess weight and lifestyle diseases has turned the focus on high-calorie foods and beverages, and in turn, on taxation—a tool with the potential to lower consumption.
Higher taxes increase prices, which in turn lower demand. It's a formula that has worked in Mexico.
A new 10% tax on soft drinks, introduced in January 2014 with the objective of lowering consumption 10 to 12%, actually lowered overall consumption by 12%, or 4.2 litres per person by December, a new Mexican study showed. Poorer households witnessed a 17% decline in consumption.
A 20% tax on sugar-sweetened beverages would cut India's excess weight and obesity prevalence 3% over a decade, and the cases of type-2 diabetes by 1.6%, at current consumption growth rates, this 2014 study estimated.
That implies India would have 11.2 million fewer cases of obesity and 400,000 fewer cases of type-2 diabetes.
If soft drink consumption were to rise further—as it likely will, in line with the annual average growth of 13% since 1998—the authors of the India study suggested that taxation would avert 4.2% of prevalent excess weight/obesity and 2.5% of type-2 diabetes cases.
In India, the weather impacts fizzy drink demand more than higher tax
In July 2014, the Indian government increased the tax on sugar-sweetened beverages 5%, hoping to curb consumption.
With that, the tax on sugar-sweetened beverages touched approximately 18%, which sounds high but not enough to make a sizeable dent in demand, according to IndiaSpend's analyses.
Sales of aerated beverages increased 10% in 2014, according to the Indian Beverage Association, a lobby group. This is because "summer had already passed by July 2014, when the tax was increased", Arvind Varma, secretary-general of the Indian Beverage Association, told IndiaSpend. About 40% of the soft-drink industry's annual sales occur between April and June.
Sales of aerated beverages declined 10% between April and September 2015, "primarily because of the mild summer of 2015, but the additional 5% tax on aerated beverages has only served to deepen the impact on the industry", said Varma.
Coca-Cola, the industry leader, referred to "unseasonal weather" for a "mid single-digit decline" in India sales between April and June 2015, with sales growing 4% between July and September.
Sales of sugar-sweetened fizzy beverages grew 9% in 2014, when the extra tax was imposed, according to Euromonitor International, a market-intelligence company, which projected similar sales growth in 2015.
If India's last 5% tax hike has not served to curtail demand for sugary drinks, it may be time for another round of tax increases.
"India can expect the consumption of sugary beverages to fall in response to taxes that are high enough, because India, like Mexico, has a surfeit of price-conscious consumers and comparatively lower income levels, consumer segments that are more price-sensitive," said Barry Popkin, professor of nutrition, University of North Carolina, USA, and co-author of the Mexican study that advocates taxes as a disincentive.
In greater awareness, lies India's health
The government should raise taxes, launch awareness campaigns and curtail soft-drink availability, especially in schools and sports complexes, said health experts.
"Higher tax is definitely one of the strongest interventions to reduce consumption, but it should be accompanied with robust behavioural interventions to change social norms and perceptions," said Manu Raj Mathur, research scientist and assistant professor, Public Health Foundation of India, an advocacy. Mathur studies ways to reduce the consumption of sugar-sweetened beverages among adolescents and school children.
"Increasing awareness about the risks and health consequences of high sugar intake would help inspire sorely-needed dietary changes—permanently," said Hemalatha R, senior deputy director & scientist, head, Clinical Division, Micro & Immunology, National Institute of Nutrition, Hyderabad.
Mathur said their interactions with adolescents from private schools in Delhi, their parents and teachers show that most believe sugar-sweetened beverages to mainly be fizzy drinks. "They did not recognise fruit juices in tetra packs as sugar-sweetened beverages and even referred to them as healthy alternatives to Coke and Pepsi," he said.
Packaged fruit juices contain added sugar, as do most dairy-based beverages and sport and energy drinks. Parents and teachers want prominent film stars and sports people to counter celebrity endorsements of sugary drinks. Such advertisements lead adolescents into believing that sugary beverages in moderation are not harmful—a prominent qualitative finding of Mathur's study.
How sugary drinks cause weight gain—and malnutrition
No one consumes just a few sips of liquid candy, as sugar-sweetened beverages are called by the Center for Science in the Public Interest, a US advocacy.
A typical serving is 330ml (unless you like the bigger, two-litre value-for-money PET bottle), which contains 36 gm of sugar—almost nine teaspoons—145 kcal of energy, and that's about it, "no vitamins, no minerals," to quote Sheela Krishnaswamy, Bengaluru-based diet, nutrition and wellness consultant.
The sugar in soft drinks is mostly sucrose and high-fructose corn syrup, both easily absorbed and boosting what dieticians call the glycemic load, which causes weight gain.
Sugary drinks don't quell hunger pangs like solid food does. So, consumers don't reduce food portions to compensate for the extra calories in the beverage, studies show.
All those excess calories cause weight gain: a 2014 Indian study showed the consumption of 1.8 cans of cola per week causes an annual weight gain of close to 1.3 kg in children. Soft drinks cause weight gain in adults too, studies show.
"Sometimes, sugary drinks replace healthier items on the menu, especially nutritious beverages like milk," said Krishnaswamy. "Then they deprive the body of nourishment, causing and/or exacerbating malnutrition."
(Bahri is a freelance writer and editor based in Mount Abu, Rajasthan.)
This story has been modified to correct an error: We had said that over the last decade, obesity had more than doubled among men, and risen one-and-a-half times among women, according to the latest National Family Health Survey. The correct datum is that over the last quarter-century, obesity in India has risen one-and-a-half times, according to the World Health Organisation.
We welcome feedback. Please write to respond@www.health-check.in. We reserve the right to edit responses for language and grammar.
__________________________________________________________________
Liked this story? Indiaspend.org is a non-profit, and we depend on readers like you to drive our public-interest journalism efforts. Donate Rs 500; Rs 1,000, Rs 2,000.