Heat-Wave Death Toll Up 3 Times Over 23 Years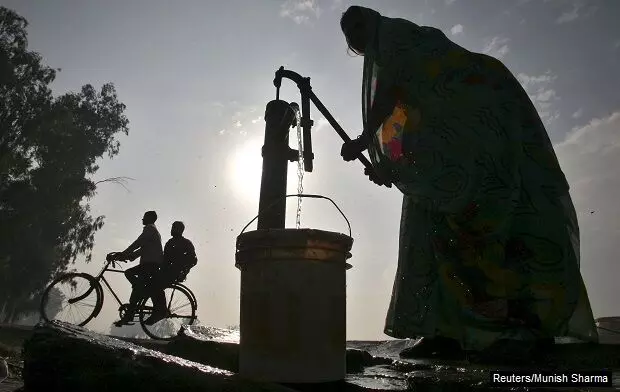 Heat-wave deaths in India have increased 296%, or three times, over the last 23 years with more than 150 already dead this year.
Summer heat killed 612 in 1992, with the toll rising to 2,422 in 2015, according to this 2016 report from the National Disaster Management Authority.
More than 100 are reported dead this year in Telangana—India's youngest state—and 45 are reported dead in Odisha, with temperatures reaching as high as 46° C.
Schools will remain closed till April 26 in Odisha due to heat waves and a water crisis.
All schools in Odisha shut till April 26 due to severe heat wave, water crisishttps://t.co/fTu5rlI8Hz pic.twitter.com/DNLh4aa6cx

— India Today (@IndiaToday) April 19, 2016
As many as 91 major reservoirs nationwide are at 23% of capacity, the lowest in a decade, IndiaSpend had reported earlier.
A maximum temperature of 45° C for two consecutive days is described as a heat wave, which leads to physiological stress that can, sometimes, claim lives.
As many as 22,563 people have died in heat waves across India between 1992 to 2015, according to National Disaster Management Authority data.
Heat Wave Deaths Over 23 Years
Source: National Disaster Management Authority
The year 2015 was the third-warmest recorded since record-keeping began in 1901, an official release said.
As many as 2,422 deaths from heat-waves were reported across India in 2015, a 44% increase over the previous year.
The all-India mean temperature has increased 0.6° C over the last 110 years, in line with the rising temperatures across the Earth.
India will experience warmer-than-normal temperatures from April to June this year, according to an official release issued on March 31, 2016.
The India Meteorological Department has warned eight states to prepare for heat-wave conditions.
"In hot conditions, sweat production is one of the main mechanisms to regulate body temperature," Hem Dholakia, Research Associate with Council On Energy, Environment And Water, told IndiaSpend. "Normal adults can produce up to 1 litre of sweat per hour (fit individuals up to 3 litres per hour). If water loss through sweating is not replenished, increased sweating can lead to dehydration."
"Dehydration, along with other physiological mechanisms, can cascade into heat syncope, heat cramps, heat exhaustion, heat stroke... and in some cases lead to death. Timely access to drinking water can prevent dehydration and reduce heat-related illness," said Dholakia.
(Mallapur is an analyst with IndiaSpend.)
We welcome feedback. Please write to respond@www.health-check.in. We reserve the right to edit responses for language and grammar.
__________________________________________________________________