DataViz: One In Five Families With Mental Health Expenses Fell Below Poverty Line
A recent study highlights how the cost of healthcare is affecting the spending capacity of households that have a member with a mental illness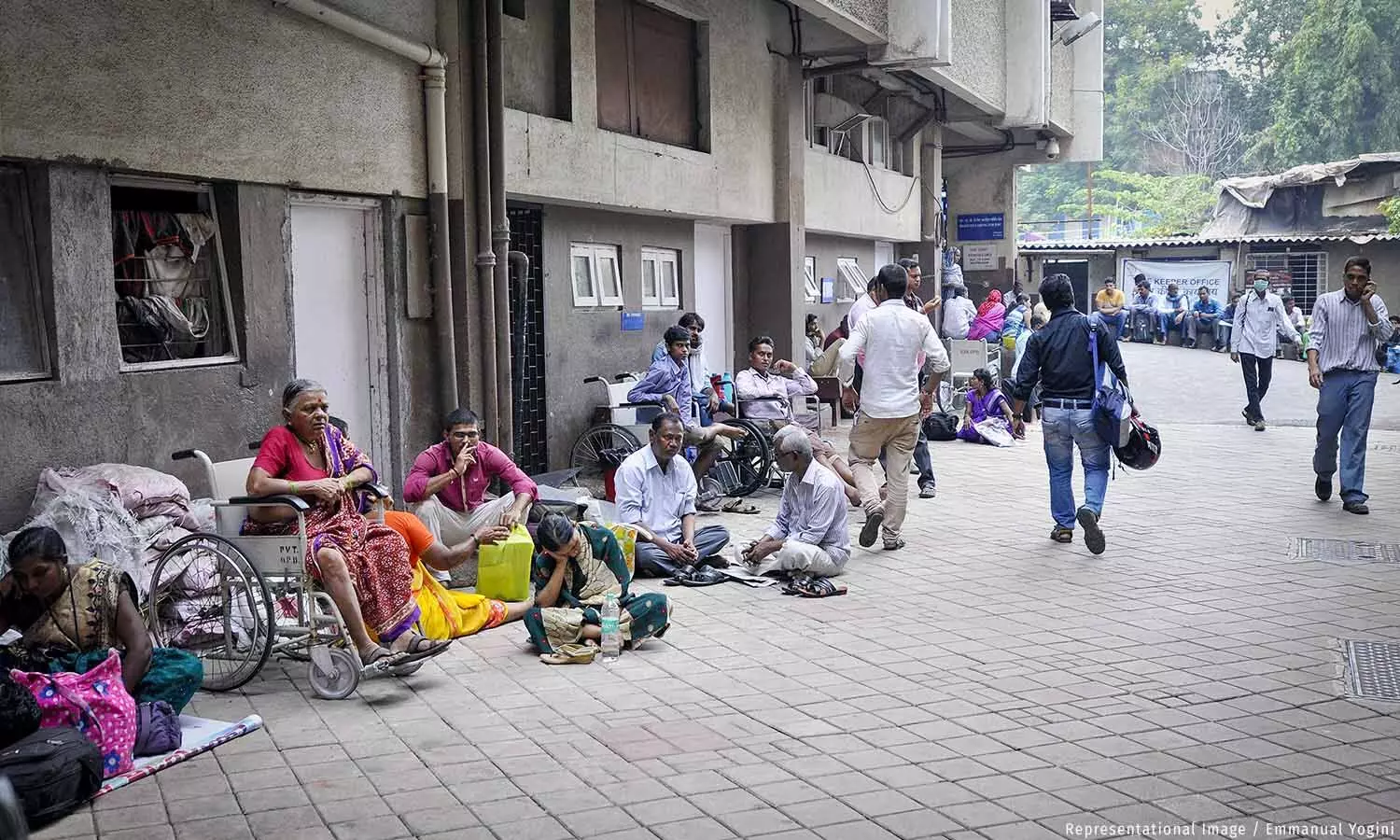 Mumbai: For families that had a member with a mental illness, nearly a fifth of household monthly expenditure is spent on healthcare, on average, finds a study published in March 2023. Because of out-of-pocket expenditure on healthcare, about 21% of these households dropped below the poverty line, the study found.

The study, "Catastrophic Health Expenditure and Poverty Impact Due to Mental Illness in India" published in the Journal of Health Management, highlights the financial impact of mental healthcare and the need for financial risk protection for households with members suffering from mental illness.
The study uses data from the 76th round of the National Sample Survey (NSS) conducted between July and December 2018. During the survey, 6,679 households self-reported a person with mental illness as part of the Persons with Disabilities in India Survey.
Prevalence of mental illness
In 2016, the National Mental Health Survey (NMHS), by the National Institute of Mental Health and Neuro Sciences (NIMHANS), estimated that about 10.6% of India's population, above 18 years, lived with a mental health condition. This excludes tobacco use disorders but includes other substance use disorders.
IndiaSpend has reached out to the director of NIMHANS, Dr. Pratima Murthy, for more information on the prevalence of mental health disorders, as well as the economic costs of mental health illnesses for households in India.
The NSS defined mental illness as "a substantial disorder of thinking, mood, perception, orientation or memory that grossly impairs judgement, behaviour, capacity to recognise reality or ability to meet the ordinary demands of life", but it does not include "retardation, which is a condition of arrested or incomplete development of mind of a person".

One in 1,000 individuals suffer from mental illness, according to NSS data.
Expenditure on healthcare
On average, the 2023 study found, Rs 2,115 is spent each month on healthcare by a household, if a member has a mental illness. This adds up to 18.1% of the household's monthly expenditure. Among the richest households, the monthly expenditure is Rs 3,754, but the burden is highest among the poorest households, where a quarter of the monthly expenditure is on healthcare.
According to NSS 2017-18, the average cost of hospitalisation for psychiatric and neurological ailments was Rs 26,843, with an average cost of Rs 7,235 for care in public hospitals and Rs 41,239 for private hospitals. This is comparable to costs associated with cardiovascular ailments.
The expense on mental healthcare includes both direct costs and indirect costs. The amount spent on treatment, medication, travel to hospitals etc. are direct costs. Indirect costs include the monetary value of loss of productivity of patients or caregivers, and intangible costs in terms of stress, stigma, etc. borne by those affected.
The study also states that one of the critical factors which lead to increased costs of care in lower- and middle-income countries is because people do not receive healthcare for mental illness, leading to chronicity and suffering. Only one in 5 people with mental health disorders for the past 12 months received evidence-based treatments, according to the NMHS report.
Households from Kerala, Odisha, Arunachal Pradesh, Jharkhand and West Bengal report the highest prevalence of mental illness per 100 households. However, the monthly out-of-pocket expenditure (OOPE) on healthcare in these states is less than Rs 2,000. Among states that report high prevalence of mental illness, the highest monthly OOPE on healthcare is reported in Uttarakhand (Rs 3,951) and Rajasthan (Rs 3,327).

Spending on mental health might be underestimated
"We are unable to determine the drivers of cost [of mental illness] with the NSS data, since the data is aggregated," says Denny John, who is the co-author of the study published in the Journal of Health Management, and researcher at the Centre for Public Health Research (CPHR), the research wing of Manbhum Ananda Ashram Nityananda Trust (MANT). He explains that the surveyors report the total amount spent on healthcare [including consulting, medication, therapy, hospitalisation etc.] as one aggregated figure.
"Moreover, it uses a recall period of one month for outpatients and 365 days for inpatients, even though mental illnesses afflict patients for a longer duration of time." John adds that there are other limitations which could lead to under-estimation of costs, like the unavailability of data on the caregiver's productivity loss.
While there are no nationwide studies which estimate the different types of expenses for patients with mental illness, the Indian Mental Health Observatory (IMHO) which is a part of Indian Law Society (ILS), Pune, published a report which compiled the data from a list of regional studies.
"According to recent reports, the [government's] District Mental Health Programme (DMHP) is implemented in 704 districts in the country. While the coverage is high, not all DMHPs are fully functional," says Tanya Fernandes, researcher for mental health at IMHO. "There are many instances where the DMHP may be understaffed due to a lack of trained mental health professionals, or the facilities may not adequately meet the needs of the population."
IndiaSpend reached out to the Director General of Medical Services and the Ministry of Health and Family Welfare regarding measures taken to improve the effectiveness and coverage of DHMP. We will update the story when we receive a response.
With India's lack of mental health care professionals, and systemic, social issues such as domestic abuse or discrimination causing mental health problems, community mental health programmes might be a better way to reach more people and reduce mental health concerns, IndiaSpend had reported in March 2023.
Impact on income and poverty
The study also analyses how OOPE has pushed households, with members who have a mental illness, below the poverty line. About 20.7% of these households fall below the poverty line because of healthcare expenses. Among rural households, 22.5% were pushed from being non-poor initially to below poverty line, compared to 17% of urban households.
For measuring the poverty line, the study used per capita household monthly expenditure at Rs 972 in rural areas and Rs 1,407 in urban areas, as per the recommendation of the Rangarajan committee.
In Uttarakhand, almost 50% of the households were impoverished because of healthcare expenses. Among larger states, Madhya Pradesh, Uttar Pradesh, Bihar and Odisha also had over a quarter of households pushed below the poverty line because of healthcare expenditure on mental illness.

Impact on the economy
A higher proportion of people with mental illness are of the economically productive age group of 19-55 years, the 2023 study found, adding that this is a large contributor to economic loss in India. The economic loss due to mental health conditions in India, between 2012-2030, is estimated at USD 1.03 trillion, the World Health Organization says.
"Since mental illness typically requires outpatient care and is not covered under insurance in most cases, it is an additional burden," says John. "It also affects employability and productivity of the patients, and laws of the land are also not doing enough to protect the rights of people afflicted by mental illness. Prevention has a small role to play in case of mental illness and protection is critical."
Update: The story has been updated with comments from Tanya Fernandes, researcher for mental health at the Indian Mental Health Observatory, about India's District Mental Health Programme.
We welcome feedback. Please write to respond@indiaspend.org. We reserve the right to edit responses for language and grammar.