Three Charts On Ayushman Bharat's Achievements And Shortfalls
India's Union government health insurance programme completed five years last month, but what does it have to show for the time and money spent on it?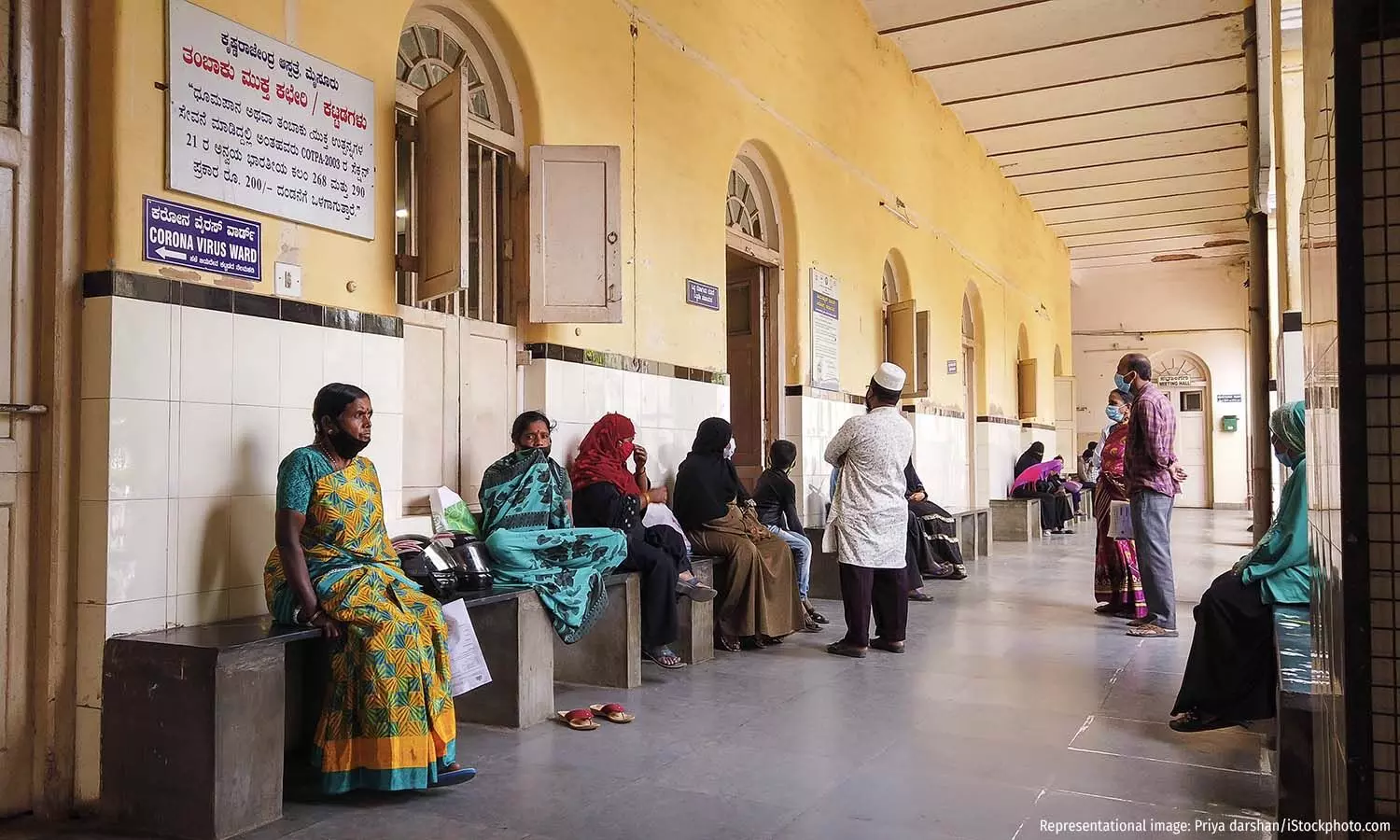 Noida: About 63 million people in India fall below the poverty line each year because of healthcare costs. Ayushman Bharat, the "most important Government welfare scheme underway in India today", as per the Minister of State for Health and Family Welfare S.P. Singh Baghel, set out to remedy this by providing 120 million families with health insurance cover up to Rs 5 lakh under the Pradhan Mantri Jan Aarogya Yojana (PM-JAY). In addition, a network of health and welfare centres (HWCs) aims to provide preventive and primary healthcare services to the people.

In five years, the health insurance arm of the scheme has reached about 56% of all eligible beneficiaries. However, there are not enough empanelled hospitals for the registered beneficiaries, and out of pocket expenditure on health remains high, according to studies from different states.
The PM-JAY programme was launched five years ago on September 23, 2018 by Prime Minister Narendra Modi. A digital records-keeping arm called Ayushman Bharat Digital Mission was launched in September 2021.
The National Health Authority (NHA), an autonomous body headed by the Minister of Health and Family Welfare that implements the PM-JAY, has provided over 253 million people health cards, according to the NHA dashboard as of October 5. Our dataviz takes a look at the biggest health insurance scheme in the world and whether it's been a success.
Empanelled hospitals not enough to serve the eligible population
HWCs are different from primary health centres, according to Sudha Shree Chandrashekar, an advisor at the Health Systems Transformation Platform (HSTP), a non-profit that works with the central and state governments to improve healthcare delivery. "HWC goes much beyond PHCs, the scope of activity has expanded to include things like NCDs, mental health etc. – moving from healthcare to health (prevention, early care, health education), staffing has changed – the approach is more holistic," they said.
Some existing primary health and sub centres were converted into HWCs to deliver comprehensive primary healthcare including maternal and child health services, diagnostic services and free essential drugs, as per the PM-JAY website.
About 150,000 HWCs have been operationalised as of December 2022, as per government data.
PM-JAY also has 27,252 hospitals or empanelled healthcare providers (EHCPs), according to its dashboard, where beneficiaries can avail of cashless services. However, the number of active EHCPs is significantly less: only 19,756 EHCPs were active in the last six months.
But this number is too small for the number of people eligible for the scheme in several states, as an August 2023 Comptroller and Auditor General Report (CAG) report points out based on data from November 2022. For instance, Assam's 349 EHCPs amount to two hospitals for every 100,000 people, as per the latest data from the NHA dashboard.
In addition, in Andaman and Nicobar Islands, Assam, Maharashtra, Jharkhand, Haryana and Meghalaya, the EHCPS did not provide all the services they are supposed to provide under the scheme, noted the CAG report.

56% of eligible population covered
PM-JAY, which subsumed the older health insurance scheme Rashtriya Swasthya Bima Yojana, covers the poorest 40% of the households. Eligible households are selected on the basis of the socio-economic caste census (an enumeration exercise which ranks rural households based on access to health, housing, etc.) and occupational criteria (households that rely on begging, rag-picking, domestic work, etc. for their livelihood in urban areas).
Some states, like Uttarakhand, Karnataka and Himachal Pradesh have gone beyond the eligibility criteria and provided healthcare to more people, said Dr Chandrasekhar from HSTP. This is why some states have more than 100% enrollment in the programme. We have also reached out to the NHA to understand why this is the case, and will update the story when we receive a response.
So far, about half of the people eligible are covered by the health insurance scheme.
Usage of scheme varies across states
The number of hospitalisations per 100,000 Ayushman cards issued is highest in Tamil Nadu, with over 179,003 hospitalisations for every 100,000 people enrolled, as per the dashboard. Kerala has the second highest utilisation rate of PM-JAY with 74,280 hospitalisations for every 100,000 cards issued, followed by Rajasthan (52,168) and Karnataka (41,089).
Among the bigger states, Assam has the lowest utilisation of PM-JAY with 5,292 hospitalisations for every 100,000 beneficiaries. In Uttar Pradesh, there were 2.6 million hospitalisations since the scheme was rolled out, which translates to 7,928 hospitalisations for every 100,000 people enrolled.
OOPE is still high: data
High cost of healthcare forced people to sell assets, as IndiaSpend reported in March 2023.
PM-JAY does not cover the cost of out-patient consultations. Therefore, beneficiaries have to get referrals from government or private doctors for procedures, which they use at EHCPs, according to Ravi Singh (26), a social worker with Agrasar, an NGO that helps citizens procure the documentation required for Ayushman Bharat cards.
"We (Agrasar) asked 5,000 people with Ayushman Bharat cards about their experience. About seven or eight of them had been admitted, and none of them exceeded the coverage amount," he added.
Reducing out-of-pocket expenditure (OOPE) on health is one of the objectives of the scheme. Yet, studies from different states reveal that OOPE is still high.
About 87.9% of people dipped into their savings for health expenses, 11.3% borrowed from friends and relatives, while 0.3% utilised health insurance, found a 2023 study by the National Council of Applied Economic Research which surveyed four states, Odisha, Maharashtra, Punjab and Uttar Pradesh.
During the Covid-19 pandemic, enrolment in a public or privately funded health insurance did not decrease OOPE, found a 2022 study. Another study found that although the availability of health insurance increased the chances of healthcare utilisation, it did not protect against financial risks. Enrolment in PM-JAY or any other health insurance scheme did not increase the chances of institutional delivery or reduction in OOPE, found this analysis of data from the National Family Health Survey 2019-20.
The targeted nature of the scheme does not take into account the social gradient, said Rama Baru, a health policy specialist and professor at the Centre for Social Medicine and Community Health at the Jawaharlal Nehru University in New Delhi. "When you set a threshold and target people based on some criteria, you are excluding people who are just above the threshold. But that person can fall below the poverty line too," she told IndiaSpend, adding that targeted schemes break social cohesion in communities. Instead, the focus should be on universal health care based on progressive taxation, she said.
IndiaSpend has reached out to the Ministry of Health and Family Welfare to comment on the enrollment, empanelment of hospitals and the expenditure incurred per person. This story will be updated when they respond.
We welcome feedback. Please write to respond@indiaspend.org. We reserve the right to edit responses for language and grammar.