Gujarat, MP Lead With Most Clean Cities in India, UP Has Most In Bottom 50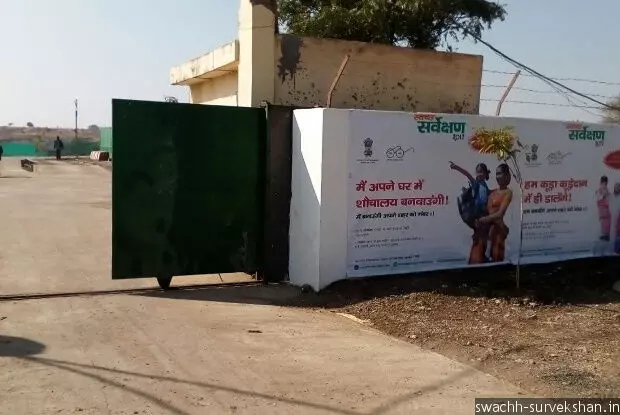 A banner announcing Swachh Survekshan 2017, an annual urban survey to capture cleanliness outcomes, is seen outside a waste treatment plant in Ujjain, Madhya Pradesh (MP). Gujarat and MP had the most number of clean cities in India's top 50 clean cities, according to the survey conducted in 434 cities and towns across India.
Gujarat and Madhya Pradesh have emerged as the top two states with most number of clean cities, 12 and 11, respectively, in India's top 50 clean cities, according to Swachh Survekshan 2017, an annual survey aimed at capturing the outcomes on ground of the ongoing efforts to make urban areas open defecation free and improve door-to-door collection, processing and disposal of municipal solid waste.
Indore in Madhya Pradesh was ranked India's cleanest city among 434 cities and towns representing 60% of urban population in the country.
Cities and towns were judged on their performance based on making habitations open defecation-free and solid waste management, citizen feedback and independent observations.
While in 2016, there were 1,000 marks for the self-assessment data from municipal bodies, 500 marks for data collected through independent assessment and 500 marks for citizen feedback, the 2017 survey scored cities and towns for a maximum of 900 marks for data provided by the municipal body, 500 marks for data collected through independent assessment and 600 marks for citizen feedback. As the parameters in the self-assessment questionnaire were updated in 2017, a direct comparison of performance year-on-year is not possible.
As many as 3.7 million citizens provided feedback on cleanliness for Swachh Survekshan 2017 while Quality Council of India, an autonomous government body for quality assurance, deployed 421 assessors for on-site inspection of cleanliness in 434 cities and towns and another 55 for real-time monitoring of progress of survey and field inspections.
The other top ten clean cities in order were Bhopal (Madhya Pradesh), Visakhapatnam (Andhra Pradesh), Surat (Gujarat), Mysuru (Karnataka)--which was last year's cleanest city--Tiruchirapally (Tamil Nadu), New Delhi Municipal Council (Delhi), Navi Mumbai (Maharashtra), Vadodara (Gujarat) and Chandigarh.
Madhya Pradesh, Gujarat, Jharkhand and Chhattisgarh, followed by Andhra Pradesh and Telangana, were described as "movers and shakers" by urban development minister Venkaiah Naidu for significantly improved rankings from the survey conducted in 2014 before the launch of Swachh Bharat Mission in October 2014.
All the cities surveyed in Madhya Pradesh and Jharkhand had substantially improved their rankings over that of 2016 and 2014, Naidu said. Indore and Bhopal moved from 25th and 21st position last year to first and second this year.
Twenty-five towns in Uttar Pradesh were ranked among the bottom 50 cities, followed by Rajasthan and Punjab with five each, Maharashtra with two, and one each from Haryana, Karnataka and Lakshadweep.
Varanasi in Uttar Pradesh improved its rank from 418 in 2014 to 32 this year to become the 'Fastest Big City Mover' in the north zone.
UP, Bihar, Rajasthan, Punjab and Kerala need to step up efforts to improve sanitation standards in urban areas, Naidu said.
Ten towns that came at the bottom of the 434 surveyed are: Gonda (Uttar Pradesh) followed by Bhusawal (Maharashtra), Bagaha (Bihar), Hardoi (Uttar Pradesh), Katihar (Bihar), Bahraich (Uttar Pradesh), Muktsar (Punjab) and Khurja (UP).
We welcome feedback. Please write to respond@www.health-check.in. We reserve the right to edit responses for language and grammar.
__________________________________________________________________
"Liked this story? Indiaspend.org is a non-profit, and we depend on readers like you to drive our public-interest journalism efforts. Donate Rs 500; Rs 1,000, Rs 2,000."