Govt Doubles `Anganwadis' Target: To Spend Rs 9,000 Crore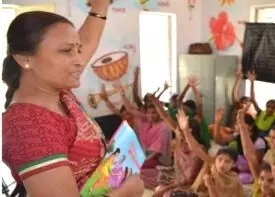 The Bharatiya Janata Party (BJP)-led National Democratic Alliance (NDA) is continuing with the child welfare proramme, Integrated Child Development Services (ICDS), started by the previous UPA Government. The key stated objective of ICDS is to improve the nutritional and health status of children below the age of six years. The idea is to build 200,000 Anganwadi Centre (AWC) buildings during the 12th Plan i.e. from 2012-13 to 2016-17. The annual break-up is as follows:
The units will be built at Rs 4.5 lakh per unit. So, if the Government is planning to build 200,000 AWC buildings, it will end up spending Rs 9,000 crore. The cost sharing will be in the ratio of 75:25 between centre and states while it will be 90:10 in north eastern region. According to an
answer
in Parliament by Women & Child Development Minister Maneka Gandhi, currently only about 30% AWCs and mini-AWCs are operating/running from own buildings while the remaining are operating from other places like Anganwadi Workers (AWWs)/ Helpers (AWHs) house, school premises, panchayat buildings and other community buildings. There were nearly 1.34 million
anganwadi centres
operational across the country at the end of September 30, 2013 with Uttar Pradesh reporting 187,659 operational AWCs.