Facts Belie Minister's Immunisation Prediction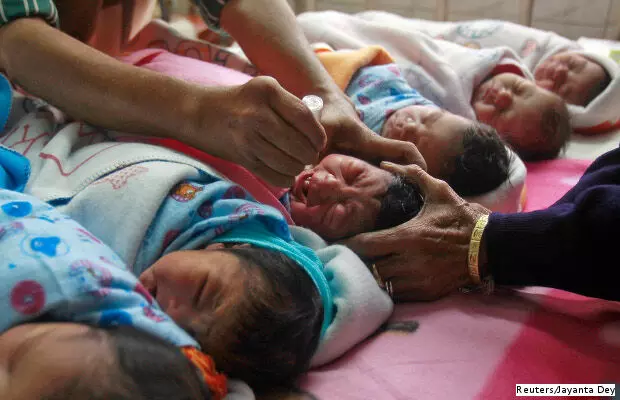 A medical worker administers polio drops to an infant at a hospital in Agartala, Tripura.
Health Minister J P Nadda sparked scepticism when he declared on June 30 that India would reach the universal immunisation target, or 95% of all children, by the end of 2016.
India minister of health aims for 95% immunisation cover end 2016. At 65% now (stalled for 5 years). Is he smoking something inappropriate?

— Adam Roberts (@ARobertsjourno) June 30, 2015
The disbelief gets credence because less than four months ago Nadda told Parliament it would take five years to immunise 90% of India's children.
Only 65% of children are now immunised, the best rate achieved in 38 years since the Universal Immunisation Programme (UIP), as it is officially called, was started. It targets 27 million new-born children and 30 million pregnant women every year.
In India, 500,000 children die of vaccine-preventable diseases because one in three misses the benefits of full immunisation, according to government data.​​
"The government has launched Mission Indradhanush on December 25, 2014 with an aim to cover all those children who are partially vaccinated or unvaccinated. The mission focuses on interventions to rapidly increase full immunisation coverage of children by approximately 5% annually, and to expand full immunisation coverage to at least 90% children in the next five years," Nadda said in reply to a question in the upper house of Parliament, Rajya Sabha, on March 10, 2015.
Here's how the rate of immunisation has grown over the years:
Source: Ministry of Health and Family Welfare; Figures in %
The current rate of immunisation has risen to 65.2% (2013-14) from 35.5% in 1992-93. The programme started in 1978. In 1985 it got its present name and was taken to all districts by 1989-90.
Under UIP, the government provides free vaccination against nine preventable diseases: diphtheria, pertussis (whopping cough), tetanus, polio, measles, a severe form of childhood tuberculosis, hepatitis B, meningitis/pneumonia due to haemophilus influenza B and Japanese Encephalitis.
Uttarakhand Does Well, U.P Lags
Uttarakhand with 79.6% coverage is the best-immunised state, according to the Annual Health Survey (AHS) 2012-13 while Uttar Pradesh with 52.7% is the worst.
Source: Ministry of Health and Family Welfare
These nine are high-focus states since they constitute 50% of the country's population, 60% births, 71% infant deaths, 72% under-5 deaths and 62% maternal deaths.
Even states that do better, such as Uttarakhand, Chhattisgarh and Rajasthan, fall short by 20-25 percentage points in achieving universal immunisation.
Those like Goa (89.1%), Sikkim (85.2%) and Kerala (82.5%), which are not high-focus states and do better than others, also fall short of universal coverage.
Lack of awareness among parents about vaccination benefits, fear of side-effects and a shortage of vaccines or have been cited as reasons for low immunisation.
The government programme centres on 201 high-focus districts that account for nearly 50% of partially vaccinated or unvaccinated children in India.
The government allocated Rs. 599.87 crore over the last three years to promote immunisation.
Source: RajyaSabha; Figures in Rs crore
Immunisation prevents approximately 2-3 million deaths globally every year from diphtheria, tetanus, pertussis and measles.
In 2013, an estimated 21.8 million infants worldwide were not reached by routine immunisation; nearly half live in India, Nigeria and Pakistan, according to World Health Organisation.
(Mallapur is a policy analyst with IndiaSpend.)
____________________________________________________________________________
"Liked this story? Indiaspend.com is a non-profit, and we depend on readers like you to drive our public-interest journalism efforts. Donate Rs 500; Rs 1,000, Rs 2,000."