#Elections2017: UP Spends Least On Health, Reflects In Its Ill-Health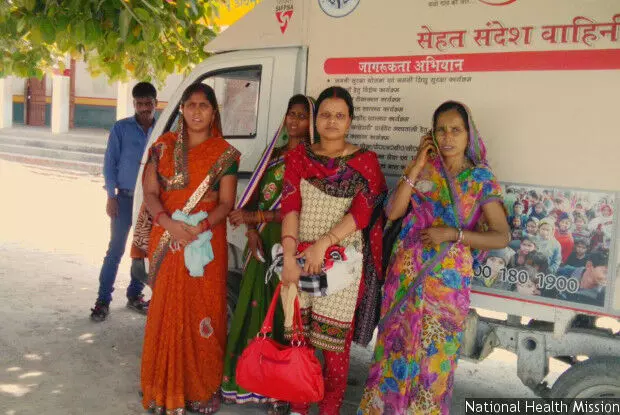 With 200 million people, Uttar Pradesh (UP) has about the same population as Brazil; an economy the size of Qatar's--which has 2.4 million people, the same as the UP town of Bijnore; per capita gross domestic product (GDP) comparable to Kenya's; and an infant mortality rate that rivals The Gambia, a poverty-ridden, peanut-growing west-African nation.
With 75 districts, 814 blocks and 97,607 villages, UP is larger, by population, than all but five countries. It holds the key to political dominion over India, but, in terms of health and nutritional outcomes, infrastructure and coverage indicators, it is widely considered a laggard, improving slowly, with wide disparities within.
The per capita public expenditure on health (by both Centre and states) is the lowest in UP among the five states with 169 million voters going to polls between February 4 and March 8, 2017, according to an analysis by the Observer Research Foundation.
Goa, a state with less than 1% of UP's population, spends more than five times more, per capita, on its citizens' health. UP's average spending is 70% of the Indian average. As we will see, this low spending leads to fewer doctors, nurses and paramedics in healthcare institutions, leaves one in two children without full immunisation, 14% of the state's households faced with "catastrophic" health expenditure, higher than 25% of total household spending, and a health insurance coverage of 4.2%, compared to the Indian average of 15.2%.
With health increasingly important to economic progress, this is the second of a six-part series that uses the latest available data to discuss the state of health and nutrition in Uttar Pradesh, Manipur, Goa, Punjab and Uttarakhand.
Source: Ministry of Health and Family Welfare and EPW Research Foundation India Time Series
Not enough doctors, hospitals = poorer health outcomes
In Uttar Pradesh, doctors accounted for more than half of all health workers, the highest such proportion in the country, according to this 2016 World Health Organization study, probably a result of not having enough other health workers in the first place. UP also had the lowest share of female health workers, 19.9%, compared to the Indian average of 38%.
For example, most of the 30 Indian districts ranked lowest in terms of density of nurses were located in UP, with some also located in Bihar and Jharkhand. UP, which had 16.16% of the country's population, had only 10.81% of overall health workers. Although numbers based on the latest census data--as yet unanalysed--may have improved partly because of improvement due to the 11-year-old National Rural Health Mission (NRHM), UP's overall rankings are likely to be unchanged, given that UP still has a 50% shortfall of the nursing staff at primary health centres (PHCs) and community health centres (CHCs).
The latest government data on UP's government hospitals are not promising.
CHCs in UP are 84% short of specialists, according to the Rural Health Statistics, 2016. PHCs and CHCs, taken together, have only half the staff they should have. Although all PHCs have doctors, one in three PHCs does not have a lab technician.
Of 36 Indian states and union territories, UP was third from the bottom in terms of infant mortality rate (IMR, deaths per 1,000 live births) across rural and urban areas, the latest Sample Registration System bulletin for 2015, released in December 2016, showed. Many relatively poor states do much better than Uttar Pradesh.
Source: Sample Registration System bulletin
UP has India's second-highest maternal mortality rate (MMR, deaths per 100,000 births), according to government data. UP also has the lowest sex ratio at birth among bigger Indian states, barring Haryana, according to 2014 SRS data, the latest available.
Over the last decade, UP's IMR was higher than the national average, across genders. Although the overall IMR has improved from 73 in 2005 to 46 in 2015, the gap between UP's IMR and the India IMR remains large, as the following figure shows.
UP is among the few Indian states where the mean age at marriage for women is still below the legal age of marriage of 18, data from the Rapid Survey on Children (RSoC) 2013-14 showed, pointing to the need to fight child marriage to improve the high IMR and MMR in the state.
Source: Sample Registration System bulletin
Deaths that don't trigger debates
UP reports more than 75% of Japanese encephalitis (JE) cases reported nationwide. In 2016, of 1,277 Acute Encephalitis Syndrome (AES) deaths reported in India, 615 were in UP, as were 73 of 275 reported JE deaths nationwide. However, even in areas of eastern UP, where JE/AES kill people year after year, such deaths have not been an election issue.
Source: National Vector Borne Disease Control Programme. *Figures for 2016 are provisional.
Uttar Pradesh has the lowest birth-registration coverage in India
Legal identity is a fundamental human right. A child who is not registered at birth is in danger of being denied the right to an official identity, a recognised name and a nationality, as the United Nations Children's Fund (UNICEF) observed. The UN's sustainable development goals (SDGs)--which India has signed on to achieve--recognise this, and SDG target 16.9 exhorts that by 2030, all member countries should provide legal identity for all, including birth registration.
The overall level of registration of births in India has increased to 88.8% in 2014 from 85.6% in 2013, according to the latest available data, and 16 states/union territories achieved registration of all births, by 2014.
This birth-registration progress has eluded UP, which registers no more than 68.3% of all births. If one avoids official statistics and looks at third-party surveys, such as the RSoC 2013-14 , UP's registration of births is among the lowest at just 39.1%, while the national average is 71.9%.
Source: Rapid Survey On Children 2013-14
UP--along with Bihar--is often accused of pulling down the national average on registration of births.
Until 2016, the Civil Registration System (CRS) reports had a separate India analysis that used the term "excluding UP and Bihar" to indicate India's progress.
Why UP citizens spend their own money on healthcare than most other states
UP spends Rs 488 on the healthcare of each citizen every year, according to recent research by Brookings India, a think tank, based on the latest government data available (71st round of National Sample Survey Office data). That is higher only than Bihar and Jharkhand, and just 26% of Rs 1,830 that Himachal Pradesh spends.
With health-insurance reaching 4% of UP's 200 million people (the all-India average is 15%), and gaps in public infrastructure, more people depend on private facilities for out-patient healthcare than any other state, barring Bihar and Haryana.
Human-resource gaps in the public sector contribute substantially to high out-of-pocket (OOP) spending by UP households. With low state spending and predominance of private healthcare sector, 80% of all health spending is done by households themselves, lower only than Kerala, West Bengal and Odisha, according to Brookings research.
This is the second of a six-part series. You can read the first part here.
Next: More Wasted Children, Anaemic Men, Women Than Before In Once Robust Punjab
(Kurian is Fellow at Observer Research Foundation's Health Initiative.)
We welcome feedback. Please write to respond@www.health-check.in. We reserve the right to edit responses for language and grammar.
__________________________________________________________________
"Liked this story? Indiaspend.org is a non-profit, and we depend on readers like you to drive our public-interest journalism efforts. Donate Rs 500; Rs 1,000, Rs 2,000."