Drowning: An Unknown Public-Health Disaster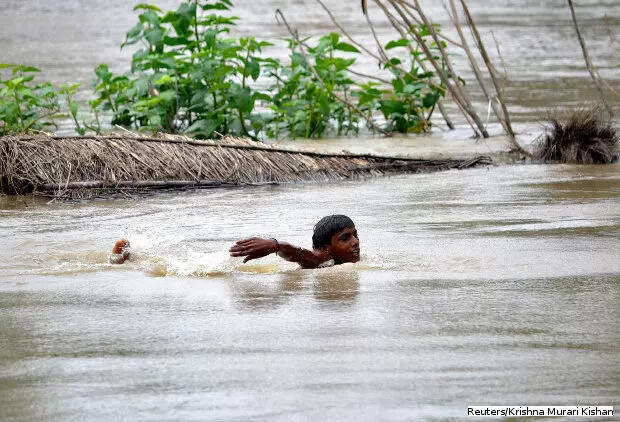 It is reasonably well known that India has the world's deadliest roads, with traffic accidents accounting for 53% of unnatural deaths in 2014.
What isn't as well known is the second major cause of unnatural deaths: drowning (9%).
About 80 people drown every day, or more than 29,000 every year, IndiaSpend calculated from data for five years to 2014, released by the National Crime Records Bureau (NCRB).
This confirms what is anecdotally evident in the media.
Drowning was followed by accidental fire (6%), falls (5%) and electrocution (3%), according to the NCRB, which collates and analyses statistics from state police forces.
Source: NCRB
1,008 people die every day around the world due to drowning, according to World Health Organisation's Global Report on Drowning.
The report explained how drowning is overlooked and how governments and local communities need to integrate it with other public health agendas.
Globally, drowning is the third-leading cause of unintentional injury death, accounting for 7% of all injury-related deaths.
"Drowning is the process of experiencing respiratory impairment from submersion or immersion in liquid; outcomes are classified as death, morbidity and no morbidity," according to a World Health Organisation (WHO) definition.
55% rise in injuries to drowning survivors
Apart from deaths, many who survive drowning are injured, those numbers rising 55% over the last five years, from 738 in 2010 to 1,144 in 2014.
Most deaths were reported in the age group of 18-45 years; it accounted for nearly 53% of all drowning-related deaths in 2014.
Globally, more than half of those who drown are below 25 years.
Source: NCRB
As many as 7,882 in the 18-30 age group died and 7,835 in the 30-45 age group in 2014.
Children below 14 are particularly at risk
Earlier this week, Vikhyat Deshpande, a four-year-old boy cycling around a pool unattended fell in and died in a Bangalore apartment complex.
Children below 14 years with 4,054 drowning deaths represent a significant risk.
Nearly 90% of drowning deaths among children aged 1–12 years involved water in a pot, well or pond, a study in the rural community of Kaniyambadi in Vellore, Tamil Nadu, found.
This Facebook page, originally launched to create awareness about a spate of deaths at a popular waterfall near Bangalore, has metamorphosed into an information hub for drowning deaths across Karnataka.
The NCRB has now added a new classification, "accidental falls into waterbody", under drowning in the 2014 report. Drowning was previously categorised under "boat capsize and other cases".
Source: NCRB
As many as 11,884 people have died falling into water-bodies in 2014--accounting for nearly 40% of all drownings nationwide--while 669 were reported injured.
Source: NCRB
Maharashtra tops the list with 4,822 drowning deaths in 2014, followed by Madhya Pradesh (4,299), Karnataka (2,162), Gujarat (2,116) and Tamil Nadu (1,899). These five states account for 51% of drownings across India.
A popular form of suicide
Drowning is also one of the top-five means to commit suicide. Hanging (42%) is the most prominent means of committing suicide, followed by poison (26%), self-immolation (7%) and drowning (6%).
Over the last five years, 39,423 suicides by drowning were reported.
Source: NCRB; Note: Andhra Pradesh figures for 2014 are inclusive of Telangana.
Maharashtra topped the list, reporting 1,276 suicides by drowning in 2014.
Drowning, a global public-health threat
Drowning is a neglected public health threat not just in India but across the world, claiming over 90% lives in low- and middle-income countries, according to the Global Report on Drowning.
Drowning accounts for 43% of all deaths of children between one and four years in Bangladesh. It is the leading cause of unintentional injury death among children aged one to three years in Australia. In the United States, drowning is the second-leading cause of unintentional injury deaths among children aged between one and 14 years.
Drowning accounts for 75% of deaths in floods, which are becoming frequent as the world warms.
The use of alcohol around water is also an important risk factor for drowning in many countries, especially for adolescents and adults, according to the Global Report on Drowning. ■
(Mallapur is a policy analyst with IndiaSpend.)
________________________________________________________________
"Liked this story? Indiaspend.com is a non-profit, and we depend on readers like you to drive our public-interest journalism efforts. Donate Rs 500; Rs 1,000, Rs 2,000."