Down To The District: The Health Of 5 States Going To Polls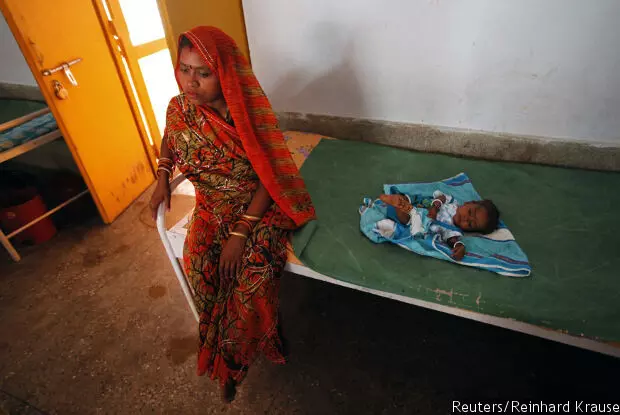 Seven-month-old Deepak, who weighs 4 kg and suffers from severe malnutrition, lies on a bed in a Nutritional Rehabilitation Centre as his mother waits in Talbahet town in Lalitpur district, Uttar Pradesh. Undernutrition is a major underlying determinant of ill-health in all the election-bound states.
While healthcare has largely been a neglected issue in past Indian general elections, major parties started talking about health in their manifestos from 2004.
In some states, there's evidence it is becoming increasingly important, this 2014 Lancet report said, citing the Rajiv Aarogyasri Community Health Insurance Scheme for poor families as a major reason for a second term in 2009 for the late Andhra Pradesh chief minister Y S R Reddy, and Gujarat's Chiranjeevi Yojana, which provides skilled healthcare to pregnant women in collaboration with the private sector and contributed to Prime Minister Narendra Modi's popularity when he was chief minister.
Healthcare is important to political and economic debate because inadequate public healthcare and healthcare expenses push an additional 55 million people back into poverty in India every year, according to this 2015 Lancet paper.
However, health-related political discussions are, currently, limited to debates around major health scams, or state failure during severe epidemic outbreaks. In general, electoral battles have not been won or lost because of healthcare issues.
India has a healthcare crisis, but solutions need to be state- and district-specific
While India still has more wasted (low weight-for-height) and stunted (low height-for-age) children than any other country--about 40 million--the rate of obesity recorded an 8.6-fold increase in India's rural areas over 14 years and a 1.7-fold increase in urban areas over 20 years, IndiaSpend reported in June 2016.
More than half of India's rural population uses private healthcare, which is four times as costly as public healthcare, and can cost the poorest 20% of Indians more than 15 times their average monthly expenditure; shortages of doctors at public health centres have risen 200% over a decade, and even cities such as Mumbai need to double staffing of public healthcare (details here, here and here).
The five states going into polls represent the good, the bad and the ugly of nutrition and health in India, according to an analysis by the Observer Research Foundation. The trends are so diverse that it is clear that no single set of solutions can be the answer. India needs state-specific, if not district-specific, solutions in health and nutrition.
Problems with early marriage and sex ratio in relatively advanced Manipur and Goa
The percentage of women currently aged 20-24 who were married before reaching the age 18 has declined in all the states going to elections, with the exception of Manipur, where their percentage increased from 12.7% to 13.1%, according to the National Family Health Survey (NFHS) reports for 2015-16, released over 2016 and 2017.
In 2015, Punjab had an even lower proportion of women (currently aged 20-24) married before age 18 than Goa, declining from 19.7% in 2005 to 7.6% in 2015. Goa still has 9.8% women (currently aged 20-24) who were married before age 18.
Manipur also has 65.9% children fully immunised.
The latest NFHS data release shows that between 2005 and 2015, Manipur's sex ratio at birth declined from 1,014 to 962. For a state known to be a showcase of women's empowerment, this must come as a wake-up call. A girl born in Manipur was more likely to be educated; more likely to be working as an adult; more likely to survive childbirth and more likely to not be the victim of crime than in most Indian states.
Source: Census 2011; Census 2011; National Sample Survey Office; Regional Institute of Medical Sciences, Manipur, 2010-11; Sample Registration System report, 2010-12; National Crime Records Bureau's Crime in India 2015 report.
Note: Rankings are among 29 states; they do not include union territories.
Uttarakhand also showed a decline in sex ratio at birth. Goa and Punjab showed improvement. NFHS data for Uttar Pradesh are not yet out. The government's Sample Registration System (SRS) reports show that between 2011 and 2014, there was a decline in UP's sex ratio at birth, from 875 to 869.
Infant, maternal mortality: Vast variations within states, districts reveal clearer picture
Uttarakhand has shown the slowest improvement in infant mortality rate (IMR)--deaths per 1,000 live births--although NFHS data for UP are yet to be released. Still, as SRS data show, UP's IMR has come down from 57 to 48 between 2011 and 2014, suggesting that NFHS data will show improvement between 2005 and 2015.
Source: National Family Health Survey (NFHS); *Data for Uttar Pradesh are yet to be released
However, as our state-specific analysis to follow will show, states such as UP reveal wide variations within districts in terms of IMR. For example, according to the Annual Health Survey (2012-13), the latest district level data available for UP, the IMR in Shrawasti district at 96 (the worst IMR in India was 56 in Madhya Pradesh in 2012) was almost three times as much as in Kanpur Nagar, which had an IMR of 37 (comparable to Gujarat's 38 in 2012).
UP's Infant Mortality Rate, By District (2012-13)
Source: Annual Health Survey (2012-13); Click on the map to view district-level data.
The government does not provide maternal mortality ratio (MMR)--deaths per 100,000 births--estimates for small states such as Goa and Manipur, The Wire reported in July 2016. Still, there are not many indicators that reveal inter-state health variations within India like MMR does.
The MMR in UP and Uttarakhand is almost five times that in Kerala, the state with the lowest MMR among major states. Yet, in states with high maternal mortality, political parties do not discuss plans to reduce these preventable deaths.
Source: Sample Registration System
Undernutrition is key determinant of ill-health in all five states
Undernutrition is a major underlying determinant of ill-health in all the election-bound states, and the difference between states is not as stark, as it is with, say, MMR.
For example, across the electoral-battleground states, the proportion of stunted children under the age of five were similar: 29% in Manipur, 20% in Goa, 26% in Punjab and 34% in Uttarakhand for the year 2015-16. The latest data for UP are awaited.
Source: National Family Health Survey (NFHS); *Data for Uttar Pradesh are yet to be released
Doing too much is as bad as doing too little: The nuances of healthcare
Under-provisioning of healthcare is a major Indian problem, but so, often, is over-provisioning.
In 2015, for instance, in rural areas of Kapurthala district in Punjab, 61.5% of all deliveries in private hospitals and clinics were caesarean. In Manipur's Imphal West district, almost two of every three deliveries in private hospitals were caesarean. Public facilities also have a high proportion of caesarean deliveries, although not to the extent reported from private facilities, as we analyse in the state-specific stories.
Similarly, undernutrition is a major issue, as is over-nutrition.
In Punjab's Fatehgarh Sahib district, 36.5% of men surveyed by NFHS in 2015-16 proved to be obese or overweight, as were 41% of all the women surveyed. In Uttarakhand districts such as Dehradun, Nainital and Udham Singh Nagar, one in every four women surveyed was obese or overweight.
With non-communicable diseases becoming the leading cause of death in the country, the twin burdens of malnutrition and ill-health, and the resulting policy choices, will require discussion.
Will such health- and nutrition-related issues be debated in the battle states? Will people demand better health and nutrition? Will politicians see the merit in developing a constituency of long-term supporters linked to human development? The coming weeks could provide some answers. Meanwhile, district level data analysis will raise more questions.
This is the first of a six-part series.
Next: More Wasted Children, Anaemic Men, Women Than Before In Once Robust Punjab
(Kurian, Rudra, Colaco and Jaswal are researchers with Observer Research Foundation's Health Initiative.)
We welcome feedback. Please write to respond@www.health-check.in. We reserve the right to edit responses for language and grammar.
__________________________________________________________________
"Liked this story? Indiaspend.org is a non-profit, and we depend on readers like you to drive our public-interest journalism efforts. Donate Rs 500; Rs 1,000, Rs 2,000."