Disappearing Dead: The Story Of Dengue in Delhi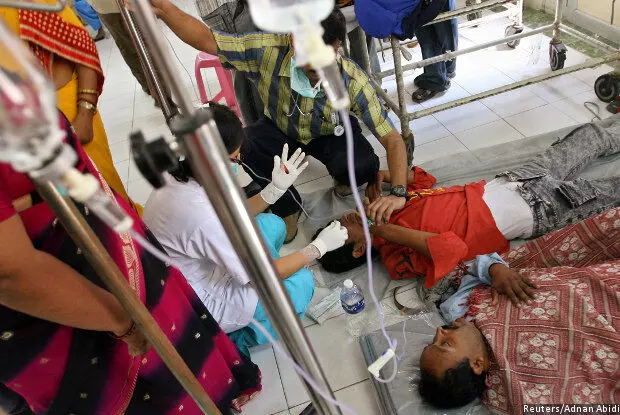 A patient is examined in the dengue screening outpatient department at a hospital in New Delhi. More people die in Delhi of dengue fever than are counted by either the media or the medical surveillance system. The clashing data, a result of different counts available with different arms of central and state governments, preclude healthcare preparedness and reasoned debate over the spread of dengue fever.
In 2015, the media reported, quoting surveillance data, that dengue fever--caused by a virus transmitted by mosquito bite--killed 60 people in Delhi. However, government of Delhi data on medically certified deaths--largely unknown to the media--reveal the dengue death toll to be 486, or eight times the media estimate.
It is now apparent that both figures are underestimates because even the mortality data source--listed under what is called Report on Medical Certification of Cause of Death--is confined to 62.7% of registered deaths in hospital settings during 2015 in Delhi, a city of 17 million that reliably registers all deaths.
This means the dengue death toll was higher than 486 because domiciliary deaths, or deaths taking place at homes, which comprise the 37.3% outside hospitals, were not accounted for.
So, it is safe to say that a lot more people die in Delhi of dengue fever than those counted by either the media or the medical surveillance system. The clashing data, a result of different counts available with different arms of central and state governments, preclude healthcare preparedness--for what are rapidly becoming annual outbreaks--and reasoned debate over the spread of dengue fever.
Outbreaks of dengue fever and other vector-borne diseases--caused by pathogens or parasites transmitted by vectors, which include mosquitoes, ticks and fleas--caused much public tension and disputes between the Delhi government and the media, IndiaSpend reported in September 2016.
Where do the media get their dengue-fever data? That's also official
The media use data that the Delhi government officially reports to the National Vector Borne Disease Control Programme (NVBDCP), whose data suggest that the 2016 dengue fever outbreak in Delhi generated a fourth of the cases of 2015: Four dead and 3,778 cases until November 6, 2016.
Source: National Vector-Borne Disease Control Programme, Government of Delhi
In contrast, the Hindustan Times reported 25 dengue deaths in Delhi in 2016, or six times the NVBDCP numbers, whose reliability has been questioned by experts.
This data dissonance is a national issue: The clinically diagnosed dengue cases over six years to 2012 were 282 times more than the officially reported cases--5.77 million to 20,474--according to this 2014 study published in the journal of the American Society for Tropical Medicine and Hygiene. The same study put the annual economic costs of dengue in India at about $1.11 billion (Rs 7500 crore).
There is further evidence that dengue fever deaths and incidence are under-reported.
In September 2016, a yet-to-be tabled report of the comptroller and auditor general (CAG), the government auditor--quoted here in the Times of India--found that while Delhi's hospitals reported 409 deaths, the Dengue Death Review Committee confirmed 60, or nearly 85% fewer deaths. Of 68,000 blood samples that tested positive for the dengue virus in Delhi's hospitals, the South Delhi Municipal Corporation, the nodal agency, reported no more than a third (22,436 cases) to the NVBDCP, according to the CAG report quoted here in the Asian Age.
Either way, the year-on-year trends indicate the challenge that vector-borne diseases pose to India.
In 2016, official data appear to indicate that dengue-fever cases were a fourth of the numbers reported in 2015. Yet, the chaos at Delhi hospitals was reminiscent of 2015. Why did this happen?
Delhi under dual attack: Dengue and chikungunya
The answer possibly lies in the spread of chikungunya, which shares some clinical symptoms with dengue fever, including joint pain, rashes, high fever and rashes.
Both are spread by the Aedes species of mosquito but are caused by different viruses, and it is possible to a patient to have dengue fever and chikungunya at the same time. There is no cure for both diseases. Dengue fever, however, is more dangerous than chikungunya.
From a negligible presence in Delhi during previous years, 2016 saw more than 11,000 cases of chikungunya, according to NVBDCP numbers. This unprecedented attack of chikungunya overwhelmed the healthcare system and created widespread panic, when followed by the seasonal dengue outbreak.
Source: Cases of Chikungunya and dengue as recorded by National Vector-Borne Disease Control Programme
Chikungunya is a self-limiting viral infection, which is rarely fatal. In most cases, dengue fever itself is self-limiting, but a small proportion of patients need to be hospitalised. It often happens that many patients are admitted to hospitals who didn't need to be, while some patients who needed hospitalisation were admitted too late, or not admitted at all.
The media frenzy around chikungunya and the debilitating nature of the infection may have caused many unnecessary hospitalisations and overcrowding at hospitals, causing delays and possible deaths by dengue this year.
The official response: Deny the problem
As panic rises, the standard response of authorities is to pretend that the problem does not exist. In September, a committee set up by the Delhi government to look into deaths said there were no confirmed fatalities from dengue or chikungunya.
There is often pressure on death review committees to under-report death figures, as NDTV reported from Mumbai in 2012. Refusing to acknowledge the scale of the problem is not limited to dengue epidemic. This 2016 Al Jazeera investigation on malaria in India showed how the official death toll may be a substantial underestimate.
After a 2010 study that argued malaria deaths in India were not in the hundreds, as official data report, an official committee suggested revision of malaria mortality figures for the country by 20 to 40 times, according to media reports. The final report of the committee has not been made public.
Migration and unplanned urban expansion play a role in the emergence of many communicable diseases, putting humans and vectors, such as mosquitoes, in close proximity. With an already large burden of infectious diseases, these new challenges tend to overwhelm the health systems, as Delhi has witnessed.
As the Economist recommended in October, 2014, better data are a prerequisite to debate dengue fever in India, its toll on human life and its wider economic burden, apart from preparing the healthcare system for annual outbreaks.
(Kurian is a political economy commentator focusing on health. He is Fellow, Public Health, at Observer Research Foundation, New Delhi.)
We welcome feedback. Please write to respond@www.health-check.in. We reserve the right to edit responses for language and grammar.
__________________________________________________________________
"Liked this story? Indiaspend.org is a non-profit, and we depend on readers like you to drive our public-interest journalism efforts. Donate Rs 500; Rs 1,000, Rs 2,000."