Caste, Father's Education, Sanitation Affect Child Malnutrition: New Data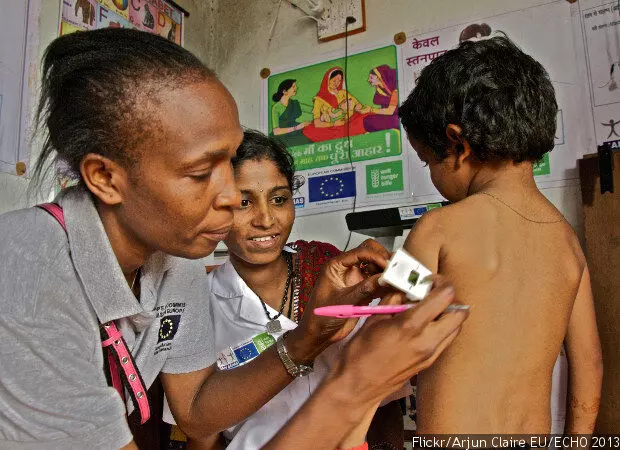 A health worker measures the mid-upper arm circumference--an indicator of nutritional status--of a child in Madhya Pradesh. A disadvantaged community background, illiterate father and lack of access to a toilet increase a child's chances of being malnourished, according to a new study.
An underweight child in urban India is more likely to belong to a disadvantaged community, such as a scheduled caste or tribe, have an illiterate father or live in a home without a toilet than other children, a new study has found.
The study, released by the National Institute of Nutrition (NIN) on September 26, 2017, found that:
32-33% of scheduled caste/tribe boys under five years of age are underweight, compared to 21% in the general population;
36% of boys under five years of age with illiterate fathers were underweight, compared to 16% with college-educated fathers;
50.2% boys, 44.6% of girls with no access to toilets are stunted, compared to 26% boys and 24% girls who live in homes with toilets.
Malnutrition is the reason behind 50% of all childhood deaths in India. Malnourishment at an early age can have long-term consequences, affecting an individual's motor, sensory, cognitive, social and emotional development, IndiaSpend reported in July 2017.
"Stunted children, whose height-for-age is severely below normal, face a lifetime of lost opportunities in education and work," said a global study called End of Childhood Report 2017. "They are also more likely to succumb to illness and disease, and can die as a result." Only one child in 10 in India gets adequate nutrition, we reported.
NIN's report, "Diet and Nutritional Status of Urban Population in India and Prevalence of Obesity, Hypertension, Diabetes and Hyperlipidaemia in Urban Men and Women", is based on an urban nutrition survey carried out by the National Nutrition Monitoring Bureau (NNMB) during 2015-16. The survey covered 16 states and included 172,000 subjects from 52,577 households from more than 1,000 wards in 20 cities.
Why backward communities are malnourished
Social exclusion prevents scheduled caste and scheduled tribes from accessing government health services and programmes and this worsens their health and nutritional status, according to this August 2015 study.
Source: National Institute of Nutrition
The NIN study showed that among children under five years of age, those belonging to scheduled castes (Dalits) are most malnourished. Among boys, 32.6% of Dalits are underweight, followed by scheduled tribes (32.4%).
The same pattern can be seen among girls: 31.7% of those from Dalit homes are underweight followed by 25.8% from other backward castes.
Stunting, too, is more acute among scheduled caste boys (39.4%) and girls (33.4%). Wasting, or acute low weight, is most common in children from schedule caste families: 18% of both afflicted boys and girls came from this background.
Father's literacy is a critical factor
It has been established that literate parents can make a big difference to the nutritional status of their children. A father's education particularly impacts boys in this respect, said this July 2011 study published by the Medical Journal of The Armed Forces.
Source: National Institute of NutritionNote: Data not available for girls with a college-educated father.
The data show a positive correlation between paternal literacy and children's nutritional status: 35.8% of boys and 35.1% of girls who are underweight have fathers who are illiterate, compared to 16.3% boys and 22.8% with fathers who have either college or high secondary school education. This connection is clear in the case of stunting too.
Rising levels of education among fathers results in lower malnutrition rates: 16.3% of underweight boys have fathers who are graduated and 22.8% of underweight girls have fathers who have studied up to grades IX-XII.
Better sanitation means better nutritional status
Access to sanitation reduces cases of diarrhoea, one of the major causes of malnutrition among children, according to this World Bank study.
Source: National Institute of Nutrition
The data show that 43% of boys and 40.5% of girls who were underweight had no access to toilets. Improved access to toilets reduces this percentage--22.5% for boys and 21.8% for girls. Stunting, too, declined with the availability of toilets.
Swachh Bharat Abhiyan, the nationwide campaign for a clean India launched in 2014, has constructed 4 million toilets, surpassing its goal of 3.5 million toilets by 2017-18. Also, 223,550 community toilets were constructed, way ahead of the 2017-18 goal of 204,000, according to the programme website (as accessed on October 24, 2017).
Yet, only 36.8% wards in urban areas reported a proper liquid-waste disposal system for community and public toilets, as per the 2016 Swachhta Status Report, as IndiaSpend reported on May 24, 2017. However the usage of the toilets and data around it remains unclear, IndiaSpend reported on October 2, 2017.
(Salve is an analyst with IndiaSpend.)
We welcome feedback. Please write to respond@www.health-check.in. We reserve the right to edit responses for language and grammar.
__________________________________________________________________
"Liked this story? Indiaspend.org is a non-profit, and we depend on readers like you to drive our public-interest journalism efforts. Donate Rs 500; Rs 1,000, Rs 2,000."