As India Plans Healthcare Privatisation, New Study From Rural Chhattisgarh Reveals Pitfalls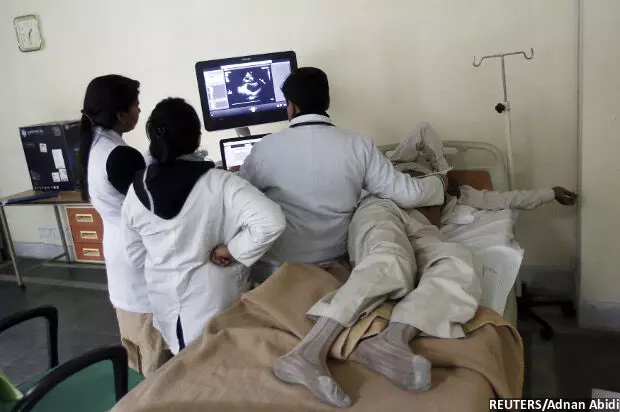 As India prepares a national plan to privatise large swathes of healthcare, a new study reveals how the poor in Chhattisgarh already prefer private care, even though it is twice as costly as public healthcare and likely to push them into financial emergencies.
The study, published in the July 2017 issue of the Journal of Health Management, a health policy journal, also showed that 84% of rural Chhattisgarh families pushed to "hardship financing"--selling assets or taking costly loans--already had government insurance cover, indicating the depth of rural poverty and the failure of public healthcare.
About one in seven (15%) rural Chhattisgarh households used hardship financing for hospitalisation, (around 10%) maternity (around 10%) and even outpatient department (OPD) care (7.91%), said the study, conducted between July and August 2013, using survey data of 4,600 rural households across four blocks (Chhuriya, Ambagarh Chowki, Mohal and Dongargarh).
Private healthcare twice as costly as public, yet private facilities favoured
Although hospitalisation at a private healthcare facility was more than twice as expensive as public care, sampled households preferred private hospitals and clinics.
While 34% visited a private facility, only 7% visited a government facility for the OPD. For hospitalisation, nearly 69.97% visited a private hospital.
The average cost of hospitalisation in a private facility was Rs 20,098, against the average cost of hospitalisation (Rs 9,152) in a government facility.
In the year preceding the survey, about 43.14% reported a "health event", 31.25% reported OPD visits over the past month, and 7.3% of sampled households reported hospitalisation over the year. Around 50% of the population visited a rural medical practitioner.
Households spent an average of Rs 1,027 over a 30-day period for OPD care.The average cost for hospitalisation was substantially higher at Rs 24,481.70, followed by maternity and OPD.
"It was generally assumed that households are able to cope with outpatient care expenses as these are smaller in amount," said N Devadasan, director, Institute of Public Health, a Bengaluru-based public health research and training institute. "However, this study clearly shows that households do suffer from hardship even to finance their outpatient care." Devadasan was not associated with the study.
Around 46% of the hospitalisation events exposed to hardship financing were from the private sector, compared to 26% in government care.
After household savings, loans with interest was the second most common source of financing an illness event among surveyed households.
84% of families in healthcare crises already covered by state insurance
Among the surveyed population, 84% households were covered by the Rastriya Swasthya Bima Yojana (RSBY), a national health insurance programme, or Mukhyamantri Swasthya Bima Yojana (MSBY), the chief minister's insurance programme. Yet, all households were exposed to hardship financing, which means the schemes are not providing adequate financial protection.
The Chhattisgarh government provided the RSBY for unorganised-sector workers and MSBY to every household not covered by RSBY to prevent health spending that caused families to slip into poverty.
"Catastrophic" maternal healthcare expenses push 46.6% of mothers in India into poverty, IndiaSpend reported on May 22, 2017. Catastrophic expenditure is greater than or equal to 40% of a household's non-subsistence income, i.e. income available after basic needs have been met, according to the World Health Organization.
Both the schemes provide health insurance coverage up to Rs 30,000 per family every year on what is called a "family floater basis", a technical term that means the insurance cover is available for one person or up to five members of the family.
Households that had at least one family member engaged with a social group, such as a self-help group (SHG), have a higher propensity to use hardship financing. Since these members have access to low-interest loans from social groups, they preferred this option to financing healthcare rather than use savings or borrow from friends and relatives.
"Healthcare is financed in India primarily through out-of-pocket payments (OOP) made by individual households at the point of care," Devadasan said. "This is one of the most regressive forms of financing healthcare and most countries are shifting to a pre-payment system, either through tax based revenues or through insurance premiums."
Studies, both in India and elsewhere (click here, here and here), have highlighted the harmful effects of OOP payments, ranging from reducing access to quality healthcare services to impoverishment of the household, Devadasan said.
Despite being covered by the RSBY and MSBY, patients still made OOP payments for inpatient care. It would "be useful" to understand why this was so, as it would help programme implementers tweak schemes to close this gap, said Devadasan.
Why further research is important to tweak healthcare design
The study, which revealed medical costs in Chhattisgarh to be three to four times higher than average national health estimates, also provides an insight into more accurate ways of measuring impoverishment caused by health expenses.
"Traditionally, the financial burden on households due to healthcare expenditure was measured either by calculating catastrophic health expenditure or the extent of impoverishment," said Devadasan.
But catastrophic health expenditure and impoverishment are difficult to calculate and may misrepresent economic hardship. "So, a new indicator like hardship financing that actually captures the hardship of the family when it spends on healthcare is a more accurate one," said Devadasan, who explained it was also important to gauge the long-term effects of hardship financing. "How long does a family continue in debt or does it bounce back soon? What are the drivers for this? These could be areas for future research."
Managers of government programmes could use the definition of hardship financing to survey patients at private and public healthcare facilities to understand how low-income households or those with no access to health insurance, use and finance healthcare in rural areas.
The findings could be useful to improving the designing of some of government health programmes and state-supported health-insurance schemes.
(John is a public health professional, and works as Evidence Synthesis Specialist with the Campbell Collaboration based in New Delhi.)
We welcome feedback. Please write to respond@www.health-check.in. We reserve the right to edit responses for language and grammar.
__________________________________________________________________
"Liked this story? Indiaspend.org is a non-profit, and we depend on readers like you to drive our public-interest journalism efforts. Donate Rs 500; Rs 1,000, Rs 2,000."