Anaemia Is The Biggest Cause Of Disability In India, Worst In BRICS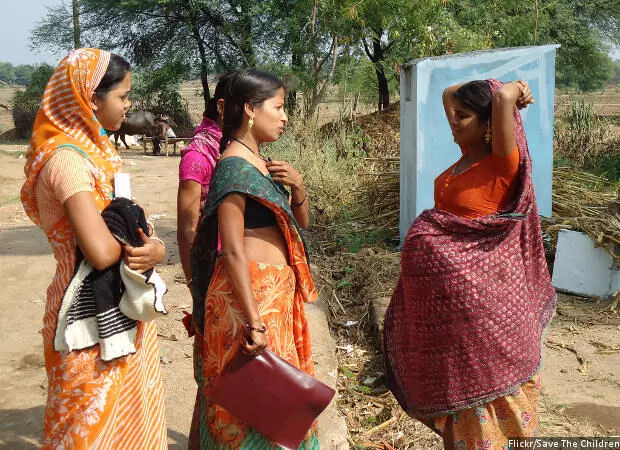 A frontline health worker counsels a pregnant woman on antenatal care, in Banswara district, Rajasthan. Iron-deficiency anaemia caused 20% of maternal deaths in India and was the associate cause in 50% of maternal deaths. Anaemia during pregnancy also increases the chances of foetal deaths, abnormalities, pre-term and underweight babies.
Iron-deficiency anaemia has remained the top cause of disability in India for 10 years now, according to an IndiaSpend analysis of the last two Global Burden of Disease (GBD) surveys. The result of poverty, malnutrition, poor sanitation and imbalanced vegetarian diet, widespread anaemia has impacted the productivity of India's workforce.
The 2005 GBD survey ranked anaemia caused by shortage of mineral iron in the body as the top factor for disability in India. The latest report published last year shows that it caused 10.56% of all Years Lived with Disability (YLDs).
The latest figures show a decline of 23% in disabilities caused by anaemia since 2005, but it is still the highest in the world. In 2015, 10.56% of total YLDs were due to iron-deficiency anaemia. Compared to BRICS nations, these percentages are twice Russia's and thrice China's. India also leads this list in the disability-adjusted life years (DALYs) figures.
Source: Global Burden of Disease survey, 2015
Disability in this context has a wider meaning--it means absence of good health. This includes factors such as mobility, self-care, participation in routine activities, pain and discomfort, anxiety and depression, and cognitive impairment, according to GBD guidelines.
Iron-deficiency anaemia in India is rampant among children below the age of three (78.9%) and women (55%); men follow at 24%, according to the National Family Healthy Survey, 2004-05 (NFHS-3). The basic symptoms of this anaemia are fatigue, weakness, lethargy, shortness of breath and decreased concentration.
How it affects productivity
Iron-deficiency anaemia "reduces the work capacity of individuals and entire populations, bringing serious economic consequences and obstacles to national development'', according to the World Health Organization (WHO).
Anaemia has led to 17% loss in productivity among workers engaged in heavy physical labour and a 5% dip in the output of moderately active workers, besides causing cognitive deficits up to 4% in malnourished children, according to this 2002 study published in the Journal of Nutrition.
India loses 0.9% of its gross domestic product (GDP) due to iron-deficiency anaemia, according to a 2003 paper published in Food Policy. This could mean a loss of up to $20.25 billion (Rs.1.35 lakh crore), according to the World Bank's estimate of India's GDP in 2016.
Impact on pregnant women and children's IQ
Since it mostly affects women and children, the impact of anaemia is best understood by looking at maternal deaths and school dropout rates.
It caused 20% of maternal deaths in India and was the associate cause in 50% of maternal deaths, according to a 2014 study published in Nutrition. Anaemia during pregnancy also increases the chances of foetal deaths, abnormalities, pre-term and underweight babies.
Last year, India reported anaemia among 45% of its pregnant women--the highest in the world--even though there has been a fall of 12% in the last ten years, as IndiaSpend reported in September 2016.
In children, iron-deficiency anaemia severely affects cognitive performance. It also impacts language skills, motor skills and coordination among infants and young children, and a deficit of five to 10 points in intelligence quotient (IQ). But these effects of iron deficiency in infancy cannot be correct by subsequent iron therapy, according to WHO.
Anaemia also impacts the immune system and increases chances of infections and inflammatory disease, further affecting individual productivity.
Why are so many Indians anaemic?
The leading causes of anaemia in India are poverty, caste factors and poor sanitation. But frequent occurrences of malaria and worm infestations too result in high incidence of anaemia.
A vegetarian diet is also linked with iron-deficiency anaemia, according to this 2011 study. Even though a vegetarian diet contains as much dietary iron as a non-vegetarian diet, research has shown that animal-based iron is better absorbed (15-40%) than plant-based iron (1-15%). To make up for the low absorption, large quantities of green leafy vegetables, pulses and nuts need to be consumed. But these are unaffordable for the poor.
Pregnant women have poor iron tablet intake
India has been running the National Nutritional Anaemia Prophylaxis Programme (NNAPP) since 1970 to battle anaemia. Three years ago, it also launched a weekly iron and folate programme which administers iron and folic acid tablets to adolescent girls and boys, screens them for moderate-to-severe anaemia and ensures biannual de-worming and counselling.
However, public health experts have pointed out that NNAP's strategy of simply handing out iron tablets to pregnant women has not worked as a solution. Only 23.6% of pregnant women consumed more than 100 iron and folic acid tablets out of the 31.2% who received them during pregnancy, according to the Rapid Survey on Children 2014.
"Iron tablets have many side-effects--diarrhoea and vomiting, for instance--which, during pregnancy, add to a woman's discomfort," Dr Sutapa Neogi, additional professor, Public Health Foundation of India, and an expert in reproductive and child health, told IndiaSpend. It is also important to build a woman's iron reserves before pregnancy to prevent haemorrhage, she added.
What is needed?
India stands low on the list of nations dealing with problems arising out of iron deficiency--it is 170th among 180 countries ranked for anaemia among women, 114th among 132 for stunting in children under five, and 120th among 130 for wasting in children under five, according to the Global Nutrition Report, 2016.
Iron-deficiency anaemia is directly linked to malnutrition and poverty. The Indian government has allocated $5.5 billion (Rs 36,707 crore) to nutritional schemes such as the Integrated Child Development Scheme and the National Health Mission. This is $700 million less than the estimated requirement, according to the authors of the nutrition report.
The government is also spending an additional $31.6 billion (Rs 2.07 lakh crore) on other schemes to improve nutrition--the public distribution system and the Mahatma Gandhi Rural Employment Guaranteed Act, for example--but there are huge leaks in the system. Almost half the food despatched never reaching beneficiaries, as IndiaSpend reported in January 2016.
The Global Nutrition Report also said that India could learn from other low income countries such as Brazil, Peru, Vietnam and Ghana that have made rapid improvements in reducing malnutrition.
Brazil adopted the Zero Hunger strategy that encompassed food access, strengthening of small farmers, income generation and social mobilisation. One such initiative included procurement of goods from small farmers for food-insecure communities, thus benefitting both.
Correction: An earlier version of the story said that iron deficiency anaemia caused 50% of maternal deaths in India and was the associate cause in 20% of maternal deaths. It has now been corrected. We regret the error.
(Yadavar is principal correspondent with IndiaSpend.)
We welcome feedback. Please write to respond@www.health-check.in. We reserve the right to edit responses for language and grammar.
__________________________________________________________________
"Liked this story? Indiaspend.org is a non-profit, and we depend on readers like you to drive our public-interest journalism efforts. Donate Rs 500; Rs 1,000, Rs 2,000."