About 321 Indian Children Died Every Day Of Diarrhoea In 2015, Reflecting Basic Health Failures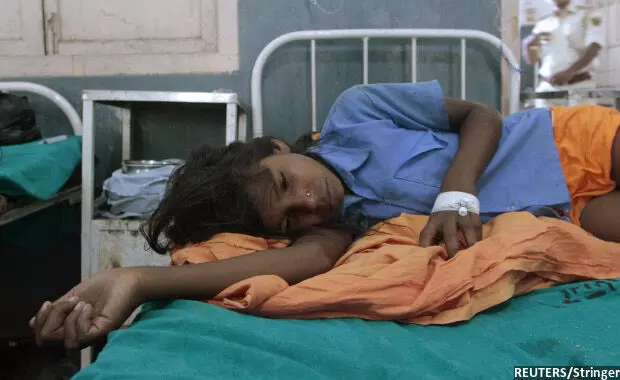 Despite progress in preventing diarrhoea and the spread of medical remedies in India, diarrhoea remains the second leading cause of death in children under five years, killing an estimated 321 children every day in 2015, according to a May 2017 factsheet by the World Health Organisation(WHO).
The prevalence of diarrhoea, a disease easily preventable through clean sanitation, safe drinking water and hygiene, shows how India is still grappling with providing basic amenities to its citizens.
Worldwide, diarrhoeal disease--caused by bacterial, viral and parasitic infections, mostly spread by faeces-contaminated water-- killed 525,000 children in 2015, according to the WHO factsheet.
Diarrhoea, which results in dehydration--is also a leading cause of malnutrition; out of 132 nations, India ranks 114th in stunting, which refers to low height for age, and is a sign of malnutrition, according to a government press release.
Repeated episodes of diarrhoea have a long term impact on the growth and potential of children and can also contribute to a cycle of poverty, Neeraj jain, Program Leader for PATH, a Seattle-based nonprofit working on health issues in India, told IndiaSpend through email.
Source: Global Health Observatory Data
Presence of diarrhoea deaths a sign of a weak health system
Diarrhoea can be treated with simple Oral Rehydration Salts (ORS) and Zinc tablets, according to the WHO factsheet. ORS is a mixture of clean water, salt and sugar which is absorbed in the small intestine and replaces the water and electrolytes lost through faeces. Zinc supplements reduce the duration of a diarrhoea episode by 25% and are associated with a 30% reduction in stool volume, according to the WHO.
Another intervention, "handwashing with soap is a powerful, simple and affordable tool that could cut diarrhoea risk by nearly half," and caregivers and children should be taught when and how to wash their hands, said Jain of PATH.
Diarrhoea is indeed easily treatable, but only about half of Indian children with diarrhoea in the last two weeks before the survey received ORS in 2015-2016, a sign of India's dysfunctional health system.
In 2015, diarrhoea killed no more than 3,273 children under five years in Myanmar (about 7% of all children under five who died), 5,442 in Kenya (7%) and 39,484 in Pakistan (9%) despite all three countries having lower per capita income than India. In India, 117,285 children under five (10%) died of diarrhoea according to UNICEF data, based on Indian government data on registered deaths from diarrhoea.
Incidence Of Diarrhoea In Children Under Five Years In Countries With Comparable GDP Per Capita
Source: UNICEF, World Bank
More children receive ORS today, fewer diarrhoea deaths
Still, India has made progress against diarrhoea with deaths of children under five reducing from over 167,000 in 2010 to about 117,000 in 2015.
Some of this progress is because a greater proportion of children now receive ORS, provided for free under the the National Health Mission (NHM), launched in 2005.
In 2015-2016, 1 out of 2 (50.6%) Indian children with diarrhoea received ORS, according to the National Family Health Survey-4 (NFHS-4), an increase of 24.6 percentage points from 2005-2006, when about 1 out of 4 (26%) children received ORS.
About 20% of those with diarrhoea received zinc in 2015-16. Data on zinc use is unavailable for 2005-06. About 68% children with diarrhoea were taken to a health facility for treatment in 2015-2016, up from 61.5% in 2005-06.
ORS use is still not universal partly because families are unaware of the need for hydration, and partly because doctors often opt for antibiotics while treating children with diarrhoea, said Jain of PATH. "The importance of ORS and Zinc as a treatment has to be reinforced by confident doctors... The proper preparation of ORS also needs to be communicated to the caregiver", he said.
He also recommends the vaccine for rotavirus-- the leading cause of severe diarrhoea among young children. Severe rotavirus diarrhoea can be prevented by vaccination, which according to Mr. Jain is the best available source of prevention, especially as diarrhoea caused by rotavirus needs urgent attention that is often inaccessible for many families.
The NHM also undertakes surveillance activities to detect outbreaks of diarrhoea through the Integrated Disease Surveillance Programme, as part of which district surveillance units have been set up in 675 districts, according to the government.
Source: National Family Health Survey-4; National Family Health Survey-3
Note: *Data not available
States still lack good sanitation facilities
Improved sanitation is a key measure to prevent diarrhoea, according to a WHO fact sheet.
As of 2016, over half of the households (51.6%) across the country did not use improved sanitation facilities, as reported in an IndiaSpend article.
As many as 3.1 million (88%) household toilets have been built in urban areas, against a target of 3.5 million for 2017-18, according to the Swachh Bharat Mission-Urban website. Also, 115,786 (56%) community toilets have been built against a target of 204,000.
Yet, only 36.8% wards in urban areas reported a proper liquid-waste disposal system for community and public toilets, according to the 2016 Swachhta Status Report, as IndiaSpend reported in May 2017.
"Without this (proper disposal of fecal matter) happening, diarrhoea and several other diseases that are related to lack of proper sanitation will continue to spread," said Jain.
In 2015-2016, states that had low usage of sanitation facilities such as Jharkhand, where 24% of households used improved sanitation facilities, Bihar (25%) and Odisha (29%), also had high proportion of children under five who suffered from diarrhoea--7%, 10%, 10% respectively--according to data from NFHS-4. Improved sanitation facilities refers to using either a flush to piped sewer system, flush to septic tank, flush to pit latrine, a ventilated improved pit or biogas latrine, a pit latrine with slab, or a twin pit or composting toilet, which is not shared with any other household.
Rates Of Households Which Use Improved Sanitation Facilities
Source: National Family Health Survey-4
NOTE: *In the last 2 weeks preceding the survey
(Abraham and Marbaniang are interns at IndiaSpend.)
We welcome feedback. Please write to respond@www.health-check.in. We reserve the right to edit responses for language and grammar.
__________________________________________________________________
"Liked this story? Indiaspend.org is a non-profit, and we depend on readers like you to drive our public-interest journalism efforts. Donate Rs 500; Rs 1,000, Rs 2,000."