96% of J&K Swachh-Bharat Money Unspent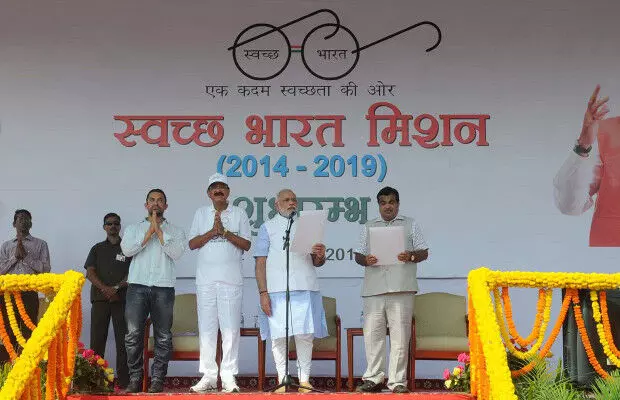 Prime Minister Narendra Modi (centre) at the launch of the Swacch Bharat (Clean India) Mission in New Delhi on October 2, 2014. Image: PIB
Sanitation in Jammu & Kashmir (J&K) is among the worst in India, with more than 54% of more than 1.2 million households without toilets and the 2014-15 target for household latrines falling short by 86%, according to government data.
While J&K is ranked third, the two worst states are Odisha and Bihar, according to the Baseline Survey 2012 of the Union Ministry of Drinking Water & Sanitation.
J&K, a state of 12.5 million people, did not use about 96% of the money granted by Delhi for the sanitation programme for 2014-15, using Rs 4.66 crore of Rs 121.52 crore.
"The sanitation programme is at a preliminary stage in the state," said Khurshid Ahmad Shah, Secretary, Rural Development. "We are taking measures to fulfil our objective, and it will be done very soon."
That does not appear immediately evident.
Prime Minister Narendra Modi's much-talked-about sanitation programme, Swachh Bharat Abhiyan (SBA), is largely unimplemented in J&K, which is partly ruled by the Bharatiya Janata Party.
In J&K, 6,351 schools lack toilets for girls and 8,098 lack toilets for boys, according to data from the state's Unified District Information System for Education (DISE Survey 2014-15).
More than 71% of schools have no basins or taps to wash hands near toilets and urinals.
"Sanitation facilities in the state are very poor, and this is not only limited to villages," said Dr Nisar ul Hassan, a senior doctor at Shri Maharaja Hari Singh Hospital in Srinagar. "The situation is similar in cities and healthcare institutions as well. Hepatitis A and diarrhoea, particularly in children, caused by rotavirus are common among patients where sanitary facilities are poor."
40 cases of viral hepatitis, caused by unsafe government-supplied drinking water, were reported from a village in northern Kashmir last month, according to the Union Ministry of Health & Family Welfare.
Successor to an earlier sanitation programme called the Nirmal Bharat Abhiyan, SBA seeks to eliminate open defecation in rural areas of the country by 2019.
Slow toilet construction increases health threats
The state has done little to mitigate health threats from improper sanitary facilities for households and school children.
J&K constructed 42,239 individual household latrines during 2014-2015 against the annual target of 0.3 million, a shortfall of 86%.
The government was to construct toilets in 1,264 schools last year, but it did so no more than 87. Only 17 of 300 anganwadi centers (creches) saw construction of toilets.
The state has constructed only about 0.13 million household toilets in the state since the survey was conducted.
This is not the first time J&K has faltered in meeting the annual objectives of sanitation schemes.
Official data since 2010 shows the state never completed its annual objectives in construction of household toilets. The best it did over the past five years was in 2010, when it fulfilled about 60% of its objective.
That was the first time the state constructed more than 0.1 million household toilets in a single year.
The annual implementation plan for the year 2015-2016 of Swachh Bharat Abhiyan was approved by the state on June 9, setting a target of 0.2 million latrines to be constructed in rural areas during the year.
Of J&K's three regions, Jammu, Kashmir and Ladakh, two districts, Kargil and Leh, in the mountainous Ladakh region, did better in household toilet construction than Kashmir and Jammu divisions, the data revealed.
J&K has also lagged in the implementation of the National Rural Drinking Water Programme, with Rs 310.15 crore unspent in 2014-2015, with more than 60% of the target unmet.
Senior personnel from the Union Ministry of Drinking Water and Sanitation, in an official meeting held in February, reported there was "very low" implementation of the programme in J&K.
Schools lack toilets, wash-basins, drinking water
More than 71% of schools have no wash-basins or taps available near toilets, according to government data and 9.18% schools have no drinking water. ■
(Ahsan is a journalism student at Government College, Baramulla, in Jammu & Kashmir.)
---
"Liked this story? Indiaspend.com is a non-profit, and we depend on readers like you to drive our public-interest journalism efforts. Donate Rs 500; Rs 1,000, Rs 2,000."