63 Million Indians Without Clean Drinking Water = Population Of Australia+Sweden+Sri Lanka+Bulgaria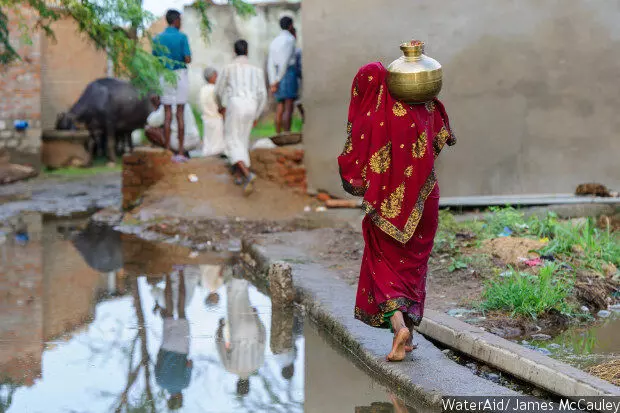 Female health workers are the primary drivers of maternal health initiatives, but male health workers (MHWs) could complement their services significantly, according to this 2015 research study conducted in rural Odisha.
What can MHWs do in rural areas? Gender inequities in developing societies mean that men play a dominant, decision-making role in reproductive health. MHWs can make a difference by educating men about maternal health issues and guiding their decisions, said the study. They can also complement the efforts of female health workers in delivering health services in remote areas and at late hours.
However, this may prove to be difficult in India. There are no MHWs in 48% of health sub-centres in Indian villages; and overall, there is a 65% shortage of MHWs in public health centres, according to the Rural Health Statistics 2016.
Source: Rural Health Statistics 2016
It is clear India has to improve its maternal-health services. The government scheme to reduce maternal mortality rate, Janani Suraksha Yojana (JSY), has helped push up institutional deliveries by 15% over the decade ending 2014, according to this 2016 report by Brookings India, a think tank. But as IndiaSpend reported in February 2017, JSY is often not delivering quality care to the country's poorest women.
This lack of access could explain why India accounted for close to a fifth of 303,000 maternal deaths and 26% of the neonatal deaths globally, as IndiaSpend reported in September 2016. MHWs can help improve the coverage of maternal and newborn child health services delivered by the formal health care system, and improve home-based management of these services.
To research the role MHWs could play, the study recruited and trained men to complement the work of female health workers. An IndiaSpend analysis of the findings of the study and other data reveals three reasons why MHWs were effective in improving the quality of maternal and newborn child health services:
1. Female health workers struggle with mobility, security issues
In rural India, sub-centres are the 'first port of call' for accessing health care. Ideally, sub-centres in remote and hilly areas should be manned by at least two auxiliary nurse midwives (ANMs), one male multipurpose worker, one pharmacist and one AYUSH doctor or community health officer. There was an increase of 5% in sub-centres from 2005-15, IndiaSpend reported in February 2016.
Each ANM is assisted by four to five Accredited Social Health Activist (ASHA) workers who are responsible for delivering health services to the village population but they face some obvious challenges at work given prevailing gender norms.
Night deliveries: The study interviewed women who spoke about the risks associated with night deliveries when villages are far from health facilities and there is a lack of ready transportation. In such cases, female health workers (FHWs) are often unable to help pregnant women reach a hospital. MHWs, on the other hand, can facilitate pregnant women's access to health services, especially during night, as observed during the study.
Communication gap with husbands: The reach of FHWs to men in local communities is limited due to gendered norms and other factors, according to the study. MHWs can bridge the communication gap with husbands and educate them about various aspects of reproductive health.
An estimated 22% of sub-centres are short of ANMs and in 30% of India's districts, sub-centres with ANMs serve double the patients they are meant to, IndiaSpend reported in September 2016. MHWs can help the system deal with these shortages.
2. MHWs can convince men about the need for better maternal care
The subordinate position of women in Indian society has been acknowledged as a fundamental constraint to women's access to reproductive health services. Women tend to have less access to household resources.
Nearly 80% of women in India said they had to seek permission from a family member to visit a health centre. Of these, 80% said they needed permission from their husbands, 79.89% from a senior male family member, and 79.94% from a senior female family member, according to the 2012 Indian Human Development Survey (IHDS) survey, IndiaSpend reported in February 2017.
However, regional variations exist. As many as 94% of women reported needing permission to visit a health centre in Jharkhand, the highest in any state, while only 4.76% of women in Mizoram said they needed to ask family members, the lowest.
Given this social structure, MHWs can convince husbands--who have poor knowledge on the do's and don'ts during pregnancy, childbirth and the postpartum period--about the importance of providing antenatal care and health services during pregnancies.
India's RMNCH+A (Reproductive, Maternal, Newborn, Child and Adolescent) health strategy--formulated in 2013--recognised the central role of men in women's reproductive health and includes guidelines for training of health workers to provide husbands of pregnant women with the relevant information.
Interventions to promote the involvement of men during pregnancy, childbirth and after birth have been strongly recommended by the World Health Organization in its 2015 report on recommendations on health promotion interventions for maternal and newborn health.
3. Complementing the work of female health workers
Coverage of maternal health services in west Odisha's Keonjhar district, where the study was focussed, improved due to increased MHW engagement. The male health workers arranged transport and accompanied pregnant women to distant health facilities in emergencies and, according to the ASHA workers interviewed in the study, also sometimes climbed hills to reach distressed households in different settlements.
At the time of deliveries, the gendered division of labour was apparent, researchers found. MHWs handled tasks outside of the delivery room--keeping track of the family's personal items, obtaining medicines, and in cases where a blood transfusion was necessary, obtaining donated blood.
One ASHA worker who was interviewed during the study said: "He [MHA] cannot enter in the delivery room. He brings the medicine which is required and all things he [the health professional] tells; he [MHA] tells the husbands (sic). I can convince the mothers but not the husbands."
Male health workers have made a difference in other developing nations
Health initiatives that are shouldered by both male and female health workers have worked well in other countries. There is a significant need to scale up men's participation in maternal health and provide them with the sufficient information to help them make decisions and support their partner's decisions concerning family health, wrote Olena Ivanova, a maternal health expert at the International Centre for Reproductive Health, Belgium, in this blog in February 2015.
"More rigorous evaluations of male involvement initiatives, attention to vulnerable and disadvantaged families, acknowledgement of heterogeneity of fathers' groups, revision of policies and laws and closer collaboration between different sectors are needed in order to strive for better maternal and newborn health outcomes and well-being," she added.
Evidence from Rwanda, among the few countries to pair male and female health workers, indicates that the approach could work in settings where it is not safe or socially acceptable for women to travel alone. And educating pregnant women and their male partners leads to better maternal health behaviour than educating women alone, according to this 2006 study in urban Nepal.
However, it is important to tread cautiously, said the study.
To reinforce these successes, as the study showed, MHWs should operate in ways that do not contribute to widening gender inequalities in favour of men.
(Saha is an MA Gender and Development student at Institute of Development Studies, University of Sussex.)
We welcome feedback. Please write to respond@www.health-check.in. We reserve the right to edit responses for language and grammar.
__________________________________________________________________
"Liked this story? Indiaspend.org is a non-profit, and we depend on readers like you to drive our public-interest journalism efforts. Donate Rs 500; Rs 1,000, Rs 2,000."