19 Indians Die Daily In Drink-Driving Mishaps. Here's How That Can Change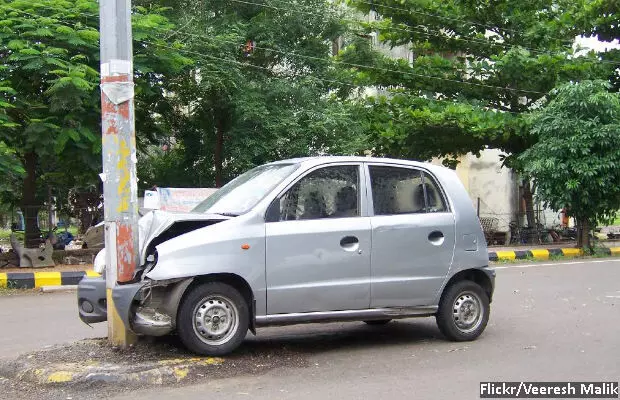 India's daily drink-driving death toll of 19 could be reduced if police checking is made unpredictable to drivers who currently know where to expect checks, a new collaborative study between American researchers and the Rajasthan police has found.
The findings are particularly relevant in the backdrop of an April 2017 Supreme Court judgement that prohibited the sale of liquor on national highways. The move was criticised as judicial overreach.
Conducted over two years in 2010 and 2011 and released in May 2017, the study's main solution: Setting up checkpoints at random in areas with the potential for violations rather than regular checkpoints because drivers tend to know this and change their routes.
Researchers from the Abdul Jameel Poverty Action Lab (J-PAL), a research unit at the Massachusetts Institute of Technology in Boston, US, partnered with the Rajasthan state police to implement and evaluate an anti-drink driving program. They found that night accidents in an area covered by a particular police station reduced by 17%, and deaths by 25% over a two-month crackdown and six following weeks.
In 2015, 501,423 road accidents were reported in India, of which 16,298 (3.2%) were attributed to driving under the influence of alcohol, according to the latest available data from the ministry of road transport & highways (MORTH). The data further reveal that 6,755 people died and 18,813 injured in drink-driving accidents in 2015.
There were nine road accidents that killed three people every 10 minutes in 2015, an increase of 9% over four years, IndiaSpend reported on January 9, 2017 based on National Crime Records Bureau (NCRB) data.
Source: Ministry of Road Transport and Highways 2015, 2014, 2013, 2012, 2011, 2010
The J-PAL study's findings hold significance as drink-driving causes more deaths on an average than any other error on the driver's part. The 2015 MORTH report classifies accidents in terms of driver's responsibilities. Intake of alcohol caused one death per 2.4 accidents, followed by overtaking on hill roads (one death per 2.9 accidents) and improper passing (one death per 3.06 accidents).
Drink driving deadliest cause of accidents but likely to underestimated
While drink-driving accidents accounted for only 1.5% of all accidents, according to NCRB data, they were the deadliest, having a higher fatality rate than other causes, according to this analysis in the Indian Express on April 5, 2017. As many as 42% of victims of drink-driving accidents died, compared to accidents caused by over-speeding (30%), reckless driving (33%), and weather conditions (36%).
However, these figures may not be accurate.
"Accidents caused by drink-driving is likely to be an underestimate," Daniel Keniston, co-author of the study and assistant professor at Yale University, told IndiaSpend. "If the police arrive late at the scene of the accident it is difficult to determine whether alcohol was involved."
In absolute terms, overspeeding claimed 64,633 lives, more than any other cause.
Source: Ministry of Road Transport and Highways 2015, 2014, 2013, 2012, 2011, 2010
Of 183 police stations across 10 districts in Rajasthan, 123 were randomly chosen for the study. These stations formed the treatment group (called "treatment stations"), the remaining police stations formed the comparison group and did not receive specific instructions or additional resources to for enforcement.
J-PAL researchers employed a "selective breath checkpoint methodology", which involved the following:
Frequency of roadblocks: To examine the relationship between policing intensity and criminal behavior, treatment stations were randomly assigned to carry out a roadblock, either one, two, or three nights per week. Roadblocks were always between 7 pm and 10 pm.
Location of the roadblocks: To test the effectiveness of surprise checkpoints at random locations compared to fixed checkpoints, police stations were randomly assigned to hold their roadblocks at either the best location to apprehend drunk drivers, as selected by the local chief of police, on the same day every week; or one of three best locations for catching drunk drivers, again as chosen by the local chief of police, with each night's location chosen at random.
Over the two years of the study, researchers used administrative data, court records, data collected from breathalysers and surveys of random checkpoints to gather information on road accidents, deaths and police performance.
The results were clear: Only the police stations with checkpoints rotated around the best three locations showed significant decreases in night-time deaths and accidents. When breathalyser checks were conducted at one location only, within a couple of days most of drivers switched to alternative routes, which then reported as many road accidents or deaths.
Information got out fast. Drivers also found out when checking stopped, although relatively more slowly when the checking was at random.
The study also found that dedicated drink-driving checking units from the district reserve police--considered "punishment" postings, in unofficial police parlance--did better than local police when told that a good performance would improve their transfer chances.
"We found that the special enforcement teams performed better on every parameter compared to the team from the local police station," said Keniston. "They were 28.4% more likely to show up to perform a sobriety checkpoint and 24.7% more likely to arrive on time if they did show up. Furthermore, the dedicated teams caught and sent more drunken drivers to court to pay the penalty."
Two factors may explain this performance.
"First, the special teams faced stronger incentives," said Keniston. "Because they were monitored more closely, their performance could lead more directly to positive recognition from senior officers. Second, the special teams may have been more focused on their work, and less prone to the distractions and burdens of other police duties."
(Saha is an MA Gender and Development student at Institute of Development Studies, University of Sussex.)
We welcome feedback. Please write to respond@www.health-check.in. We reserve the right to edit responses for language and grammar.
__________________________________________________________________
"Liked this story? Indiaspend.org is a non-profit, and we depend on readers like you to drive our public-interest journalism efforts. Donate Rs 500; Rs 1,000, Rs 2,000."