157 Million Indians Without Toilets = 8 Olympic-Sized Pools of Poo Daily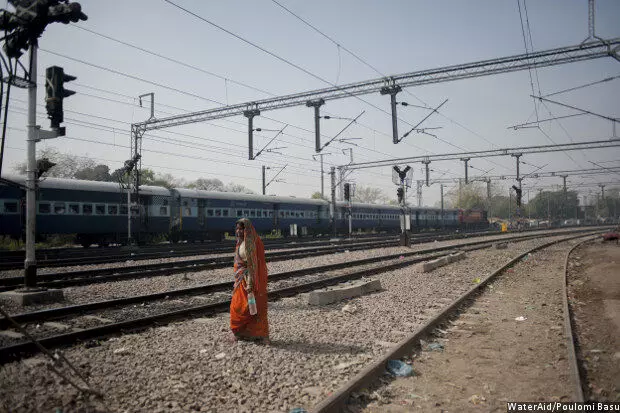 A woman crossing the railway track towards an open defecation spot, near the Jhakarkatti Rakhi Mandi slum in Kanpur, Uttar Pradesh. No more than 9% of public toilets (23,788) were constructed until November 2016, against a target of 255,760 toilets under the Swachh Bharat Urban Mission.
As many as 157 million Indians--equivalent to the population of Bangladesh--or 41% of Indians living in urban areas, live without adequate sanitation, according to a new study released by Water Aid, a global advocacy.
India is followed by China, where 104 million people live without proper sanitation, according to the study.
Source: Water Aid
For the sheer scale of its urban sanitation crisis, India is the world leader: It has the largest number of urban dwellers without sanitation and the maximum open defecators on the planet--more than 41 million people. The waste they produce would fill eight Olympic-size swimming pools every day, according to the Water Aid study, titled Overflowing Cities: State of the World Toilets. India is followed by Indonesia with 18 million people who defecate in the open.
As urban population rises, so do slums without sanitation
As much as 54% of the world population, or 3.9 billion, currently live in cities worldwide, of which 9.7% (381 million) live in urban India, according to World Bank data.
Two-thirds of the global population will live in cities by 2050, and in India, this will mean 60% population will be in cities, as per this 2014 report by the United Nations Department of Economic and Social Affairs (UNDESA).
Slums suffer the most from lack of sanitation facilities, which affects nearly 863 million people across the developing world; in India, the number is 65 million, according to Census 2011.
Bad sanitation has an impact not just on personal health but also on the economy, according to the Water Aid study.
Diarrhoea--caused by dirty water and poor sanitation and hygiene--kills 315,000 children every year, and is linked to half of child under-nutrition globally, according to World Health Organization (WHO) data.
As many as 117,300 children died (37% of global deaths) in India because of diarrhoea, according to data from United Nations Children's Fund (UNICEF).
Nearly 39% of children under the age of five are stunted--low weight for height--IndiaSpend reported in January 2016.
Women, girls at particular risk
Lack of access to toilets puts women and girls at particular risk, according to the Water Aid study, because they must then wait until dark to find a quiet place to defecate, making them vulnerable to attack or rape, according to another 2016 study by the University of Texas.
As many as 23% Indian girls are deemed to have dropped out of school on reaching puberty because of the lack of menstrual management facilities, Factchecker reported in November 2016.
Poor sanitation in a community means poor sanitation in medical clinics as well, putting patients and health workers at risk from life-threatening, preventable infections, according to the Water Aid study.
Nearly 343 healthcare institutions across six states lacked basic hygiene, toilets, clean water and waste disposal, IndiaSpend reported in July 2016.
Swachh Bharat Mission: 9% of public toilets, 40% of individual toilets built
Roughly 40% individual toilets (26.6 million toilets) have been constructed of the target of 66.4 million by 2019 to make India open-defecation free under the Swachh Bharat Mission launched on October 2, 2014.
Performance of Swachh Bharat Urban Mission
Source: Swachh Bharat Urban, Data as on November 17, 2016
No more than 9% of public toilets (23,788) were constructed until November 2016, against a target of 255,760 toilets.
As many as 405 cities have been declared open-defecation free, and the target is 739--a completion rate of 54.8%.
The Water Aid study suggests that governments worldwide need to spend more money on sanitation. It also recommends equitable distribution of sanitation services and the participation of NGOs, private sector, informal service providers and citizens.
(Salve is an analyst with IndiaSpend.)
We welcome feedback. Please write to respond@www.health-check.in. We reserve the right to edit responses for language and grammar.
__________________________________________________________________
"Liked this story? Indiaspend.org is a non-profit, and we depend on readers like you to drive our public-interest journalism efforts. Donate Rs 500; Rs 1,000, Rs 2,000."