14,474 Cases Of HIV Through Blood Transfusion, But Govt Denies Crisis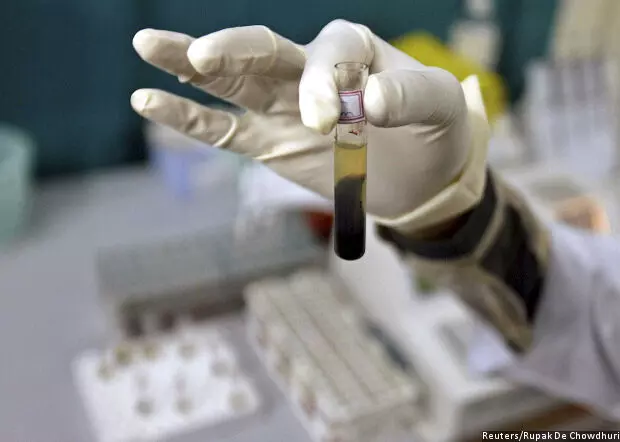 A laboratory assistant examines a blood sample in the northeastern Indian city of Siliguri. Over the last seven years, 14,474 cases of HIV through blood transfusion have been reported in India even as the state governments and the central health ministry deny the crisis or are clueless, an RTI-led investigation by IndiaSpend shows.
New Delhi: Tall, lean and dark, Jaiprakash was an average 11-year-old who loved galli cricket and chips. Then, to his parents' dismay, the peppy fourth-grader from Junagadh in western Gujarat started falling ill frequently. Finally, he had to drop out of school.
On a December morning five years ago, Jai started bleeding from his nose and mouth. Doctors at the nearest government hospital referred him to another hospital in Rajkot, about 100 km away.
He died the next morning.
It turned out that Jai, who was a Thalassemic patient since he was just a year old, had contracted HIV through blood transfusion at the Junagadh Civil Hospital. And it wasn't just him; 35 other Thalassemic children being given transfusion at the same hospital had become HIV-infected.
Of them, eight died.
"All our happiness died with our child. Who do we live for now?" said 50-year-old Rafeeq Ranava, Jai's father, a daily-wage labourer in Junagadh.
Jaiprakash, 11, a thalassemic patient since he was a year old, died from HIV-AIDS after infected blood was transfused into him at the government-run Junagadh Civil Hospital in Gujarat five years ago. His parents hold up his picture.
An IndiaSpend investigation, through a series of Right to Information (RTI) requests, has revealed that 14,474 cases of HIV through blood transfusion have been reported in India over the last seven years. It also revealed that the Indian government has yet to order a study or inquiry into this medical crisis that puts millions of lives at risk.
Source: Response to a Right to Information request from the National AIDS Control Organization
Not just that, there has been a 10% rise in the number of such cases over the last one year--from 1,424 in 2014-15 to 1,559 in 2015-16--according to documents obtained, through the RTIs, from that National AIDS Control Organisation (NACO), the apex government body dealing with India's HIV/AIDS control programme. (The second of this two-part series will explore the reasons behind this crisis.)
The 10% increase in 2015-16 numbers is significant because it has reversed the near-consecutive decrease in cases in the five preceding years. NACO, however, has downplayed the rise in its report on blood banks: "Due to concerted and active efforts, the prevalence of TTIs (transfusion transmission infections) has come down significantly over the years."
NACO's data are based on self-reporting by people at its Integrated Counselling and Testing Centres spread across the country. Referring to this, Sobhini Rajan, additional director general, blood safety, NACO, maintained that the data are "based on responses received from people and it is (sic) not scientifically corroborated". She also added that the "figures have come down--from around 15% in the 1990s to less than 1% now".
Developed countries rarely report such cases now. Canada, for instance, hasn't seen a single case of blood transfusion-related HIV since 1985, and the US, since 2008.
While in India, one in every 100 HIV patients could be a victim of infected blood transfusion, the tally in the US is one in 300,000 cases, according to data shared by the Centers for Disease Control and Prevention (CDC), a US national health agency.
This means that the chances of an HIV patient in India having contracted the virus through a blood transfusion are 3,000 times higher than in the US.
The data shared by the CDC said it diagnosed 312,860 HIV cases in the US between 2008 and 2014. Only one of them, in 2008, was the result of blood transfusion.
Is the government unaware of its own numbers?
The government, meanwhile, seems to be denying its own findings.
"No," was minister of state Anupriya Patel's answer to the question as to whether the "government is aware that large number of persons across the country have been infected with HIV while getting blood transfusions", asked in the Lok Sabha in August 2016.
Patel also denied a rise in the number of cases of HIV through blood transfusion, contrary to NACO data.
Separate RTI responses from 22 states and union territories confirmed that none of them have conducted any studies on HIV transmitted through blood transfusions.
The Karnataka State AIDS Prevention Society completely denied having such cases within its purview: "In Karnataka, there are no reported cases of HIV being transmitted through blood transfusions. The blood banks in Karnataka are regularly inspected."
But an RTI response from the NACO has revealed that Karnataka has reported 976 cases of HIV through blood transfusion in the last seven years, and 94 cases in 2015-16 alone.
Some states such as Chhattisgarh replied that "no study on HIV through blood transfusion has been conducted", while others such as Jharkhand stated that "no such information is available".
"It's important that the government conducts a study in this regard so that it can understand what is going wrong. People also need to become more conscious during blood transfusions," said Sanjeev Sharma, a counsellor at the All India Institute of Medical Science (AIIMS), Delhi, who has been working with HIV patients for the past 18 years.
On the other hand, developed countries such as the US take reported cases very seriously. "Although reported cases of transfusion-transmitted HIV infection are extremely rare, CDC investigates every reported case to gather as much information as possible to ensure the multi-layered system designed to prevent blood contamination is effective," said Rachel Wingard, a spokesperson for the CDC.
Gujarat reported most cases
Gujarat reported the highest number of HIV infections through blood transfusion in India--2,518 cases--followed by Uttar Pradesh (1,807) and Maharashtra (1,585).
Source: Response to a Right to Information request from the National AIDS Control Organization
The victims of the transfusions at the Junagadh Civil Hospital filed a case in the Gujarat High Court and the Central Bureau of Investigation (CBI) was instructed to probe the incident. But the agency filed a closure report in 2014 terming it a case of "negligence" on the part of the hospital. The case is now being re-investigated after the victims and their families protested.
"Most of the victims were poor and could only afford a government hospital," said Paresh Vaghela, the group's advocate.
It wasn't just the infection that victims had to deal with; there was also the social isolation. Once word was out that Jai was HIV-infected, he barely interacted with anyone. "He loved to go out and play, but in the last few months of his life, he hardly stepped outside the house," said Ranava.
Tushar, a ninth-grader, who was among the children left sick after the Junagadh transfusion, is still fighting the infection. Rupesh, his father, said that the family keeps the disease a secret. "If people come to know about it, my son will be discriminated against," he said.
Compensation--either rare or delayed
Cases such as those of Jai and Tushar are hardly rare in India. In May this year, a three-and-a-half-year-old boy was found HIV positive in Assam after blood transfusion, and in August, a four-and-half-year-old boy in Odisha contracted the virus through blood transfusion.
"We've come across many such cases in Delhi, but I've never heard of anyone getting compensation from hospitals," said Sharma.
In June 2016, a Maharashtra woman who became HIV positive and lost her newborn after blood transfusion during her pregnancy was compensated after a two-decade long legal battle.
Meanwhile, Junagadh victims and their families are despondent. "We thought the CBI would help us but now we're starting to lose hope," said Rupesh.
At his rented one-room house in Junagadh, about 400 km from the state capital, Ranava makes only one demand: "We need justice for our son."
Note: Names have been changed to protect identities of victims.
(Babu is a New Delhi-based independent journalist and a member of 101Reporters.com, a pan-India network of grassroots reporters.)
This is the first of a two-part series. Tomorrow: Inside India's Blood Black Market
We welcome feedback. Please write to respond@www.health-check.in. We reserve the right to edit responses for language and grammar.
__________________________________________________________________
"Liked this story? Indiaspend.org is a non-profit, and we depend on readers like you to drive our public-interest journalism efforts. Donate Rs 500; Rs 1,000, Rs 2,000."